Barren and/or boulder-scoured littoral cave walls and floors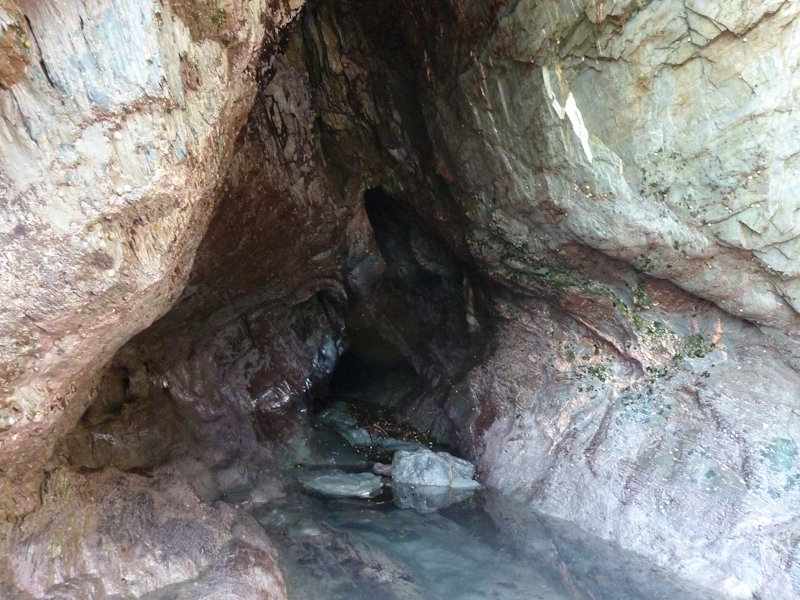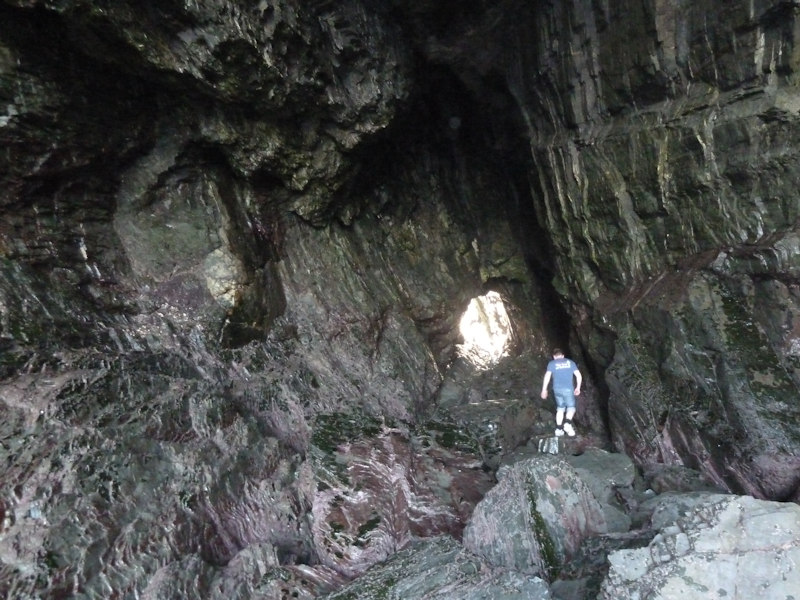 | | | | |
| --- | --- | --- | --- |
| Researched by | Dr Heidi Tillin | Refereed by | This information is not refereed |
Summary
UK and Ireland classification
Description
Mid and upper shore mobile boulders/cobbles on cave floors and the lower reaches of cave walls which are subject to scour are generally devoid of macro-fauna and flora. However, where light is available around the cave entrances, encrusting coralline algae may cover the rock and boulder surfaces. In some instances, they may support sparse fauna such as the limpet Patella spp. and the winkle Littorina saxatilis (Information from JNCC, 2015).
Depth range
Upper shore, Mid shore, Lower shore
Sensitivity review
Sensitivity characteristics of the habitat and relevant characteristic species
The biotope description and characterizing species is taken from JNCC (2015). This biotope is generally barren although some encrusting corallines may grow where light levels allow at the cave entrance. Mobile grazers such as Patella vulgata and Littorina saxatilis may migrate into the biotope and benefit from shelter and shading. Where light penetration allows algal films or summer growth of Ulva may develop, providing food to the grazers. The biotope is characterized by very sparse fauna ather than the presence of typical species and the loss of these species would not be considered to alter the character of this biotope. the sensitivity assesments therefore focus on the abiotic habitat.
Shade and abrasion resulting from scouring by sand and pebbles are key factors structuring the biotope and significant alteration to these is likely to change the character of the biotope. Where pressures may alter these factors, this is identified and discussed within the sensitivity assessments.
Resilience and recovery rates of habitat
This biotope is subject to high levels of physical disturbance from abrasion. The species that are present (if any) are robust animals that can withstand some physical disturbance and/or recover rapidly, or migrate as adults into the biotope. As this biotope is characterized by the absence, rather then the presence of species, recovery is assessed as 'High' for any level of impact. The biotope would be considered to be sensitive to pressures that allowed the establishment of a permanent, species rich biological assemblage as low abundances and low species richness are characteristic of the biotope.
Use [show more] / [show less] to open/close text displayed
Resistance
Resilience
Sensitivity

Temperature increase (local)

[Show more]

Temperature increase (local)

Benchmark. A 5°C increase in temperature for one month, or 2°C for one year. Further detail

Evidence

This biotope is characterized by the absence of species resulting from boulder scour and shade (JNCC, 2015), rather than the presence of typical species: changes in temperature will therefore not alter the biotope. Resistance to an increase in temperature is therefore assessed as 'High' and resilience as 'High' (by default) and this biotope is considered to be 'Not sensitive'.

High

Help

High

Help

Not sensitive

Help

Temperature decrease (local)

[Show more]

Temperature decrease (local)

Benchmark. A 5°C decrease in temperature for one month, or 2°C for one year. Further detail

Evidence

This biotope is characterized by the absence of species through boulder scour and shade (JNCC, 2015), rather than the presence of typical species: changes in temperature are therefore unlikely to alter the biotope. Resistance to an decrease in temperature is therefore assessed as 'High' and resilience as 'High' (by default) and this biotope is considered to be 'Not sensitive'.

High

Help

High

Help

Not sensitive

Help

Salinity increase (local)

[Show more]

Salinity increase (local)

Benchmark. A increase in one MNCR salinity category above the usual range of the biotope or habitat. Further detail

Evidence

This biotope is characterized by the absence of species through boulder scour and shade (JNCC, 2015), rather than the presence of typical species: changes in salinity are therefore unlikely to alter the biotope. Resistance to an increase in salinity is therefore assessed as 'High' and resilience as 'High' (by default) and this biotope is considered to be 'Not sensitive'.

High

Help

High

Help

Not sensitive

Help

Salinity decrease (local)

[Show more]

Salinity decrease (local)

Benchmark. A decrease in one MNCR salinity category above the usual range of the biotope or habitat. Further detail

Evidence

This biotope is characterized by the absence of species through boulder scour and shade (JNCC, 2015), rather than the presence of typical species: changes in salinity will therefore not alter the biotope. Resistance to an decrease in salinity is therefore assessed as 'High' and resilience as 'High' (by default) and this biotope is considered to be 'Not sensitive'.

High

Help

High

Help

Not sensitive

Help

Water flow (tidal current) changes (local)

[Show more]

Water flow (tidal current) changes (local)

Benchmark. A change in peak mean spring bed flow velocity of between 0.1 m/s to 0.2 m/s for more than one year. Further detail

Evidence

This biotope is characterized by the absence of species through boulder scour and shade (JNCC, 2015), rather than the presence of typical species: changes in water flow at the pressure benchmark are not considered likely to alter the biotope. Resistance to an increase or decrease in water flow is therefore assessed as 'High' and resilience as 'High' (by default) and this biotope is considered to be 'Not sensitive'. Boulder scour is a key factor structuring this biotope (JNCC, 2015), a reduction in flow and wave exposure exceeding the pressure benchmark may decrease boulder movement and associated scour allowing more species to colonise the biotope. This change in biotope character could lead to reclassification to LR.FLR.CvOv.ScrFa or an algal dominated cave biotope where light penetration allows.

High

Help

High

Help

Not sensitive

Help

Emergence regime changes

[Show more]

Emergence regime changes

Benchmark. 1) A change in the time covered or not covered by the sea for a period of ≥1 year or 2) an increase in relative sea level or decrease in high water level for ≥1 year. Further detail

Evidence

This biotope occurs across a range of shore heights and is characterized by the absence of species through boulder scour and shade (JNCC, 2015), rather than the presence of typical species: changes in emergence are, therefore, not considered to alter the biotope (unless the classification changes to sublittoral). Resistance is therefore assessed as 'High' and resilience as 'High' (by default) and this biotope is considered to be 'Not sensitive'.

High

Help

High

Help

Not sensitive

Help

Wave exposure changes (local)

[Show more]

Wave exposure changes (local)

Benchmark. A change in near shore significant wave height of >3% but <5% for more than one year. Further detail

Evidence

This biotope is characterized by the absence of species through boulder scour and shade (JNCC, 2015), rather than the presence of typical species: changes in wave exposure at the pressure benchmark are not considered likely to alter the biotope. Resistance to an increase or decrease in wave exposure at the pressure benchmark is therefore assessed as 'High' and resilience as 'High' (by default) and this biotope is considered to be 'Not sensitive'. Boulder scour is a key factor structuring this biotope (JNCC, 2015), a reduction in flow and wave exposure exceeding the pressure benchmark may decrease boulder movement and associated scour allowing more species to colonise the biotope. This change in biotope character could lead to reclassification to LR.FLR.CvOv.ScrFa or an algal dominated cave biotope where light penetration allows.

High

Help

High

Help

Not sensitive

Help
Use [show more] / [show less] to open/close text displayed
Resistance
Resilience
Sensitivity

Transition elements & organo-metal contamination

[Show more]

Transition elements & organo-metal contamination

Benchmark. Exposure of marine species or habitat to one or more relevant contaminants via uncontrolled releases or incidental spills. Further detail

Evidence

This pressure is Not assessed but evidence is presented where available. As this biotope is characterized by the lack of species, exposure to contaminants will not result in significant impacts.

Not Assessed (NA)

Help

Not assessed (NA)

Help

Not assessed (NA)

Help

Hydrocarbon & PAH contamination

[Show more]

Hydrocarbon & PAH contamination

Benchmark. Exposure of marine species or habitat to one or more relevant contaminants via uncontrolled releases or incidental spills. Further detail

Evidence

This pressure is Not assessed but evidence is presented where available. As this biotope is characterized by the lack of species, exposure to contaminants will not result in significant impacts.

Not Assessed (NA)

Help

Not assessed (NA)

Help

Not assessed (NA)

Help

Synthetic compound contamination

[Show more]

Synthetic compound contamination

Benchmark. Exposure of marine species or habitat to one or more relevant contaminants via uncontrolled releases or incidental spills. Further detail

Evidence

This pressure is Not assessed but evidence is presented where available. As this biotope is characterized by the lack of species, exposure to contaminants will not result in significant impacts.

Not Assessed (NA)

Help

Not assessed (NA)

Help

Not assessed (NA)

Help

Radionuclide contamination

[Show more]

Radionuclide contamination

Benchmark. An increase in 10µGy/h above background levels. Further detail

Evidence

No evidence was found.

No evidence (NEv)

Help

Not relevant (NR)

Help

No evidence (NEv)

Help

Introduction of other substances

[Show more]

Introduction of other substances

Benchmark. Exposure of marine species or habitat to one or more relevant contaminants via uncontrolled releases or incidental spills. Further detail

Evidence

This pressure is Not assessed. As this biotope is characterized by the lack of species, exposure to contaminants will not result in significant impacts.

Not Assessed (NA)

Help

Not assessed (NA)

Help

Not assessed (NA)

Help

De-oxygenation

[Show more]

De-oxygenation

Benchmark. Exposure to dissolved oxygen concentration of less than or equal to 2 mg/l for one week (a change from WFD poor status to bad status). Further detail

Evidence

As this biotope is characterized by the lack of species, de-oxygenation will not result in significant impacts. Biotope resistance is therefore assessed as 'High', and resilience as 'High' (by default) and the biotope is considered to be 'Not sensitive'.

High

Help

High

Help

Not sensitive

Help

Nutrient enrichment

[Show more]

Nutrient enrichment

Benchmark. Compliance with WFD criteria for good status. Further detail

Evidence

As this biotope is characterized by the lack of species, nutrient enrichment will not result in significant impacts. Biotope resistance is therefore assessed as 'High', and resilience as 'High' (by default) and the biotope is considered to be 'Not sensitive'.

High

Help

High

Help

Not sensitive

Help

Organic enrichment

[Show more]

Organic enrichment

Benchmark. A deposit of 100 gC/m2/yr. Further detail

Evidence

As this biotope is characterized by the lack of species, organic enrichment will not result in significant impacts. Biotope resistance is therefore assessed as 'High', and resilience as 'High' (by default) and the biotope is considered to be 'Not sensitive'.

High

Help

High

Help

Not sensitive

Help
Use [show more] / [show less] to open/close text displayed
Resistance
Resilience
Sensitivity

Physical loss (to land or freshwater habitat)

[Show more]

Physical loss (to land or freshwater habitat)

Benchmark. A permanent loss of existing saline habitat within the site. Further detail

Evidence

All marine habitats and benthic species are considered to have a resistance of 'None' to this pressure and to be unable to recover from a permanent loss of habitat (resilience is 'Very Low'). Sensitivity within the direct spatial footprint of this pressure is, therefore 'High'. Although no specific evidence is described confidence in this assessment is 'High', due to the incontrovertible nature of this pressure.

None

Help

Very Low

Help

High

Help

Physical change (to another seabed type)

[Show more]

Physical change (to another seabed type)

Benchmark. Permanent change from sedimentary or soft rock substrata to hard rock or artificial substrata or vice-versa. Further detail

Evidence

This biotope is characterized by the hard rock substratum and cave topgraphy. A change to a sedimentary substratum would significantly alter the character of the biotope. The biotope is therefore considered to have 'No' resistance to this pressure (based on a change to a sediment habitat), recovery is assessed as 'Very low', as the change at the pressure benchmark is permanent. Biotope sensitivity is, therefore assessed as 'High'. As this biotope is found in caves, a change in topography from a cave to an open rock surface would also result in the loss of the biotope.

None

Help

Very Low

Help

High

Help

Physical change (to another sediment type)

[Show more]

Physical change (to another sediment type)

Benchmark. Permanent change in one Folk class (based on UK SeaMap simplified classification). Further detail

Evidence

Not relevant to biotopes occurring on bedrock.

Not relevant (NR)

Help

Not relevant (NR)

Help

Not relevant (NR)

Help

Habitat structure changes - removal of substratum (extraction)

[Show more]

Habitat structure changes - removal of substratum (extraction)

Benchmark. The extraction of substratum to 30 cm (where substratum includes sediments and soft rock but excludes hard bedrock). Further detail

Evidence

The species characterizing this biotope are epifauna or epiflora occurring on rock and would be sensitive to the removal of the habitat. However, extraction of rock substratum is considered unlikely and this pressure is considered to be 'Not relevant' to hard substratum habitats.

Not relevant (NR)

Help

Not relevant (NR)

Help

Not relevant (NR)

Help

Abrasion / disturbance of the surface of the substratum or seabed

[Show more]

Abrasion / disturbance of the surface of the substratum or seabed

Benchmark. Damage to surface features (e.g. species and physical structures within the habitat). Further detail

Evidence

This biotope is characterized by the absence of species through boulder scour and shade (JNCC, 2015), rather than the presence of typical species: abrasion will therefore not alter the biotope. Resistance to this pressure is therefore assessed as 'High' and resilience as 'High' (by default) and this biotope is considered to be 'Not sensitive'.

High

Help

High

Help

Not sensitive

Help

Penetration or disturbance of the substratum subsurface

[Show more]

Penetration or disturbance of the substratum subsurface

Benchmark. Damage to sub-surface features (e.g. species and physical structures within the habitat). Further detail

Evidence

The species characterizing this biotope group are epifauna or epiflora occurring on rock which is resistant to sub-surface penetration. The assessment for abrasion at the surface only is therefore considered to equally represent sensitivity to this pressure.

Not relevant (NR)

Help

Not relevant (NR)

Help

Not relevant (NR)

Help

Changes in suspended solids (water clarity)

[Show more]

Changes in suspended solids (water clarity)

Benchmark. A change in one rank on the WFD (Water Framework Directive) scale e.g. from clear to intermediate for one year. Further detail

Evidence

This biotope occurs in scoured habitats and it is likely, depending on local sediment supply, that the biotope is exposed to chronic or intermittent episodes of high-levels of suspended solids as local sediments are re-mobilized and transported. This biotope is characterized by the absence of species through boulder scour and shade (JNCC, 2015), rather than the presence of typical species: changes in suspended solids will therefore not alter the biotope. Resistance to an increase or decrease in suspended solids is therefore assessed as 'High' and resilience as 'High' (by default) and this biotope is considered to be 'Not sensitive'.

High

Help

High

Help

Not sensitive

Help

Smothering and siltation rate changes (light)

[Show more]

Smothering and siltation rate changes (light)

Benchmark. 'Light' deposition of up to 5 cm of fine material added to the seabed in a single discrete event. Further detail

Evidence

This biotope is characterized by the absence of species through boulder scour and shade (JNCC, 2015), rather than the presence of typical species: the addition of a single deposit of fine sediments which will be removed by scour will therefore not alter the biotope. Resistance to this pressure is therefore assessed as 'High' and resilience as 'High' (by default) and this biotope is considered to be 'Not sensitive'.

High

Help

High

Help

Not sensitive

Help

Smothering and siltation rate changes (heavy)

[Show more]

Smothering and siltation rate changes (heavy)

Benchmark. 'Heavy' deposition of up to 30 cm of fine material added to the seabed in a single discrete event. Further detail

Evidence

This biotope is characterized by the absence of species through boulder scour and shade (JNCC, 2015), rather than the presence of typical species: the addition of a single deposit of fine sediments which will be removed by scour will therefore not alter the biotope. Resistance to this pressure is therefore assessed as 'High' and resilience as 'High' (by default) and this biotope is considered to be 'Not sensitive'.

High

Help

High

Help

Not sensitive

Help

Litter

[Show more]

Litter

Benchmark. The introduction of man-made objects able to cause physical harm (surface, water column, seafloor or strandline). Further detail

Evidence

Not assessed.

Not Assessed (NA)

Help

Not assessed (NA)

Help

Not assessed (NA)

Help

Electromagnetic changes

[Show more]

Electromagnetic changes

Benchmark. A local electric field of 1 V/m or a local magnetic field of 10 µT. Further detail

Evidence

Not relevant.

No evidence (NEv)

Help

Not relevant (NR)

Help

No evidence (NEv)

Help

Underwater noise changes

[Show more]

Underwater noise changes

Benchmark. MSFD indicator levels (SEL or peak SPL) exceeded for 20% of days in a calendar year. Further detail

Evidence

Not relevant.

Not relevant (NR)

Help

Not relevant (NR)

Help

Not relevant (NR)

Help

Introduction of light or shading

[Show more]

Introduction of light or shading

Benchmark. A change in incident light via anthropogenic means. Further detail

Evidence

Light penetration is a key factor structuring the cave biotope. Encrusting corallines and other shade-tolerant algae such as Ulva grow close to the entrance where light availability allows. Encrusting corallines can occur in deeper water than other algae where light penetration is limited. Samples of Lithophyllum impressum suspended from a raft and shaded (50-75% light reduction) continued to grow over two years (Dethier, 1994). An increase in light in the spectrum that supports photosynthesis may allow algae including Rhodochorton purpureum and Pilinia maritima which are found within caves (Connor et al., 2004) to colonise more surface area, altering the structure of the biotope. However, the presence of these species will be limited by the high levels of boulder scour (JNCC, 2015).

Sensitivity assessment. An increase in light levels in the spectrum that supports photosynthesis may increase algal growth altering the character of the biotope. Some specialist cave species may colonize depending on the presence of source populations. However, the high levels of boulder scour experienced by this biotope are likely to limit establishment, the biotope is therefore considered to have 'High' resistance and 'High' resilience and is therefore considered to be 'Not sensitive'.

High

Help

High

Help

Not sensitive

Help

Barrier to species movement

[Show more]

Barrier to species movement

Benchmark. A permanent or temporary barrier to species movement over ≥50% of water body width or a 10% change in tidal excursion. Further detail

Evidence

Not relevant.

Not relevant (NR)

Help

Not relevant (NR)

Help

Not relevant (NR)

Help

Death or injury by collision

[Show more]

Death or injury by collision

Benchmark. Injury or mortality from collisions of biota with both static or moving structures due to 0.1% of tidal volume on an average tide, passing through an artificial structure. Further detail

Evidence

Not relevant' to seabed habitats. NB. Collision by grounding vessels is addressed under surface abrasion.

Not relevant (NR)

Help

Not relevant (NR)

Help

Not relevant (NR)

Help

Visual disturbance

[Show more]

Visual disturbance

Benchmark. The daily duration of transient visual cues exceeds 10% of the period of site occupancy by the feature. Further detail

Evidence

Not relevant.

Not relevant (NR)

Help

Not relevant (NR)

Help

Not relevant (NR)

Help
Use [show more] / [show less] to open/close text displayed
Resistance
Resilience
Sensitivity

Genetic modification & translocation of indigenous species

[Show more]

Genetic modification & translocation of indigenous species

Benchmark. Translocation of indigenous species or the introduction of genetically modified or genetically different populations of indigenous species that may result in changes in the genetic structure of local populations, hybridization, or change in community structure. Further detail

Evidence

This biotope is not characterized by any typical species, those that are present, such as coralline crusts, limpets and littorinids are not translocated and this pressure is therefore considered 'Not relevant'.

Not relevant (NR)

Help

Not relevant (NR)

Help

Not relevant (NR)

Help

Introduction or spread of invasive non-indigenous species

[Show more]

Introduction or spread of invasive non-indigenous species

Benchmark. The introduction of one or more invasive non-indigenous species (INIS). Further detail

Evidence

The high levels of boulder scour in this biotope will limit establishment of all but the most highly scour resistant invasive non-indigenous species (INIS) and no direct evidence was found for effects of INIS on this biotope. The low levels of light within this biotope, particularly the rear walls of caves, are considered to additionally inhibit invasive algal species.

Sensitivity assessment. Overall, there is no evidence of this biotope being adversely affected by non-native species and scouring of this biotope by boulders prevents establishment of native species and INIS. Resistance is therefore assessed as 'High', and resilience as 'High' (by default), and the biotope is considered to be 'Not sensitive'.

High

Help

High

Help

Not sensitive

Help

Introduction of microbial pathogens

[Show more]

Introduction of microbial pathogens

Benchmark. The introduction of relevant microbial pathogens or metazoan disease vectors to an area where they are currently not present (e.g. Martelia refringens and Bonamia, Avian influenza virus, viral Haemorrhagic Septicaemia virus). Further detail

Evidence

As this biotope is characterized by the absence of a biological assemblage apart from occasional and largely seasonal spatfalls, algal growth and adult grazers that migrate in and out of the biotope, this pressure is considered to be 'Not relevant'.

Not relevant (NR)

Help

Not relevant (NR)

Help

Not relevant (NR)

Help

Removal of target species

[Show more]

Removal of target species

Benchmark. Removal of species targeted by fishery, shellfishery or harvesting at a commercial or recreational scale. Further detail

Evidence

As this biotope is characterized by the absence of a biological assemblage apart from occasional and largely seasonal spatfalls, algal growth and adult grazers that migrate in and out of the biotope, this pressure is considered to be 'Not relevant'.

Not relevant (NR)

Help

Not relevant (NR)

Help

Not relevant (NR)

Help

Removal of non-target species

[Show more]

Removal of non-target species

Benchmark. Removal of features or incidental non-targeted catch (by-catch) through targeted fishery, shellfishery or harvesting at a commercial or recreational scale. Further detail

Evidence

As this biotope is characterized by the absence of a biological assemblage apart from occasional and largely seasonal spatfalls, algal growth and adult grazers that migrate in and out of the biotope, this pressure is considered to be 'Not relevant'.

Not relevant (NR)

Help

Not relevant (NR)

Help

Not relevant (NR)

Help
Bibliography
Connor, D.W., Allen, J.H., Golding, N., Howell, K.L., Lieberknecht, L.M., Northen, K.O. & Reker, J.B., 2004. The Marine Habitat Classification for Britain and Ireland. Version 04.05. ISBN 1 861 07561 8. In JNCC (2015), The Marine Habitat Classification for Britain and Ireland Version 15.03. [2019-07-24]. Joint Nature Conservation Committee, Peterborough. Available from https://mhc.jncc.gov.uk/

JNCC (Joint Nature Conservation Committee), 2022. The Marine Habitat Classification for Britain and Ireland Version 22.04. [Date accessed]. Available from: https://mhc.jncc.gov.uk/

JNCC (Joint Nature Conservation Committee), 2022. The Marine Habitat Classification for Britain and Ireland Version 22.04. [Date accessed]. Available from: https://mhc.jncc.gov.uk/
Citation
This review can be cited as:
Tillin, H.M. 2016. Barren and/or boulder-scoured littoral cave walls and floors. In Tyler-Walters H. Marine Life Information Network: Biology and Sensitivity Key Information Reviews, [on-line]. Plymouth: Marine Biological Association of the United Kingdom. [cited 10-12-2023]. Available from: https://marlin.ac.uk/habitat/detail/1074
---
Last Updated: 23/03/2016