Bernhard's hermit crab (Pagurus bernhardus)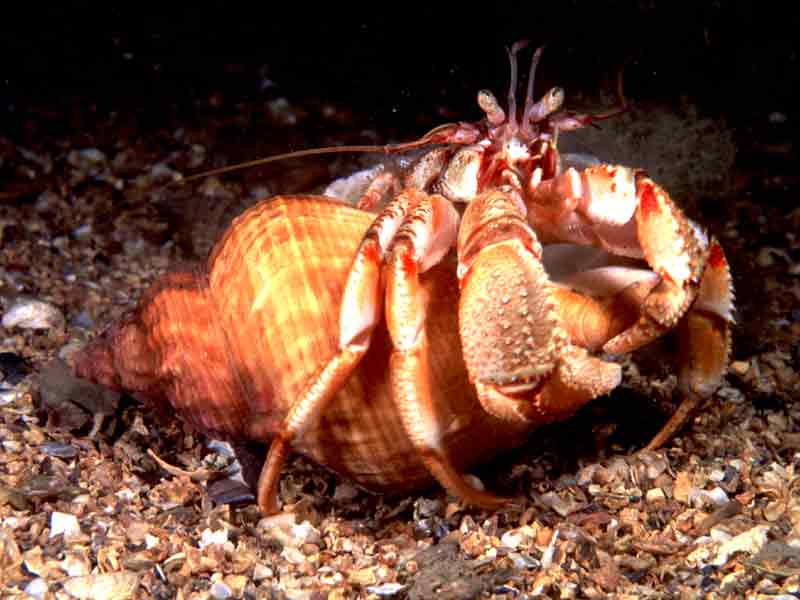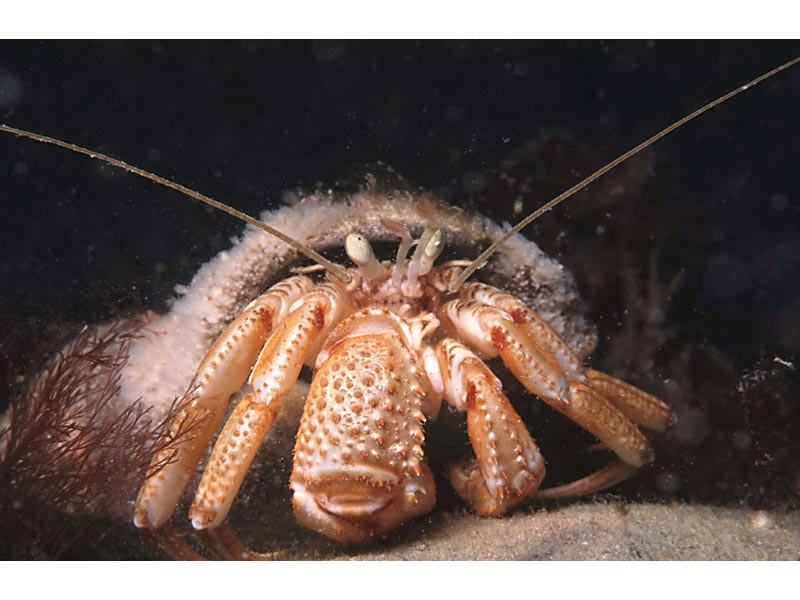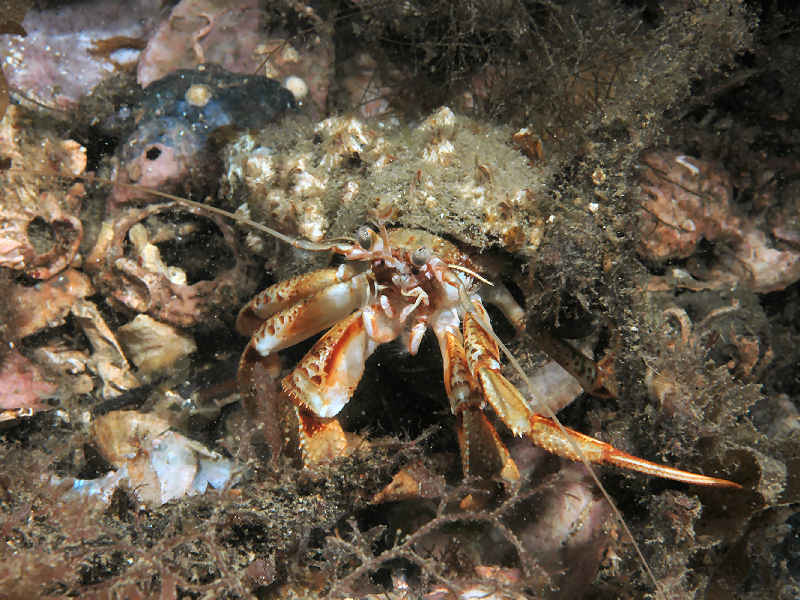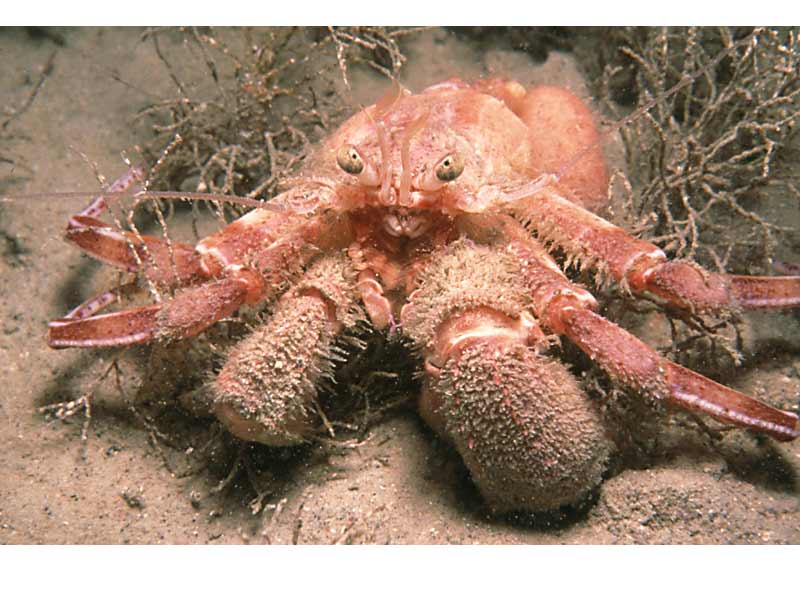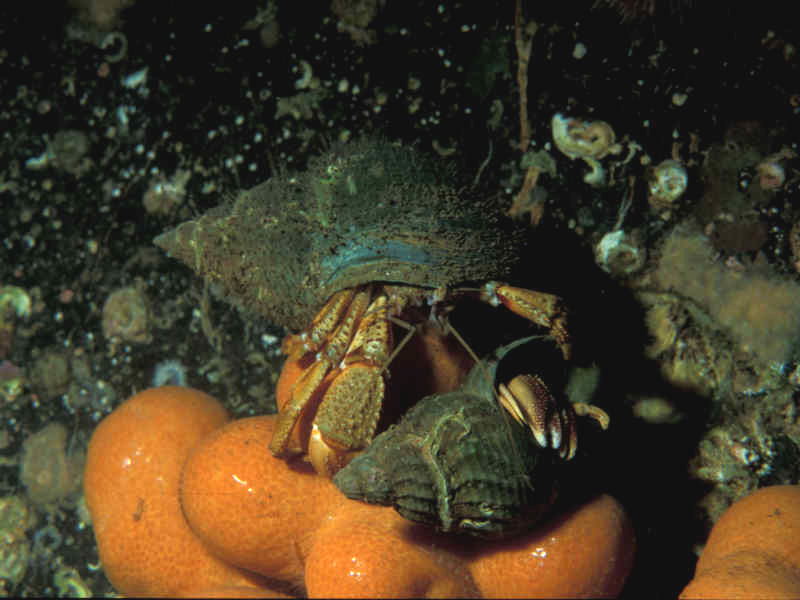 Researched by
Emily Wilson
Refereed by
Admin
Authority
(Linnaeus, 1758)
Other common names
Soldier hermit crab, Soldier crab, Large hermit crab
Synonyms
-
Summary
Description
A large hermit crab with a carapace length that reaches 35mm. It is reddish in colour and will occupy any suitable shell such as Buccinum undatum. Both pincers are covered with thick, pointed protrusions, the massive right pincer has two rows of large protrusions and is devoid of bristles.
Recorded distribution in Britain and Ireland
All British and Irish coasts.
Habitat
Found on rocky and sandy substrata from mean tide level to 140 m.
Identifying features
Carapace with sharply pointed rostrum.
Chelipeds covered with uniformly distributed granules or small teeth.
Propodus of right chela with two rows of larger granulations, starting at the base and converging towards the middle.
Additional information
No text entered
Bibliography
Bergmann, M. & Moore, P.G., 2001. Survival of decapod crustaceans discarded in the Nephrops fishery of the Clyde Sea area, Scotland. ICES Journal of Marine Science, 58, 163-171.

Bergmann, M., Beare, D.J. & Moore, P.G., 2001. Damage sustained by epibentic invertebrates discarded in the Nephrops fishery of the Clyde Sea area, Scotland. Journal of Sea Research, 45, 105-118.

Bookhout, C.G., 1964. Salinity effects on the larval development of Pagurus bernhardus (L.) reared in the laboratory. Ophelia, 1, 275-294.

Elwood, R.W. & Stewart, A., 1987. Reproduction in the littoral hermit crab Pagurus bernhardus. Irish Naturalists' Journal, 22, 252-255.

Fish, J.D. & Fish, S., 1996. A student's guide to the seashore. Cambridge: Cambridge University Press.

Gerlach, S.A., Ekstrøm, D.K. & Eckardt, P.B., 1976. Filter feeding in the hermit crab Pagurus bernhardus. Oecologia, 24, 257-264.

Hayward, P., Nelson-Smith, T. & Shields, C. 1996. Collins pocket guide. Sea shore of Britain and northern Europe. London: HarperCollins.

Hayward, P.J. & Ryland, J.S. (ed.) 1995b. Handbook of the marine fauna of North-West Europe. Oxford: Oxford University Press.

Howson, C.M. & Picton, B.E., 1997. The species directory of the marine fauna and flora of the British Isles and surrounding seas. Belfast: Ulster Museum. [Ulster Museum publication, no. 276.]

Jackson, H.G., 1913. Eupagurus. Liverpool Marine Biology Committee Memoirs, 21, 79pp.

JNCC (Joint Nature Conservation Committee), 1999. Marine Environment Resource Mapping And Information Database (MERMAID): Marine Nature Conservation Review Survey Database. [on-line] http://www.jncc.gov.uk/mermaid

Kaiser, M.J., Ramsay, K. & Hughes, R.N., 1998. Can fisheries influence interspecific competition in sympatric populations of hermit crabs? Journal of Natural History, 32, 521-531.

Lancaster, I., 1988. Pagurus bernhardus (L.) - an introduction to the natural history of hermit crabs. Field Studies, 7, 189-238.

Lancaster, I., 1990. Reproduction and life history strategy of the hermit crab Pagurus bernhardus. Journal of the Marine Biological Association of the United Kingdom, 70, 129-142.

Picton, B.E. & Costello, M.J., 1998. BioMar biotope viewer: a guide to marine habitats, fauna and flora of Britain and Ireland. [CD-ROM] Environmental Sciences Unit, Trinity College, Dublin.

Ramsay, K., Kaiser, M.J. & Hughes, R.N. 1998. The responses of benthic scavengers to fishing disturbance by towed gears in different habitats. Journal of Experimental Marine Biology and Ecology, 224, 73-89.

Ramsay, K., Kaiser, M.J. & Hughes, R.N., 1996. Changes in hermit crab feeding patterns in response to trawling disturbance. Marine Ecology Progress Series, 144, 63-72.
Datasets
Citation
This review can be cited as:
Wilson, E. 2007. Pagurus bernhardus Bernhard's hermit crab. In Tyler-Walters H. and Hiscock K. Marine Life Information Network: Biology and Sensitivity Key Information Reviews, [on-line]. Plymouth: Marine Biological Association of the United Kingdom. [cited 06-12-2023]. Available from: https://marlin.ac.uk/species/detail/1169
---
Last Updated: 03/07/2007