Glaucus pimplet (Anthopleura thallia)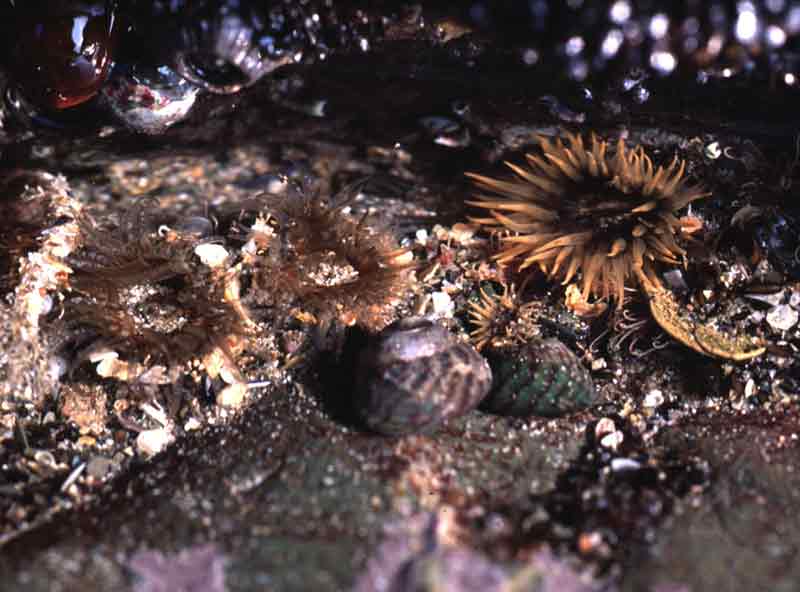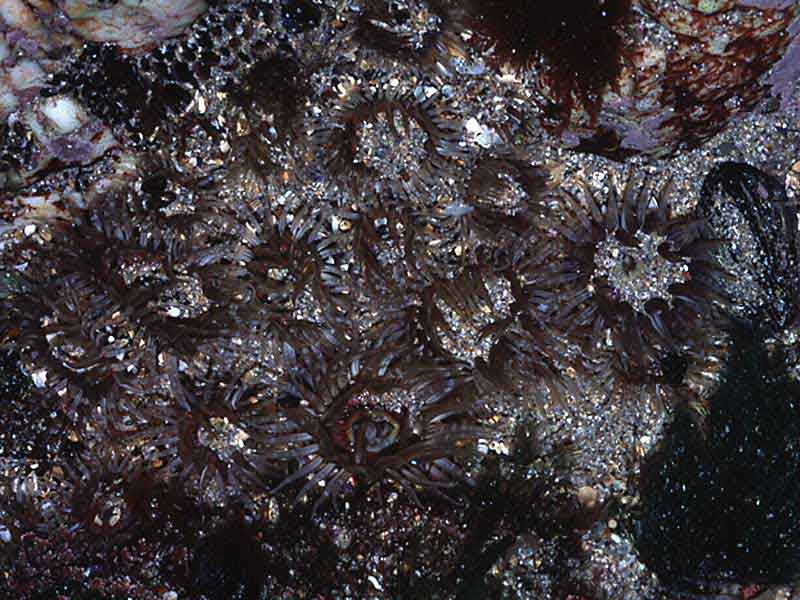 Researched by
Emily Wilson
Refereed by
Admin
Authority
(Gosse, 1854)
Other common names
-
Synonyms
-
Summary
Description
An anemone, green, brown or greyish in colour, sometimes with a reddish overcast. The tentacles can be any colour, are moderate in length, up to 100. The base is lightly adherent and the column is tall, typically trumpet-shaped and covered with warts which invariably have gravel stuck to them.
Recorded distribution in Britain and Ireland
Recorded from the south-west of England, the Hebrides and Skokholm Island.
Habitat
Occurs almost exclusively on rocky shores which are exposed to strong wave action, in pools, crevices, or amongst the dense aggregations of mussels often found on such shores. It prefers to bury itself beneath a layer of gravel if any is present.
Identifying features
Column tall, up to 50 mm.
Verrucae prominent, in irregular rows and increasing in size towards the parapet, usually with debris stuck to them.
Small acrorhagi present in fosse.
Additional information
No text entered
Bibliography
Campbell, A., 1994. Seashores and shallow seas of Britain and Europe. London: Hamlyn.

Hayward, P., Nelson-Smith, T. & Shields, C. 1996. Collins pocket guide. Sea shore of Britain and northern Europe. London: HarperCollins.

Hayward, P.J. & Ryland, J.S. (ed.) 1995b. Handbook of the marine fauna of North-West Europe. Oxford: Oxford University Press.

Howson, C.M. & Picton, B.E., 1997. The species directory of the marine fauna and flora of the British Isles and surrounding seas. Belfast: Ulster Museum. [Ulster Museum publication, no. 276.]

Manuel, R.L., 1988. British Anthozoa. Synopses of the British Fauna (New Series) (ed. D.M. Kermack & R.S.K. Barnes). The Linnean Society of London [Synopses of the British Fauna No. 18.]. DOI https://doi.org/10.1002/iroh.19810660505

Moore, J., 2002. An atlas of marine Biodiversity Action Plan species and habitats and Species of Conservation Concern in Wales, 2nd edn. Report to the Countryside Council for Wales, CCW Contract Science Report no. 509.

Stephenson, T.A., 1935. The British Sea Anemones, vol. 2. London: Ray Society.
Datasets
Fenwick, 2018. Aphotomarine. Occurrence dataset http://www.aphotomarine.com/index.html Accessed via NBNAtlas.org on 2018-10-01

NBN (National Biodiversity Network) Atlas. Available from: https://www.nbnatlas.org.

OBIS (Ocean Biodiversity Information System), 2023. Global map of species distribution using gridded data. Available from: Ocean Biogeographic Information System. www.iobis.org. Accessed: 2023-12-06
Citation
This review can be cited as:
Wilson, E. 2003. Anthopleura thallia Glaucus pimplet. In Tyler-Walters H. and Hiscock K. Marine Life Information Network: Biology and Sensitivity Key Information Reviews, [on-line]. Plymouth: Marine Biological Association of the United Kingdom. [cited 06-12-2023]. Available from: https://marlin.ac.uk/species/detail/1214
---
Last Updated: 25/06/2003