Latticed corklet (Cataphellia brodricii)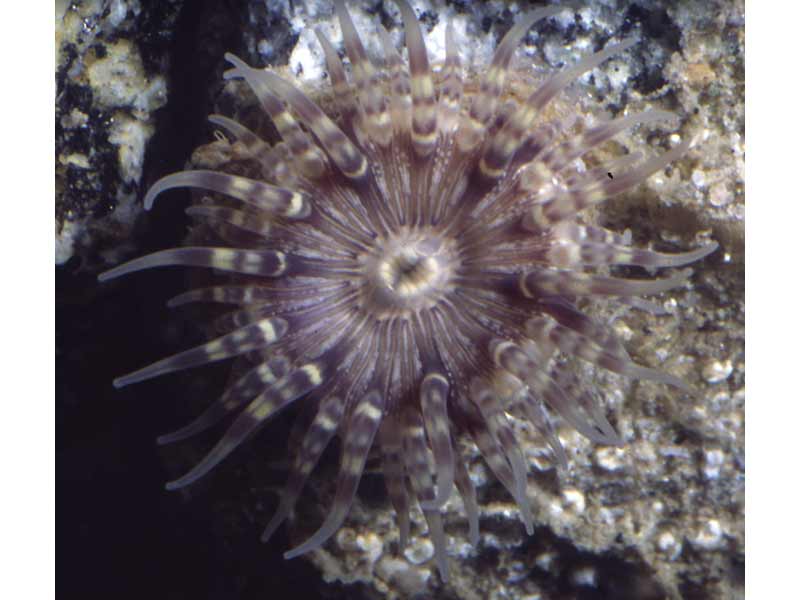 Researched by
Emily Wilson
Refereed by
Admin
Authority
(Gosse, 1859)
Other common names
-
Synonyms
-
Summary
Description
An anemone with a small oral disc with about 100 short to moderate tentacles. The colour of the disc and tentacles is pale grey with fine yellow lines inserted, the remainder of the pattern is purplish-brown and white. There is no variation from the usual pattern. The base is broad and often exceeds the span of the tentacles.
Recorded distribution in Britain and Ireland
Found on Devon and Cornwall coasts and southern Ireland.
Habitat
Found under stones, amongst algal holdfasts, attached to rock beneath sand or gravel. Typically found on the lower shore in the Laminaria zone but also found in the shallow sublittoral down to 20 m.
Identifying features
Base broad, column divided into scapus and scapulus, scapus with small solid tubercles which form definite transverse rows proximally and longitudinal rows distally.
Scapular ridges may be present but usually indistinct.
Periderm present on scapus but often lacking in limbus region.
Tentacles neatly or hexamerously arranged in five cycles, up to 96.
Additional information
No text entered
Bibliography
Hayward, P.J. & Ryland, J.S. (ed.) 1995b. Handbook of the marine fauna of North-West Europe. Oxford: Oxford University Press.

Howson, C.M. & Picton, B.E., 1997. The species directory of the marine fauna and flora of the British Isles and surrounding seas. Belfast: Ulster Museum. [Ulster Museum publication, no. 276.]

Manuel, R.L., 1988. British Anthozoa. Synopses of the British Fauna (New Series) (ed. D.M. Kermack & R.S.K. Barnes). The Linnean Society of London [Synopses of the British Fauna No. 18.]. DOI https://doi.org/10.1002/iroh.19810660505

Stephenson, T.A., 1935. The British Sea Anemones, vol. 2. London: Ray Society.
Datasets
NBN (National Biodiversity Network) Atlas. Available from: https://www.nbnatlas.org.

OBIS (Ocean Biodiversity Information System), 2023. Global map of species distribution using gridded data. Available from: Ocean Biogeographic Information System. www.iobis.org. Accessed: 2023-12-11
Citation
This review can be cited as:
Wilson, E. 2007. Cataphellia brodricii Latticed corklet. In Tyler-Walters H. and Hiscock K. Marine Life Information Network: Biology and Sensitivity Key Information Reviews, [on-line]. Plymouth: Marine Biological Association of the United Kingdom. [cited 11-12-2023]. Available from: https://marlin.ac.uk/species/detail/1228
---
Last Updated: 14/08/2007