Mediterranean intertidal hermit crab (Clibanarius erythropus)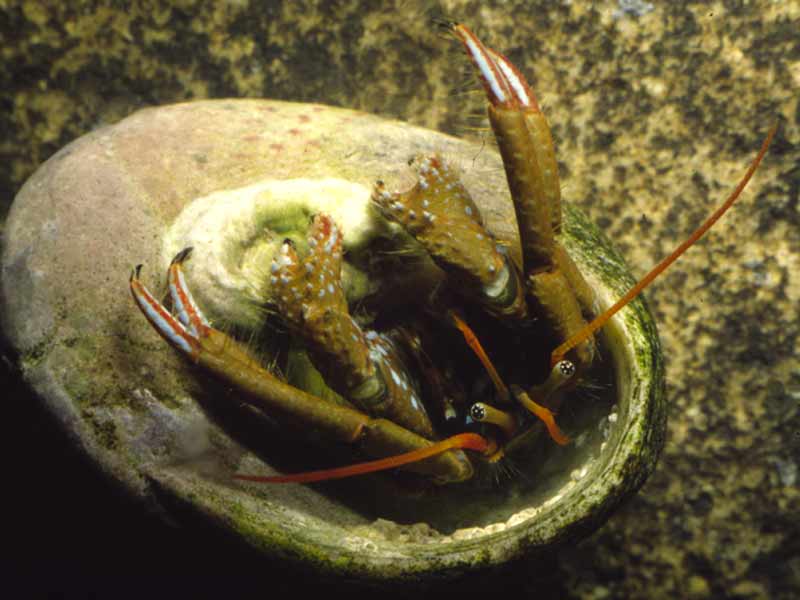 Researched by
Emily Wilson
Refereed by
Admin
Authority
(Latreille, 1818)
Other common names
Mediterranean rocky shore crab
Synonyms
-
Summary
Description
A small hermit crab with short, thick pincers, more or less equal in size that have horny, black tips and are covered with hair. The carapace is longer than wide to 1.5 cm and the eyes are long and narrow.
Recorded distribution in Britain and Ireland
Channel Islands, formerly south coasts of Devon and Cornwall.
Habitat
Found in intertidal pools and on sand, gravel and algae in the shallow sublittoral to 40 m.
Identifying features
Carapace length about 15 mm.
Rostrum small, acute, and slightly protruding.
Chelae with thick fingers bearing thick horny, black tips and covered by wide, blunt tubercles and hair.
Eyes extend slightly beyond antennal peduncles.
Additional information
No text entered
Bibliography
Hayward, P., Nelson-Smith, T. & Shields, C. 1996. Collins pocket guide. Sea shore of Britain and northern Europe. London: HarperCollins.

Hayward, P.J. & Ryland, J.S. (ed.) 1995b. Handbook of the marine fauna of North-West Europe. Oxford: Oxford University Press.

Howson, C.M. & Picton, B.E., 1997. The species directory of the marine fauna and flora of the British Isles and surrounding seas. Belfast: Ulster Museum. [Ulster Museum publication, no. 276.]

Ingle, R., 1993. Hermit crabs of the northeastern Atlantic Ocean and the Mediterranean Sea. An illustrated key. London: Natural History Museum Publications, Chapman & Hall.
Datasets
Citation
This review can be cited as:
Wilson, E. 2005. Clibanarius erythropus Mediterranean intertidal hermit crab. In Tyler-Walters H. and Hiscock K. Marine Life Information Network: Biology and Sensitivity Key Information Reviews, [on-line]. Plymouth: Marine Biological Association of the United Kingdom. [cited 11-12-2023]. Available from: https://marlin.ac.uk/species/detail/1230
---
Last Updated: 04/07/2005