A sea slug (Caloria elegans)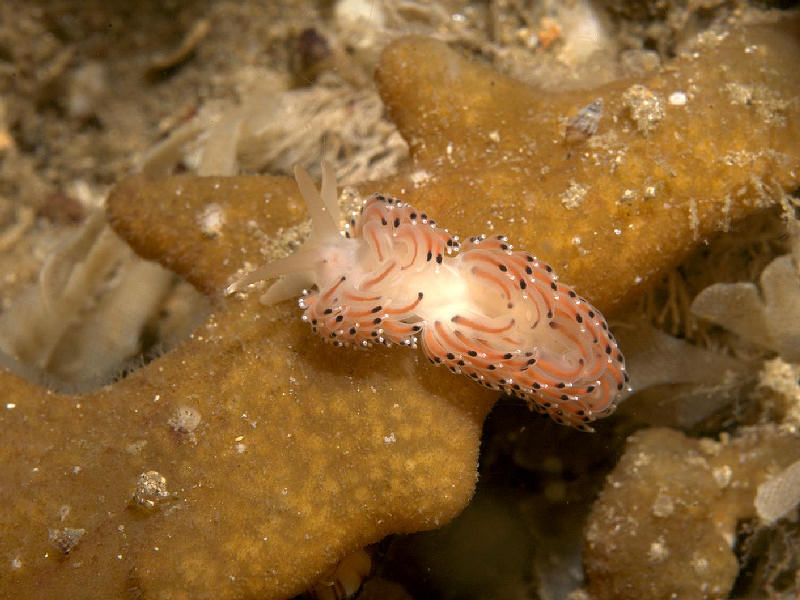 Researched by
Emily Wilson
Refereed by
Admin
Authority
(Alder & Hancock, 1845)
Other common names
-
Synonyms
-
Summary
Description
A sea slug that grows up to 1.5 cm long and has a translucent white body with thin lines of superficial white pigment on the frontal surfaces of the horns and oral tentacles. It has numerous protrusions along the body which are orange or pink in colour with a black area at the base and tip.
Recorded distribution in Britain and Ireland
Torbay, Lundy, outer Bristol Channel, Cardigan Bay, Tremadog Bay, off the Llyn peninsula, Lough Swilly (north Donegal) and off Larne, Northern Ireland.
Identifying features
Six to eight paired groups of short, fat cerata.
Very long oral tentacles are flat, shorter rhinophores have small tubercles on rear faces.
Longitudinal white stripes on the tentacles and tail are diagnostic.
Digestive gland is orange or pink in colour with a black area at base of each ceras and a black glandular area just below the cnidosac.
The cerata have white terminal rings and largest have long curled tips.
Additional information
No text entered
Bibliography
Howson, C.M. & Picton, B.E., 1997. The species directory of the marine fauna and flora of the British Isles and surrounding seas. Belfast: Ulster Museum. [Ulster Museum publication, no. 276.]

Picton, B. E. & Morrow, C.C., 1994. A Field Guide to the Nudibranchs of the British Isles. London: Immel Publishing Ltd.
Datasets
Conchological Society of Great Britain & Ireland, 2018. Mollusc (marine) records for Great Britain and Ireland. Occurrence dataset: https://doi.org/10.15468/aurwcz accessed via GBIF.org on 2018-09-25.

NBN (National Biodiversity Network) Atlas. Available from: https://www.nbnatlas.org.

OBIS (Ocean Biodiversity Information System), 2023. Global map of species distribution using gridded data. Available from: Ocean Biogeographic Information System. www.iobis.org. Accessed: 2023-12-11
Citation
This review can be cited as:
Wilson, E. 2007. Caloria elegans A sea slug. In Tyler-Walters H. and Hiscock K. Marine Life Information Network: Biology and Sensitivity Key Information Reviews, [on-line]. Plymouth: Marine Biological Association of the United Kingdom. [cited 11-12-2023]. Available from: https://marlin.ac.uk/species/detail/1258
---
Last Updated: 02/02/2007