A cushion star (Asterina phylactica)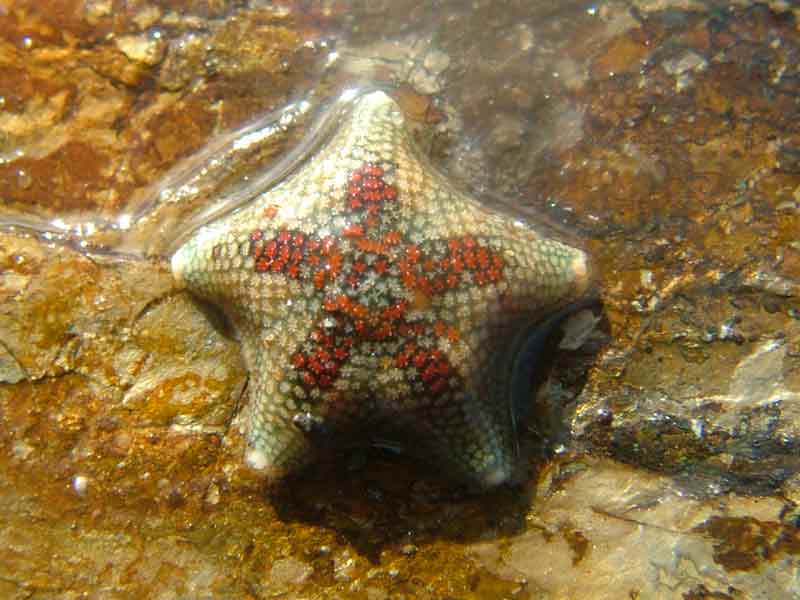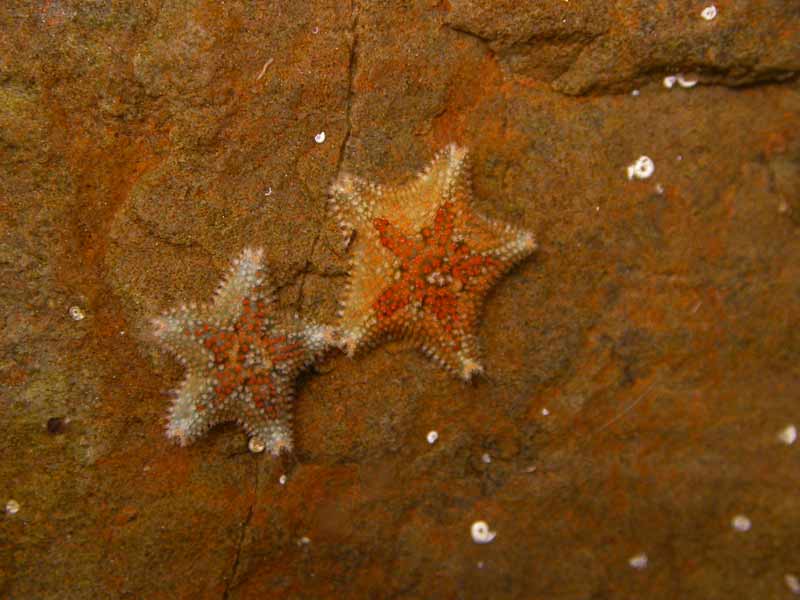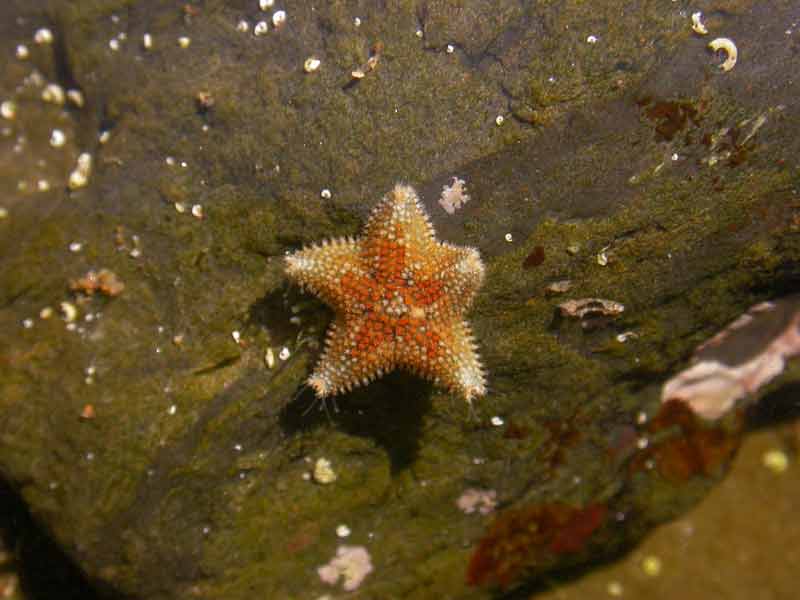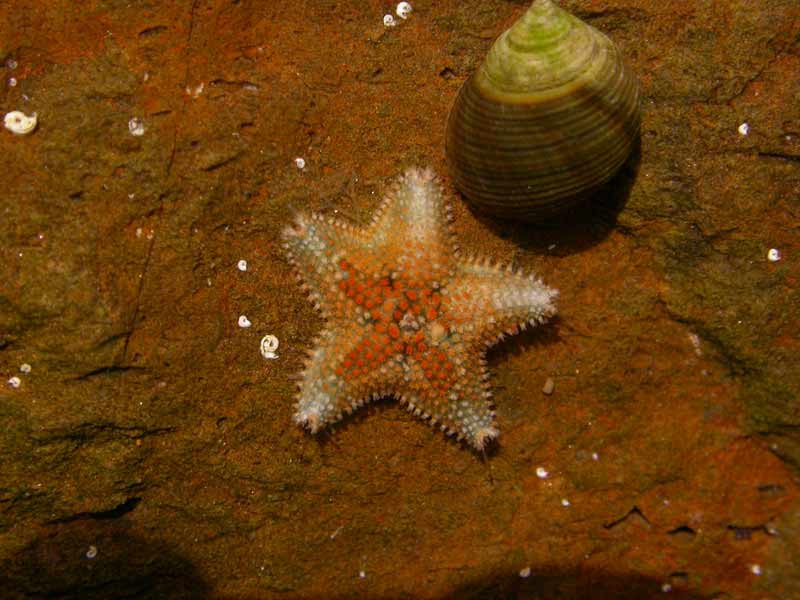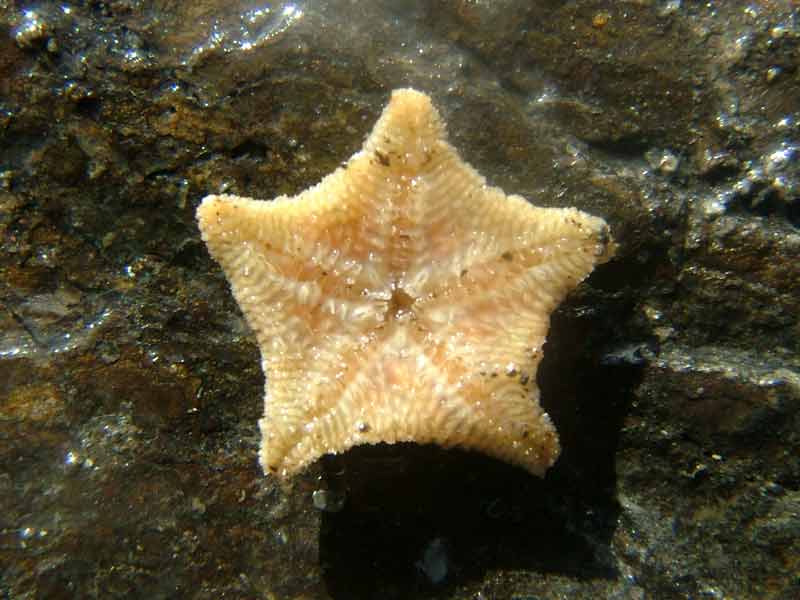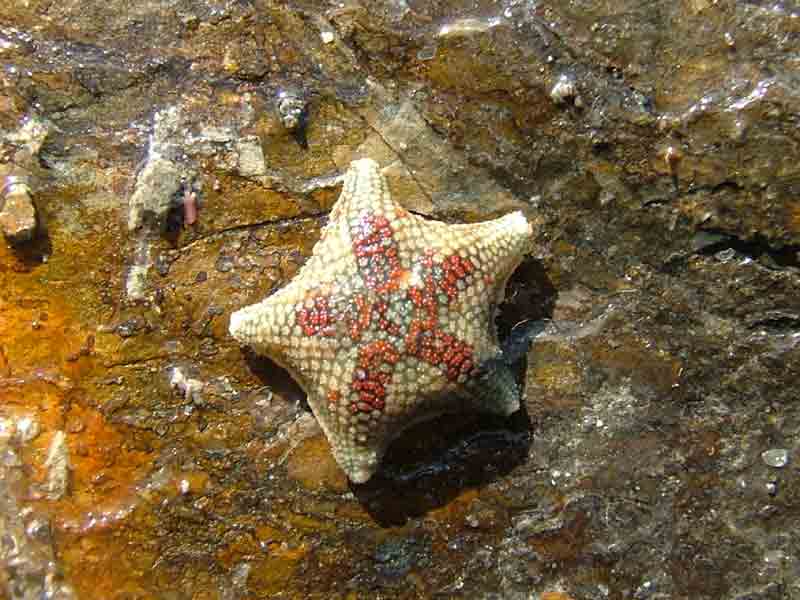 Researched by
Morvan Barnes
Refereed by
Admin
Authority
Emson & Crump, 1979
Other common names
-
Synonyms
-
Summary
Description
The cushion star, Asterina phylactica, is small five-armed starfish. Like all starfish, it has a star-shaped body with five equal length arms originating at a central disc. The lower surface of the central disc bears the mouth. A deep furrow runs from the mouth to the end of each arm. In each furrow are two rows of tube feet. Like similar starfish species, Asterina phylactica, has inconspicuous marginal plates, papulae on the all surfaces and a sharp edge between the upper and lower surfaces.
Asterina phylactica has a flattened body which can reach up to 15 cm in diameter and small compact arms. It can be distinguished from Asterina gibbosa and similar species by having very few ventral mouth plates and no radial thickenings. It has a grey-green upper surface with a conspicuous dark star-shape in the centre. It is pale underneath.
Recorded distribution in Britain and Ireland
Found off the south-west coasts of the British Isles, but occurs as far north as the west coasts of Scotland and has been recorded off north-west Ireland.
Global distribution
Brittany and Meditteranean
Habitat
Asterina phylactica is a benthic species often found in intertidal rock pools but may be found sublittorally down to a depth of 18 m.
Depth range
Sublittoral to 18 metres
Identifying features
Inconspicuous marginal plates.
Papulae on upper and lower surfaces.
No crossed pedicellariae.
Two rows of tube feet.
Sharp edge between the upper and lower surfaces.
Dark star shape at the centre of the upper surface.
Additional information
Asterina phylactica has an unusual reproductive strategy. Individuals are simultaneous hermaphrodites, and during breeding season will form small aggregations of up to 10 individuals to ensure cross breeding. They then brood the eggs by laying over the top them, remaining with the breeding aggregation until the eggs hatch.
Bibliography
Emson, R.H. & Crump, R.G., 1979. Description of a new species of Asterina (Asteroidea), with an account of its ecology. Journal of the Marine Biological Association of the United Kingdom, 59, 77-94.

Hayward, P.J. & Ryland, J.S. (ed.) 1995b. Handbook of the marine fauna of North-West Europe. Oxford: Oxford University Press.

Howson, C.M. & Picton, B.E., 1997. The species directory of the marine fauna and flora of the British Isles and surrounding seas. Belfast: Ulster Museum. [Ulster Museum publication, no. 276.]

Mortensen, T.H., 1927. Handbook of the echinoderms of the British Isles. London: Humphrey Milford, Oxford University Press.

Picton, B.E., 1993. A field guide to the shallow-water echinoderms of the British Isles. London: Immel Publishing Ltd.

Southward, E.C. & Campbell, A.C., 2006. Echinoderms. The Linnean Society of London. Avon: The Bath Press. [Synopses of the British Fauna No. 56.]

Strathmann, R.R., Strathmann, M.F. & Emson, R.H., 1984. Does limited brood capacity link adult size, brooding, and simultaneous hermaphroditism? A test with the starfish Asterina phylactica. The American Naturalist, 123 (6), 796-818. DOI 10.1086/284240

WoRMS 2007. The World Register of Marine Species (WoRMS). http://www.marinespecies.org, 2008-10-31
Datasets
Citation
This review can be cited as:
Barnes, M.K.S. 2008. Asterina phylactica A cushion star. In Tyler-Walters H. and Hiscock K. Marine Life Information Network: Biology and Sensitivity Key Information Reviews, [on-line]. Plymouth: Marine Biological Association of the United Kingdom. [cited 11-12-2023]. Available from: https://marlin.ac.uk/species/detail/131
---
Last Updated: 27/03/2008