Sand burrowing brittlestar (Acrocnida brachiata)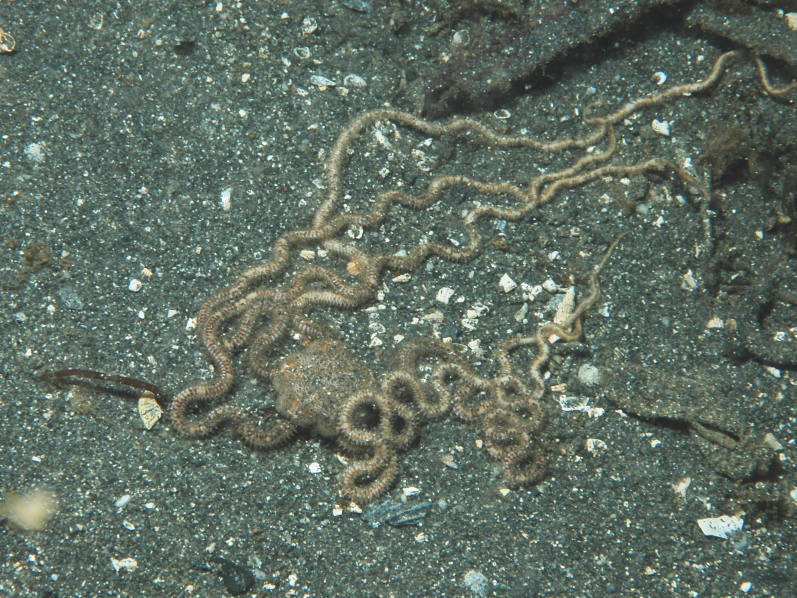 Researched by
Morvan Barnes
Refereed by
Admin
Authority
(Montagu, 1804)
Other common names
-
Synonyms
Amphiura brachiata (Montagu, 1804)
Summary
Description
Acrocnida brachiata displays the characteristic brittle star body plan with a flat central disc and five distinctly demarcated thin arms. As a member of the order Ophiurida, its arms are usually moved horizontally and the discs and arms are covered with scales. The circular disc can reach 12 mm in diameter and it has very long, thin and flexible arms. Like similar species, it has only one outer mouth papilla, clearly detached from the infradental papillae. It can be differentiated by the presence of two tentacle scales, ventral scales and radial shields with a transverse furrow. It is brown-grey in colour.
Recorded distribution in Britain and Ireland
Found throughout the coastal waters of the British Isles and Ireland.
Habitat
Acrocnida brachiata is a littoral and sublittoral benthic species usually found buried in fine sand down to a depth of 40 m.
Identifying features
Circular disc up to 12 mm in diameter.
Long, thin arms up to 18 cm in length.
One outer mouth papilla detached from paired papillae within the mouth.
Numerous arm spines and two tentacle scales.
Ventral scales with a small tubercle.
Transverse furrow on the large shields at the basw of the arms.
Additional information
Acrocnida brachiata is well known to bury itself in sand with only the distal parts of the arms sticking out but is also often associated with Echinocardium cordatum.
Bibliography
Hayward, P.J. & Ryland, J.S. (ed.) 1995b. Handbook of the marine fauna of North-West Europe. Oxford: Oxford University Press.

Howson, C.M. & Picton, B.E., 1997. The species directory of the marine fauna and flora of the British Isles and surrounding seas. Belfast: Ulster Museum. [Ulster Museum publication, no. 276.]

Mortensen, T.H., 1927. Handbook of the echinoderms of the British Isles. London: Humphrey Milford, Oxford University Press.

Picton, B.E., 1993. A field guide to the shallow-water echinoderms of the British Isles. London: Immel Publishing Ltd.

Southward, E.C. & Campbell, A.C., 2006. Echinoderms. The Linnean Society of London. Avon: The Bath Press. [Synopses of the British Fauna No. 56.]
Datasets
Citation
This review can be cited as:
Barnes, M.K.S. 2008. Acrocnida brachiata Sand burrowing brittlestar. In Tyler-Walters H. and Hiscock K. Marine Life Information Network: Biology and Sensitivity Key Information Reviews, [on-line]. Plymouth: Marine Biological Association of the United Kingdom. [cited 30-11-2023]. Available from: https://marlin.ac.uk/species/detail/134
---
Last Updated: 22/05/2008