A sea cucumber (Paraleptopentacta elongata)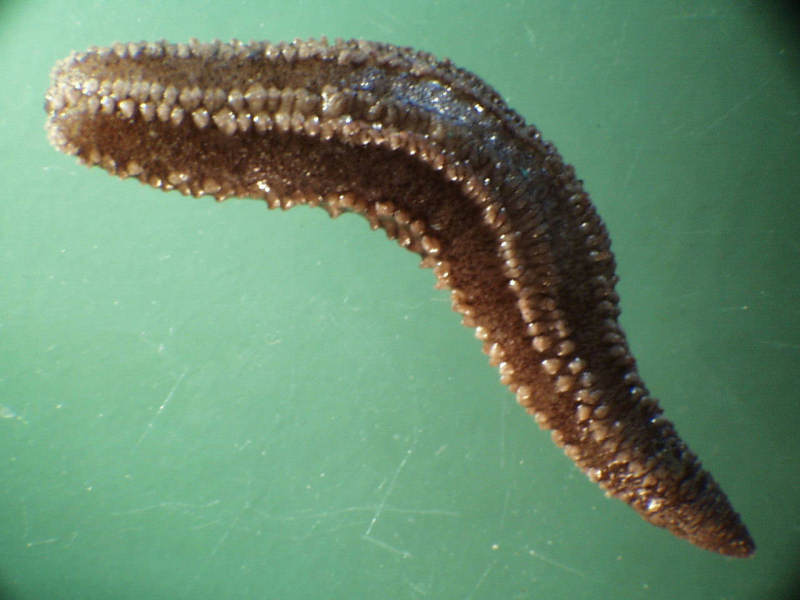 Researched by
Morvan Barnes
Refereed by
Admin
Authority
(Düben & Koren, 1846)
Other common names
-
Synonyms
Trachythyone elongata (Düben & Koren, 1846), Leptopentacta elongata (Düben & Koren, 1846)
Summary
Description
Paraleptopentacta elongata is a burrowing sea cucumber, which lives in U-shaped burrows. Its cylindrical body tapers at both ends with ten white, bushy tentacles at one end and the anus at the other end both protruding out into the water column. It has five distinct double rows of tube feet. The skin is thick and tough. Its narrow body may reach up to 15 cm in length and is brown to off-white in colour.
Recorded distribution in Britain and Ireland
Found throughout British and Irish waters as far north as the Shetlands and as far south as the western English Channel.
Global distribution
Recorded from the Noth Atlantic from Bear Island in the Barents Sea south to Spain and Portugal, and into the Mediterranean.
Habitat
Paraleptopentacta elongata is a sublittoral benthic species often found buried in sandy or muddy sediment down to a depth of 70 m.
Identifying features
Up to 15 cm in length, 1 cm in diameter.
Brown body colouration.
Thin, curved body with long tapering tail and tapering head.
Five rows of tube feet.
Ten small, white, sparsely-branched tentacles: eight large and two small.
Spicules are smooth plates with holes.
Additional information
-none-
Bibliography
Hayward, P.J. & Ryland, J.S. (ed.) 1995b. Handbook of the marine fauna of North-West Europe. Oxford: Oxford University Press.

Howson, C.M. & Picton, B.E., 1997. The species directory of the marine fauna and flora of the British Isles and surrounding seas. Belfast: Ulster Museum. [Ulster Museum publication, no. 276.]

Mortensen, T.H., 1927. Handbook of the echinoderms of the British Isles. London: Humphrey Milford, Oxford University Press.

Picton, B.E., 1993. A field guide to the shallow-water echinoderms of the British Isles. London: Immel Publishing Ltd.

Southward, E.C. & Campbell, A.C., 2006. Echinoderms. The Linnean Society of London. Avon: The Bath Press. [Synopses of the British Fauna No. 56.]
Datasets
Citation
This review can be cited as:
Barnes, M.K.S. 2008. Paraleptopentacta elongata A sea cucumber. In Tyler-Walters H. and Hiscock K. Marine Life Information Network: Biology and Sensitivity Key Information Reviews, [on-line]. Plymouth: Marine Biological Association of the United Kingdom. [cited 30-11-2023]. Available from: https://marlin.ac.uk/species/detail/136
---
Last Updated: 22/05/2008