A sea anemone (Cylista undata)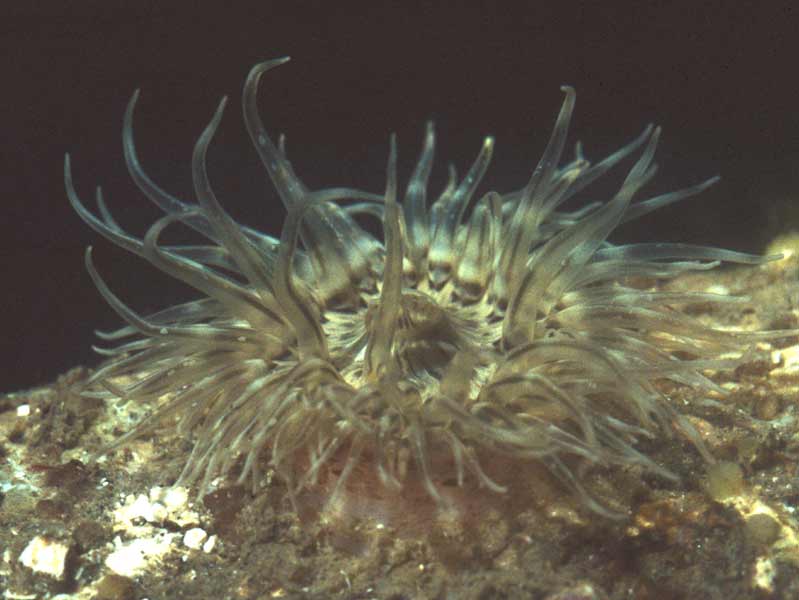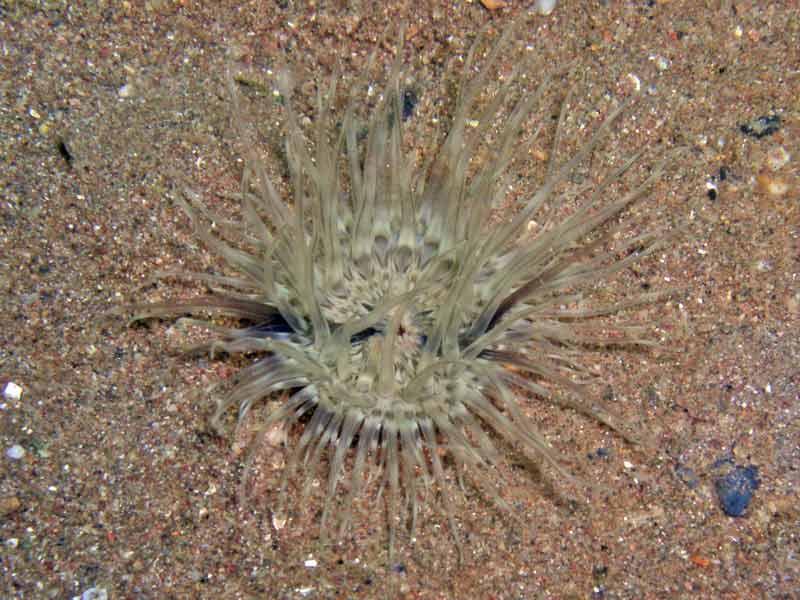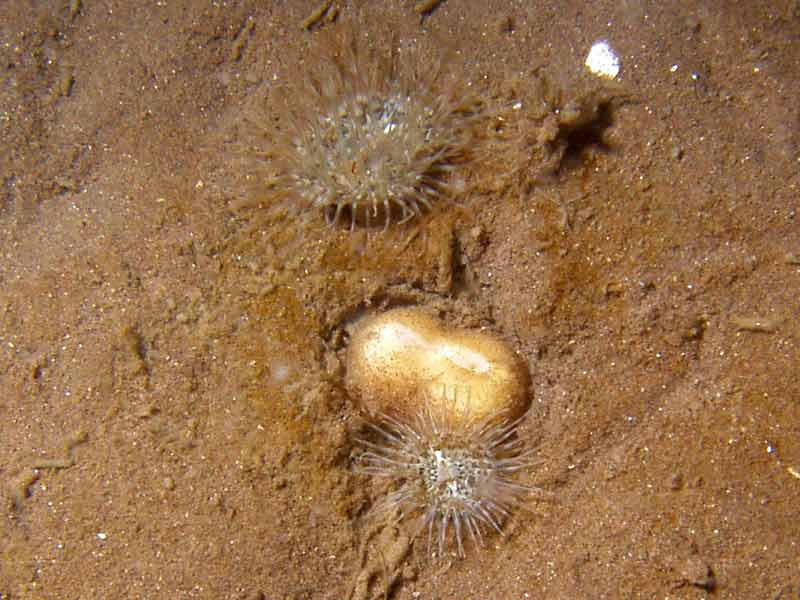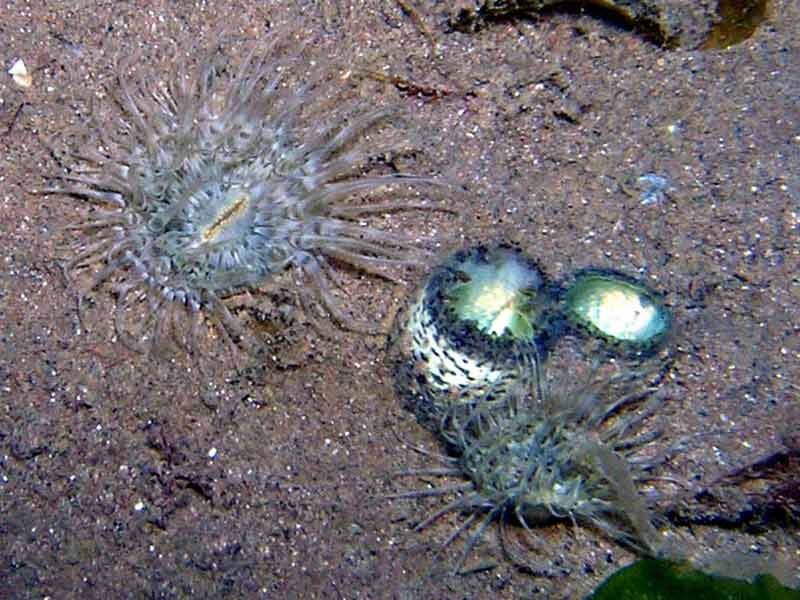 Researched by
Emily Wilson
Refereed by
Admin
Authority
(Müller, 1778)
Other common names
-
Synonyms
Sagartiogeton undatus (Müller, 1778)
Summary
Description
A graceful sea anemone with long tentacles arranged in multiples of six. It grows up to 12 cm tall and 6 cm across the base which is strongly adherent. The disc and tentacles are translucent pale greyish in colour, while the disc is variegated with cream, and with a regular but not striking pattern. The tentacles have lateral dark lines down their length. The column is tall in extension with no suckers and pale yellowish buff in colour, with regular vertical stripes of brown flecks of variable intensity.
Recorded distribution in Britain and Ireland
Present on all British and Irish coats.
Global distribution
Scandinavia to Mediterranean.
Habitat
Typically found buried in sand or gravel, attached to a stone or shell 10-15 cm into the sediment or in crevices or holes in rocks. Found on the lower shore and sublittoral to a depth of at least 100 m.
Depth range
Lower shore to 100m
Identifying features
Column at full extension up to 12 cm high and 2 cm diameter.
Oral disc wider than column, with an unusually wide mouth.
Tentacles up to 200, long, slender, arranged hexamerously.
No suckers.
Striped pattern on column is consistent and distinctive.
Additional information
The taxonomy of the family Sagartiidae was recently examined by Sanamyan & Sanamyan (2020) who concluded that the genus Sagartia was not valid and should be assigned to the genus Cylista. Cylista undata is often found in the company of Sagartia troglodytes or Cereus pedunculatus, where these occur buried, and in the past has been confused with both these species although easily distinguished from them by its lack of suckers. Philip Henry Gosse christened this species the Snakelocks, but this name proved popular with the more common species Anemonia viridis.
Bibliography
Hayward, P., Nelson-Smith, T. & Shields, C. 1996. Collins pocket guide. Sea shore of Britain and northern Europe. London: HarperCollins.

Hayward, P.J. & Ryland, J.S. (ed.) 1995b. Handbook of the marine fauna of North-West Europe. Oxford: Oxford University Press.

Howson, C.M. & Picton, B.E., 1997. The species directory of the marine fauna and flora of the British Isles and surrounding seas. Belfast: Ulster Museum. [Ulster Museum publication, no. 276.]

Manuel, R.L., 1988. British Anthozoa. Synopses of the British Fauna (New Series) (ed. D.M. Kermack & R.S.K. Barnes). The Linnean Society of London [Synopses of the British Fauna No. 18.]. DOI https://doi.org/10.1002/iroh.19810660505
Datasets
Citation
This review can be cited as:
Wilson, E. 2007. Cylista undata A sea anemone. In Tyler-Walters H. and Hiscock K. Marine Life Information Network: Biology and Sensitivity Key Information Reviews, [on-line]. Plymouth: Marine Biological Association of the United Kingdom. [cited 11-12-2023]. Available from: https://marlin.ac.uk/species/detail/1414
---
Last Updated: 20/04/2007