False Irish moss (Mastocarpus stellatus)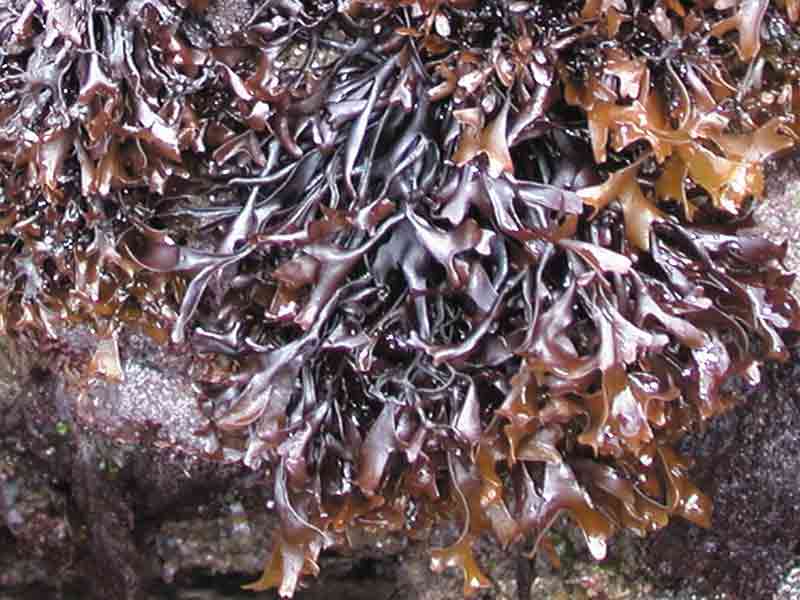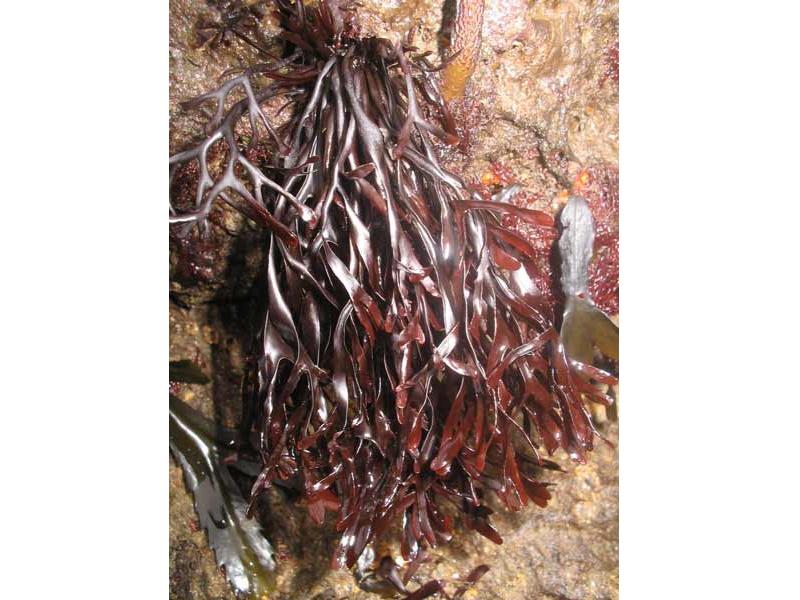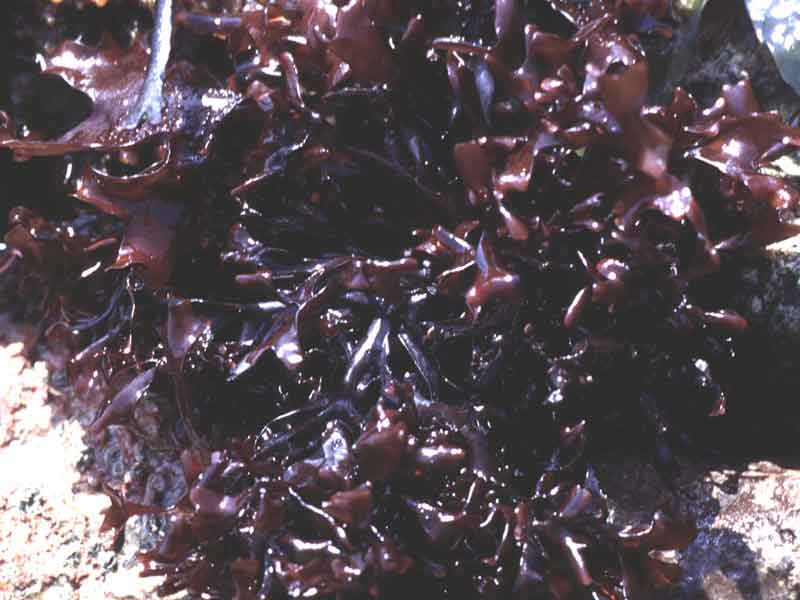 Researched by
Paolo Pizzolla
Refereed by
Admin
Authority
(Stackhouse) Guiry, 1984
Other common names
-
Synonyms
Gigartina stellata (Stackhouse) Guiry, 1984
Summary
Description
A small red alga (up to 17 cm in length), the fronds are channelled with a thickened edge and widen from a narrow stipe with disc-like holdfast. The channelling is often slight and is most noticeable at the base of the frond. Mature plants have conspicuous growths of short, shout papillae (reproductive bodies) on the fronds. The plant is dark reddish-brown to purple in colour and may be bleached. The common name false Irish moss is used as it may be confused with
Chondrus crispus
(Irish moss). The main features separating the two species being the channelled frond and appearance of reproductive bodies on mature plants.
Recorded distribution in Britain and Ireland
Occurs all around the British Isles but is abundant mainly on western coasts.
Habitat
This alga is found on rocky shores, particularly in very exposed areas where it grows amongst barnacles and mussels, on less exposed shores it is often abundant under fucoids. It mainly inhabits the lower shore and rockpools, but can be found in the shallow sublittoral and occasionally deeper waters.
Identifying features
Up to 17 cm in length.
Channelled fronds with thickened edge widen from a narrow stipe.
Disc like holdfast.
Darkish reddish-brown to purple in colour.
Additional information
May be collected with
Chondrus crispus
as a source of 'carrageen', which is used to make soups and jellies, and also as a remedy for respiratory disorders in Ireland ('Carrageen' is a hot water extract of red algae).
Bibliography
Dickinson, C.I., 1963. British seaweeds. London & Frome: Butler & Tanner Ltd.

Fish, J.D. & Fish, S., 1996. A student's guide to the seashore. Cambridge: Cambridge University Press.

Hardy, F.G. & Guiry, M.D., 2003. A check-list and atlas of the seaweeds of Britain and Ireland. London: British Phycological Society

Howson, C.M. & Picton, B.E., 1997. The species directory of the marine fauna and flora of the British Isles and surrounding seas. Belfast: Ulster Museum. [Ulster Museum publication, no. 276.]

JNCC (Joint Nature Conservation Committee), 1999. Marine Environment Resource Mapping And Information Database (MERMAID): Marine Nature Conservation Review Survey Database. [on-line] http://www.jncc.gov.uk/mermaid

Picton, B.E. & Costello, M.J., 1998. BioMar biotope viewer: a guide to marine habitats, fauna and flora of Britain and Ireland. [CD-ROM] Environmental Sciences Unit, Trinity College, Dublin.
Datasets
Citation
This review can be cited as:
Pizzolla, P.F 2008. Mastocarpus stellatus False Irish moss. In Tyler-Walters H. and Hiscock K. Marine Life Information Network: Biology and Sensitivity Key Information Reviews, [on-line]. Plymouth: Marine Biological Association of the United Kingdom. [cited 02-12-2023]. Available from: https://marlin.ac.uk/species/detail/1446
---
Last Updated: 29/05/2008