European smelt (Osmerus eperlanus)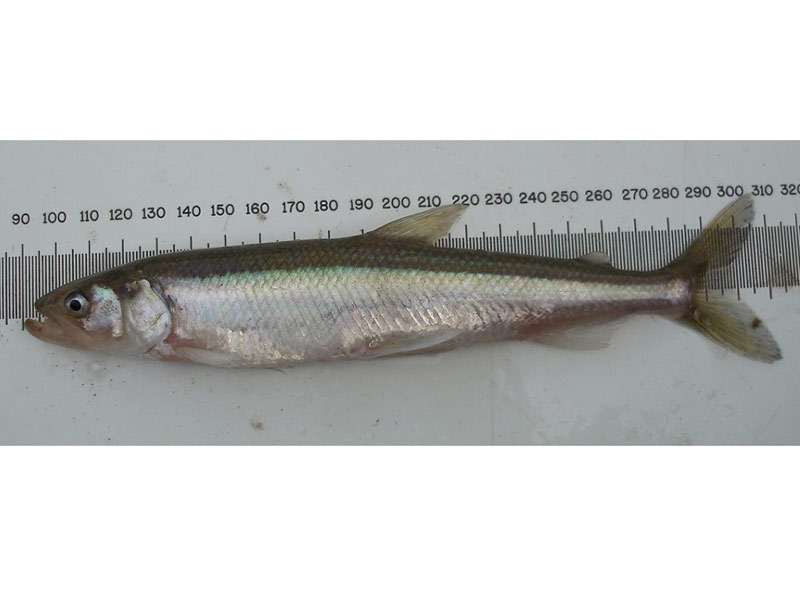 Researched by
Morvan Barnes
Refereed by
Admin
Authority
(Linnaeus, 1758)
Other common names
-
Synonyms
-
Summary
Description
Osmerus eperlanus is an elongate fish reaching up to 45 cm. Large cycloid scales cover its body. It has a large caudal fin and tall but short dorsal and anal fins. It has fairly large jaws reaching back to under the eye. The lower jaw projects a little and the teeth are larger in the lower jaw. The European smelt has a light olive green back and a creamy white belly, with a silvery stripe on the flanks.
Recorded distribution in Britain and Ireland
Found on the east coasts of Britain as well as western Scotland as far north as the Hebrides.
Habitat
The European smelt is an anadromous midwater species rarely found far from the shore.
Identifying features
Up to 45 cm in length.
Lateral line does not reach the caudal base.
Dorsal fin originates behind the pectoral fin.
Light olive green dorsally, white underneath.
Silvery stripe on the flanks.
Additional information
European smelt congregate near river mouths in winter and usually ascend the river between February and April, returning to the sea soon after spawning takes place. It is sometimes divided into two subspecies, Osmerus eperlanus eperlanus and Osmerus eperlanus schonfoldi, with only the latter occuring around the British Isles and Ireland (Whitehead et al., 1986).
Bibliography
Froese, R. & Pauly, D., 2007. Fishbase. A global information system on fishes. [On-line] http://www.fishbase.org, 2008-02-18

Howson, C.M. & Picton, B.E., 1997. The species directory of the marine fauna and flora of the British Isles and surrounding seas. Belfast: Ulster Museum. [Ulster Museum publication, no. 276.]

Knijn, R.J., Boon, T.W., Heesen, H.J.L & Hislop, J.R.G., 1993. Atlas of North Sea Fishes. ICES cooperative research reports. ICES 194., Copenhagen

Whitehead, P.J.P., Bauchot, M.-L., Hureau, J.-C., Nielson, J. & Tortonese, E. 1986. Fishes of the North-eastern Atlantic and the Mediterranean. Vol. I, II & III. Paris: United Nations Educational, Scientific and Cultural Organisation (UNESCO).
Datasets
Citation
This review can be cited as:
Barnes, M.K.S. 2008. Osmerus eperlanus European smelt. In Tyler-Walters H. and Hiscock K. Marine Life Information Network: Biology and Sensitivity Key Information Reviews, [on-line]. Plymouth: Marine Biological Association of the United Kingdom. [cited 06-12-2023]. Available from: https://marlin.ac.uk/species/detail/146
---
Last Updated: 02/06/2008