Sea lettuce (Ulva lactuca)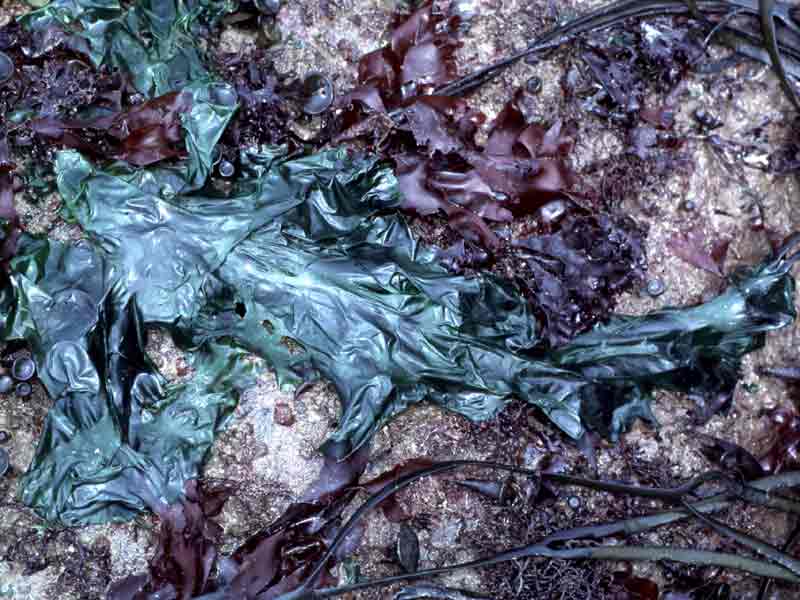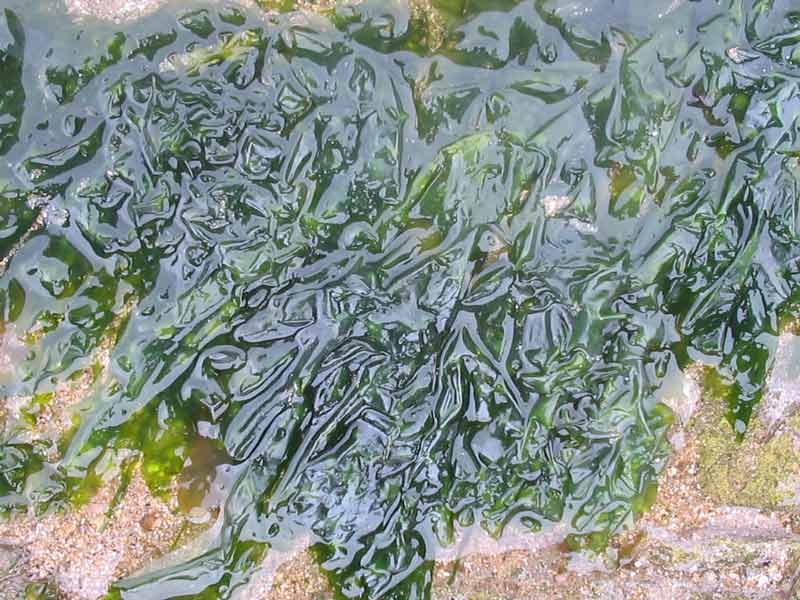 Researched by
Paolo Pizzolla
Refereed by
Admin
Authority
Linnaeus, 1753
Other common names
-
Synonyms
-
Summary
Description
A small green alga (up to 30 cm across) with a broad, crumpled frond that is tough, translucent and membranous. It is attached to rock via a small hold-fast .
Recorded distribution in Britain and Ireland
An ubiquitous plant found on all but the most exposed rocky shores, but is probably under-recorded in Ireland.
Habitat
The sea lettuce is found at all levels of the intertidal, although in more northerly latitudes and in brackish habitats it is found in the shallow sublittoral. In very sheltered conditions, plants that have become detached from the substrate can continue to grow, forming extensive floating communities. The plant tolerates brackish conditions and can be found on suitable substrata in estuaries.
Identifying features
Up to 30 cm across.
Frond broad and crumpled, that is tough, translucent and membranous.
Disc like holdfast.
Green to dark green in colour.
Additional information
Ulva is sometimes eaten as "green laver", but it is considered inferior to purple laver.
Bibliography
Dickinson, C.I., 1963. British seaweeds. London & Frome: Butler & Tanner Ltd.

Hardy, F.G. & Guiry, M.D., 2003. A check-list and atlas of the seaweeds of Britain and Ireland. London: British Phycological Society

Hayward, P., Nelson-Smith, T. & Shields, C. 1996. Collins pocket guide. Sea shore of Britain and northern Europe. London: HarperCollins.

Howson, C.M. & Picton, B.E., 1997. The species directory of the marine fauna and flora of the British Isles and surrounding seas. Belfast: Ulster Museum. [Ulster Museum publication, no. 276.]

JNCC (Joint Nature Conservation Committee), 1999. Marine Environment Resource Mapping And Information Database (MERMAID): Marine Nature Conservation Review Survey Database. [on-line] http://www.jncc.gov.uk/mermaid

Norton, T.A. (ed.), 1985. Provisional Atlas of the Marine Algae of Britain and Ireland. Huntingdon: Biological Records Centre, Institute of Terrestrial Ecology.

Picton, B.E. & Costello, M.J., 1998. BioMar biotope viewer: a guide to marine habitats, fauna and flora of Britain and Ireland. [CD-ROM] Environmental Sciences Unit, Trinity College, Dublin.
Datasets
Citation
This review can be cited as:
Pizzolla, P.F 2008. Ulva lactuca Sea lettuce. In Tyler-Walters H. and Hiscock K. Marine Life Information Network: Biology and Sensitivity Key Information Reviews, [on-line]. Plymouth: Marine Biological Association of the United Kingdom. [cited 06-12-2023]. Available from: https://marlin.ac.uk/species/detail/1467
---
Last Updated: 22/05/2008