Velvet horn (Codium tomentosum)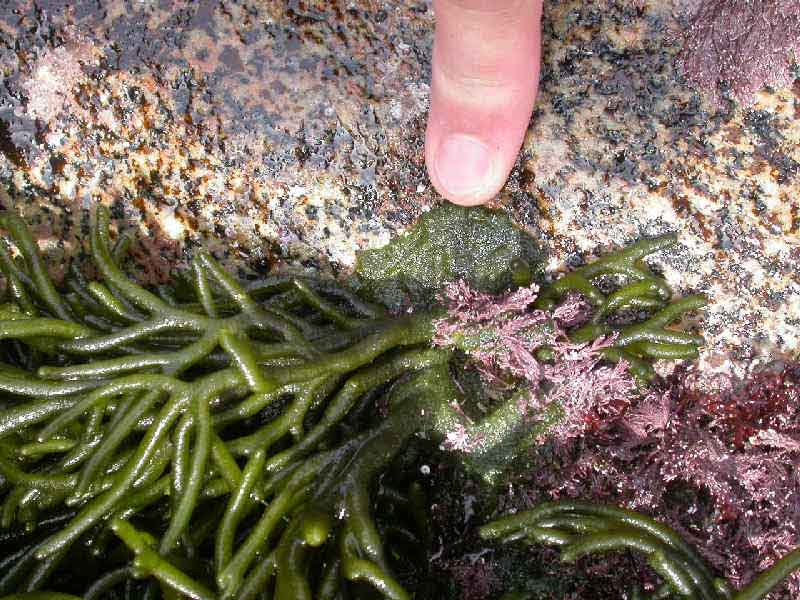 Researched by
Paolo Pizzolla
Refereed by
Admin
Authority
Stackhouse, 1797
Other common names
-
Synonyms
-
Summary
Description
A small green alga (up to 30 cm long) with a dichotomously branched, cylindrical frond. The frond is solid and spongy with a felt-like touch and has many colourless hairs which can be seen when the plant is immersed in water. The holdfast is disc-like and formed from many fine threads.
Recorded distribution in Britain and Ireland
Codium tomentosum occurs mainly in the south west of the UK and is becoming quite rare. Both pollution and competition with Codium fragile have been suggested as potential causes of its decline.
Habitat
It attaches to exposed rocks and occurs in rock pools on the lower shore.
Identifying features
Small green seaweed, up to 30 cm long.
Dichotomously branching with a cylindrical frond.
Felt-like to the touch.
Disc like holdfast made from fine threads.
Additional information
Codium tomentosum can be confused with Codium fragile. However, Codium tomentosum tends to have a more slender frond with rounded tips whereas Codium fragile has pointed tips to the frond.
Bibliography
Burrows, E.M., 1991. Seaweeds of the British Isles. Volume 2. Chlorophyta. London: British Museum (Natural History).

Fish, J.D. & Fish, S., 1996. A student's guide to the seashore. Cambridge: Cambridge University Press.

Hayward, P., Nelson-Smith, T. & Shields, C. 1996. Collins pocket guide. Sea shore of Britain and northern Europe. London: HarperCollins.

Howson, C.M. & Picton, B.E., 1997. The species directory of the marine fauna and flora of the British Isles and surrounding seas. Belfast: Ulster Museum. [Ulster Museum publication, no. 276.]

JNCC (Joint Nature Conservation Committee), 1999. Marine Environment Resource Mapping And Information Database (MERMAID): Marine Nature Conservation Review Survey Database. [on-line] http://www.jncc.gov.uk/mermaid

Trowbridge, C.D., 1998. Ecology of the green macroalga Codium fragile (Suringar) Hariot 1889: invasive or non-invasive subspecies. Oceanography and Marine Biology: an Annual Review, 36, 1-64.
Datasets
Citation
This review can be cited as:
Pizzolla, P.F 2007. Codium tomentosum Velvet horn. In Tyler-Walters H. and Hiscock K. Marine Life Information Network: Biology and Sensitivity Key Information Reviews, [on-line]. Plymouth: Marine Biological Association of the United Kingdom. [cited 06-12-2023]. Available from: https://marlin.ac.uk/species/detail/1474
---
Last Updated: 13/08/2007