Small-headed clingfish (Apletodon dentatus)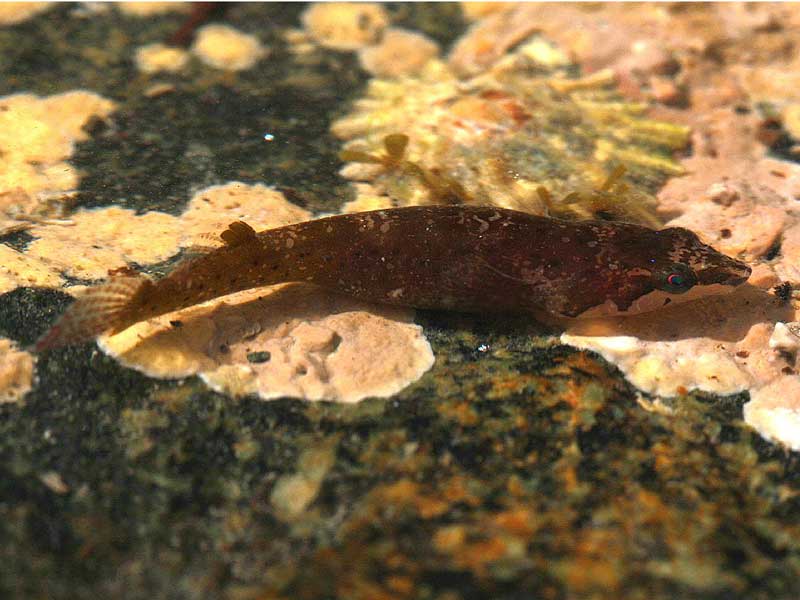 Researched by
Morvan Barnes
Refereed by
Admin
Authority
(Facciolà, 1887)
Other common names
-
Synonyms
-
Summary
Description
Apletodon dentatus is a small fish reaching up to 4 cm in length. It has a depressed triangular head when viewed from above. It has single dorsal and anal fins that are rounded in shape and short and are positioned near the tail. The tail itself is rounded, as is the pectoral fin. The pelvic fin is a specialised sucking disc. The small-headed clingfish is variable in colour, often green with darker mottling, or maroon spotted with mahogany, and large white dorsal spots. Adult males may display a large black or purple spot on the dorsal and anal fins and purple areas on the throat.
Recorded distribution in Britain and Ireland
Found in the western English Channel and in the northern Irish Sea and south-west Scotland.
Habitat
The small-headed clingfish is a coastal benthic species although little is known about its habitat preferences.
Identifying features
Up to 4 cm in length.
Depressed triangular head.
Rounded fins with the dorsal and anal fins set far back on the body.
Sucking disc under the body in line with the pectoral fins.
Scales absent.
Additional information
The small-headed clingfish is very hard to distinguish from similar species other than by colouration, and can only usually be distinguished by the proportional sizes of it main exterior features (given by Whitehead et al., 1986).
Bibliography
Froese, R. & Pauly, D., 2007. Fishbase. A global information system on fishes. [On-line] http://www.fishbase.org, 2008-02-18

Howson, C.M. & Picton, B.E., 1997. The species directory of the marine fauna and flora of the British Isles and surrounding seas. Belfast: Ulster Museum. [Ulster Museum publication, no. 276.]

Whitehead, P.J.P., Bauchot, M.-L., Hureau, J.-C., Nielson, J. & Tortonese, E. 1986. Fishes of the North-eastern Atlantic and the Mediterranean. Vol. I, II & III. Paris: United Nations Educational, Scientific and Cultural Organisation (UNESCO).
Datasets
Citation
This review can be cited as:
Barnes, M.K.S. 2008. Apletodon dentatus Small-headed clingfish. In Tyler-Walters H. and Hiscock K. Marine Life Information Network: Biology and Sensitivity Key Information Reviews, [on-line]. Plymouth: Marine Biological Association of the United Kingdom. [cited 10-12-2023]. Available from: https://marlin.ac.uk/species/detail/148
---
Last Updated: 02/06/2008