Flounder (Platichthys flesus)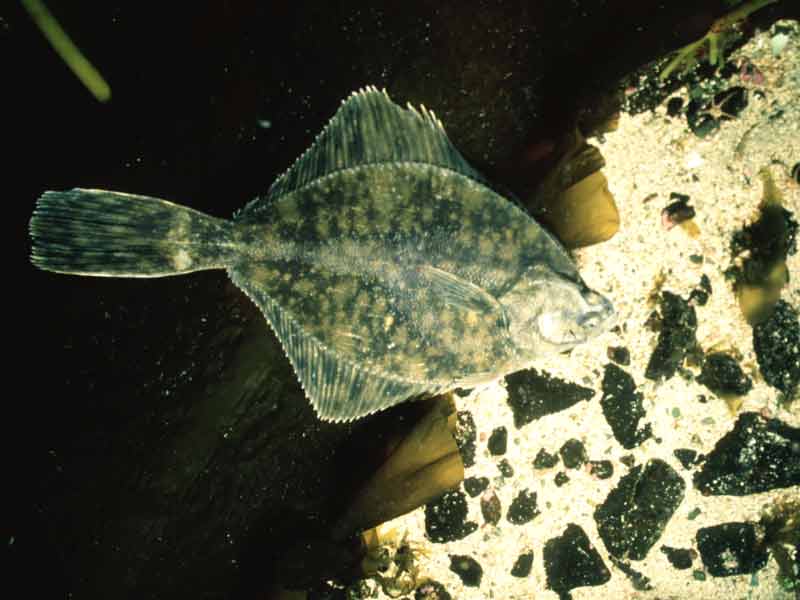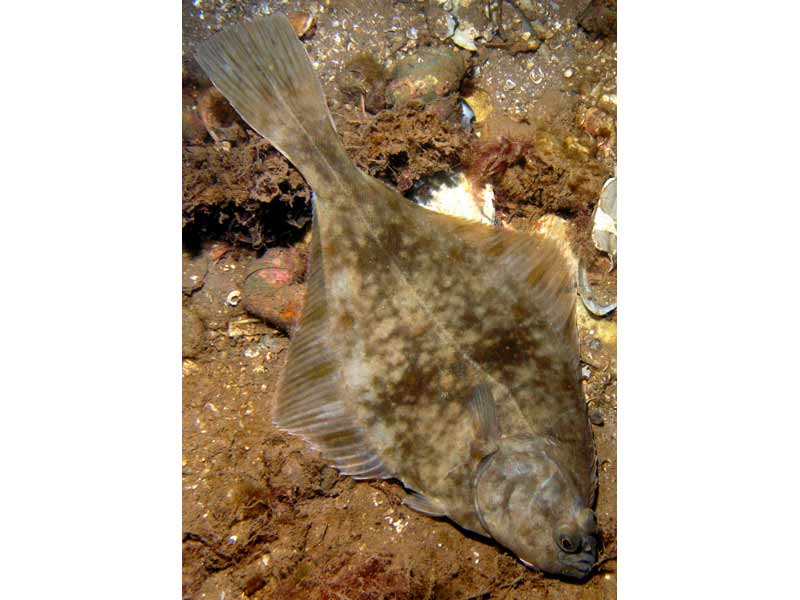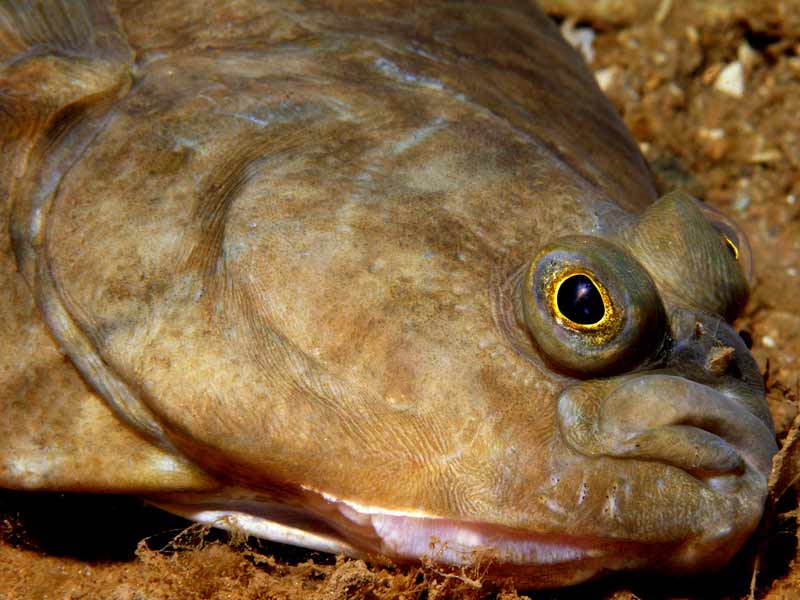 Researched by
Paolo Pizzolla
Refereed by
Admin
Authority
(Linnaeus, 1758)
Other common names
-
Synonyms
Pleuronectes flesus (Linnaeus, 1758)
Summary
Description
The flounder has a roughly oval shape, with both eyes on the right side of its head and has a small mouth and pointed snout. The lateral line curves slightly around the pectoral fin. It has a smooth body except for some rough scales along the lateral line and a row of prickly humps along the base of the dorsal and anal fins. The caudal peduncle is long, accounting for about half the length of the tail. The topside colour is variable from dull brown to greyish-green, often with small orange spots, while the underside is white. The flounder grows up to 50 cm in length.
Recorded distribution in Britain and Ireland
The flounder is common to all British and Irish coasts.
Habitat
A bottom dwelling fish living in inshore waters to depths of 50 m, Platichthys flesus can often be found in estuaries and sometimes freshwater.
Identifying features
Oval in shape, up to 50 cm in length.
Small mouth, pointed snout.
Square-cut tail.
Topside colour variable from dull brown to greenish grey
Underside white.
Additional information
Identification of
Plactichthys flesus
is made more difficult by the existence of 'reversed individuals' in which the eyes are on the left side of the body. Hybrid individuals have been know to occur through interbreeding between flounder and plaice (
Pleuronectes platessa
) (Dipper, 2001).
Bibliography
Dipper, F., 2001. British sea fishes (2nd edn). Teddington: Underwater World Publications Ltd.

Hayward, P., Nelson-Smith, T. & Shields, C. 1996. Collins pocket guide. Sea shore of Britain and northern Europe. London: HarperCollins.

Hayward, P.J. & Ryland, J.S. (ed.) 1995b. Handbook of the marine fauna of North-West Europe. Oxford: Oxford University Press.

Howson, C.M. & Picton, B.E., 1997. The species directory of the marine fauna and flora of the British Isles and surrounding seas. Belfast: Ulster Museum. [Ulster Museum publication, no. 276.]

JNCC (Joint Nature Conservation Committee), 1999. Marine Environment Resource Mapping And Information Database (MERMAID): Marine Nature Conservation Review Survey Database. [on-line] http://www.jncc.gov.uk/mermaid
Datasets
Citation
This review can be cited as:
Pizzolla, P.F 2005. Platichthys flesus Flounder. In Tyler-Walters H. and Hiscock K. Marine Life Information Network: Biology and Sensitivity Key Information Reviews, [on-line]. Plymouth: Marine Biological Association of the United Kingdom. [cited 10-12-2023]. Available from: https://marlin.ac.uk/species/detail/1495
---
Last Updated: 22/04/2005