Purple sea urchin (Paracentrotus lividus)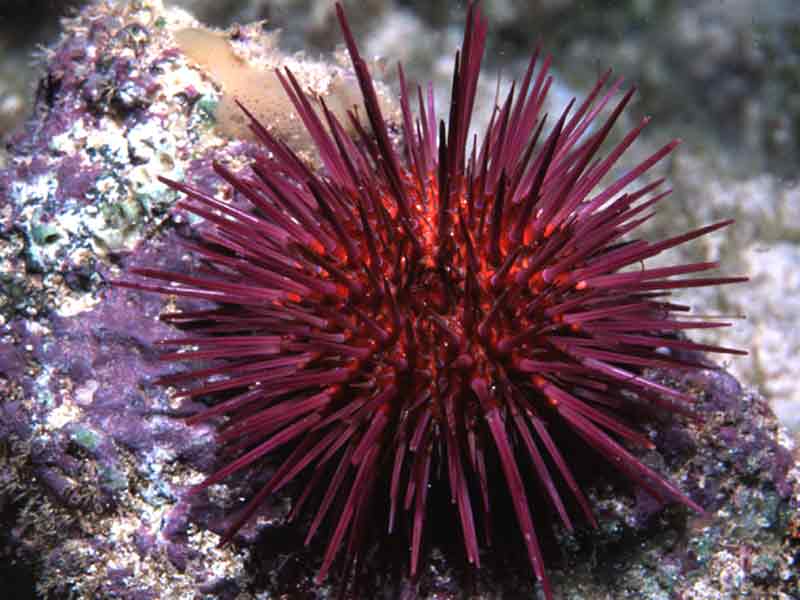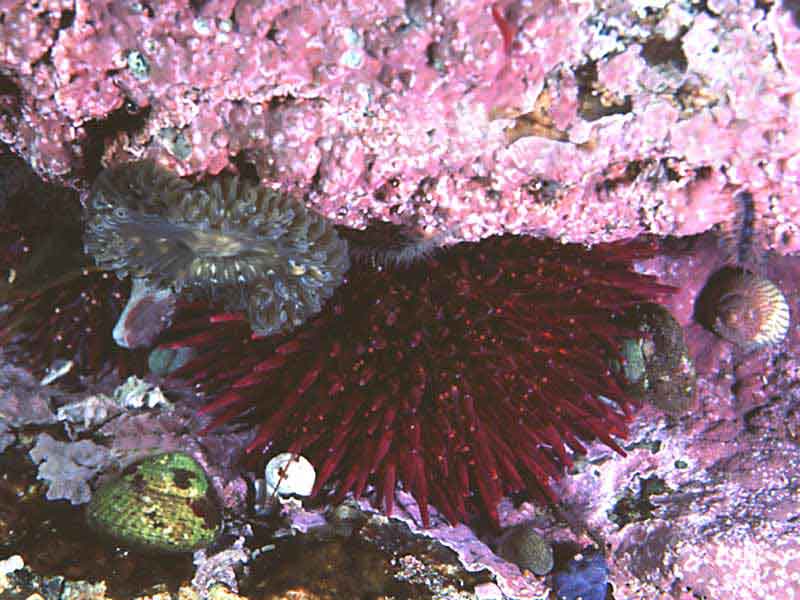 Researched by
Paolo Pizzolla
Refereed by
Admin
Authority
(Lamarck, 1816)
Other common names
-
Synonyms
-
Summary
Description
This sea urchin has a round, flattened test up to 7 cm in diameter. It has long, sharply pointed spines which are dark purple to dark green and has a greenish test.
Recorded distribution in Britain and Ireland
Paracentrotus lividus is found in the Channel Islands, in a few locations in western Scotland and occasionally on the south west coasts of England. It is common on the west coast of Ireland and is abundant in areas such as County Clare.
Habitat
The purple sea urchin is found on the lower rocky shore in rock pools and into the shallow sublittoral down to depths of 3 m, but may be found deeper. It can also be found higher up on the middle/upper shore in rockpools e.g. in Scotland. It uses its spines and teeth to bore into soft rocks, its burrow providing protection from both wave action and desiccation at low tide. The urchin increases the size of its burrow as it grows. They are also sometimes found in beds of the seagrass Zostera spp.
Identifying features
Round, greenish, flattened test.
Test up to 7 cm in diameter.
Spines long and sharp, dark purple to dark green in colouration.
Ambulacral plates with 5-6 pairs of pores.
Tube feet arranged in arcs of 5-6.
Additional information
The gonads are considered a delicacy in the Mediterranean.
Bibliography
Fish, J.D. & Fish, S., 1996. A student's guide to the seashore. Cambridge: Cambridge University Press.

Hayward, P., Nelson-Smith, T. & Shields, C. 1996. Collins pocket guide. Sea shore of Britain and northern Europe. London: HarperCollins.

Hayward, P.J. & Ryland, J.S. (ed.) 1995b. Handbook of the marine fauna of North-West Europe. Oxford: Oxford University Press.

Howson, C.M. & Picton, B.E., 1997. The species directory of the marine fauna and flora of the British Isles and surrounding seas. Belfast: Ulster Museum. [Ulster Museum publication, no. 276.]

JNCC (Joint Nature Conservation Committee), 1999. Marine Environment Resource Mapping And Information Database (MERMAID): Marine Nature Conservation Review Survey Database. [on-line] http://www.jncc.gov.uk/mermaid

Mortensen, T.H., 1927. Handbook of the echinoderms of the British Isles. London: Humphrey Milford, Oxford University Press.

Picton, B.E. & Costello, M.J., 1998. BioMar biotope viewer: a guide to marine habitats, fauna and flora of Britain and Ireland. [CD-ROM] Environmental Sciences Unit, Trinity College, Dublin.

Picton, B.E., 1993. A field guide to the shallow-water echinoderms of the British Isles. London: Immel Publishing Ltd.
Datasets
Centre for Environmental Data and Recording, 2018. Ulster Museum Marine Surveys of Northern Ireland Coastal Waters. Occurrence dataset https://www.nmni.com/CEDaR/CEDaR-Centre-for-Environmental-Data-and-Recording.aspx accessed via NBNAtlas.org on 2018-09-25.

NBN (National Biodiversity Network) Atlas. Available from: https://www.nbnatlas.org.

OBIS (Ocean Biodiversity Information System), 2023. Global map of species distribution using gridded data. Available from: Ocean Biogeographic Information System. www.iobis.org. Accessed: 2023-12-02
Citation
This review can be cited as:
Pizzolla, P.F 2007. Paracentrotus lividus Purple sea urchin. In Tyler-Walters H. and Hiscock K. Marine Life Information Network: Biology and Sensitivity Key Information Reviews, [on-line]. Plymouth: Marine Biological Association of the United Kingdom. [cited 02-12-2023]. Available from: https://marlin.ac.uk/species/detail/1499
---
Last Updated: 10/09/2007