Goldsinny (Ctenolabrus rupestris)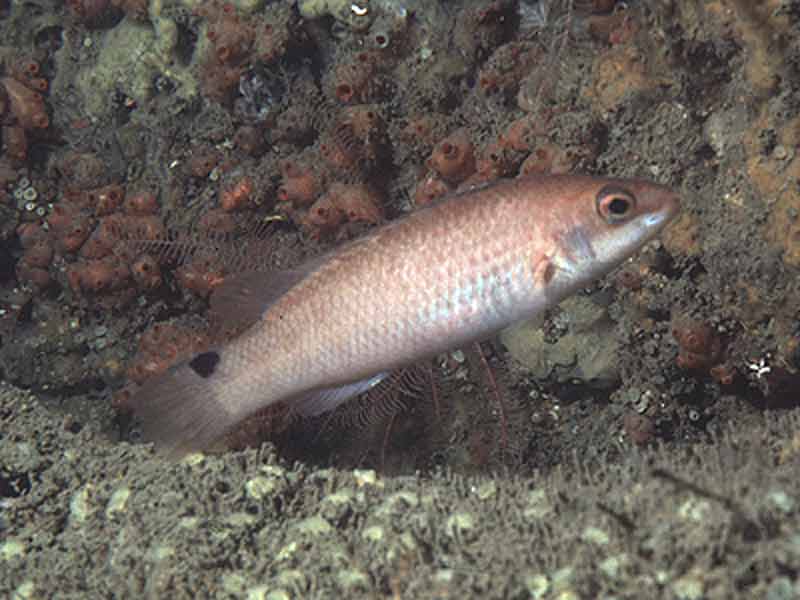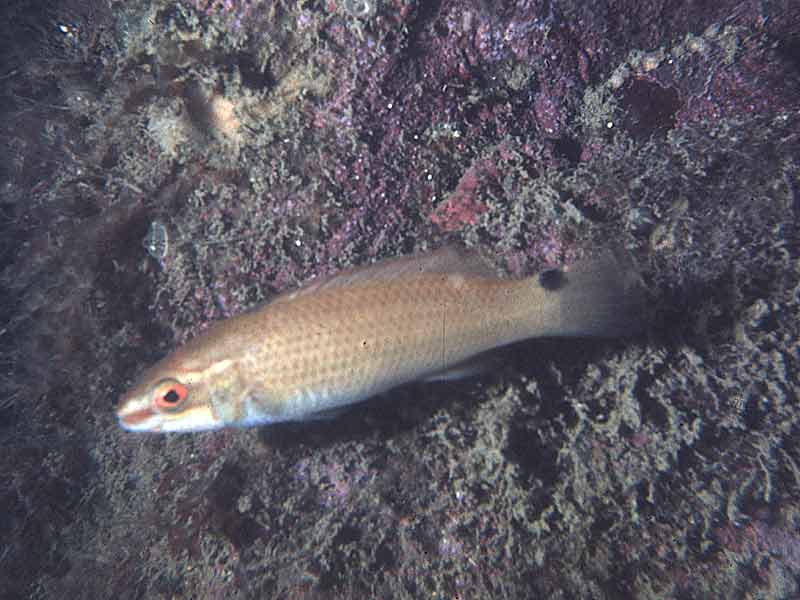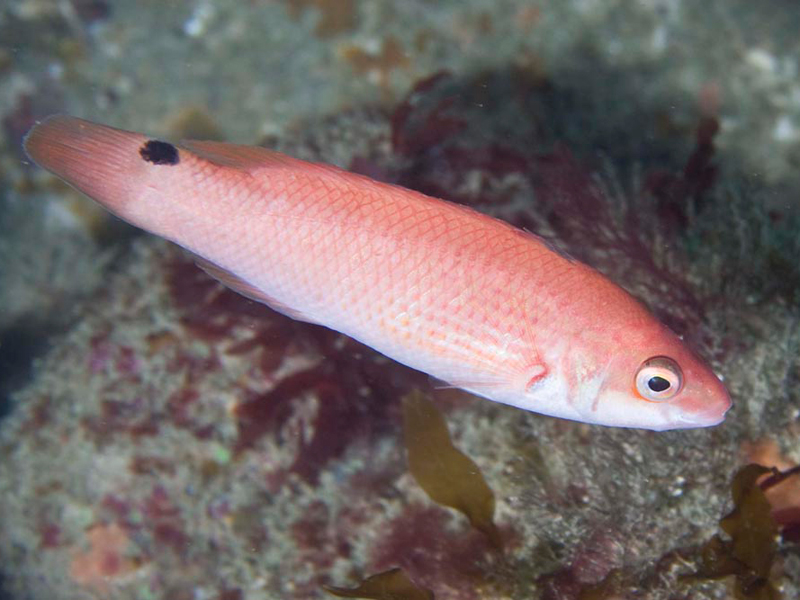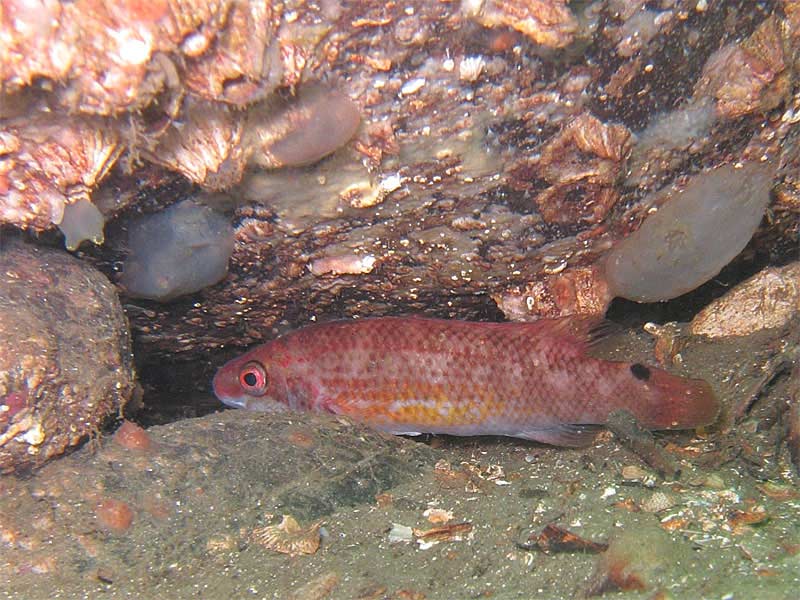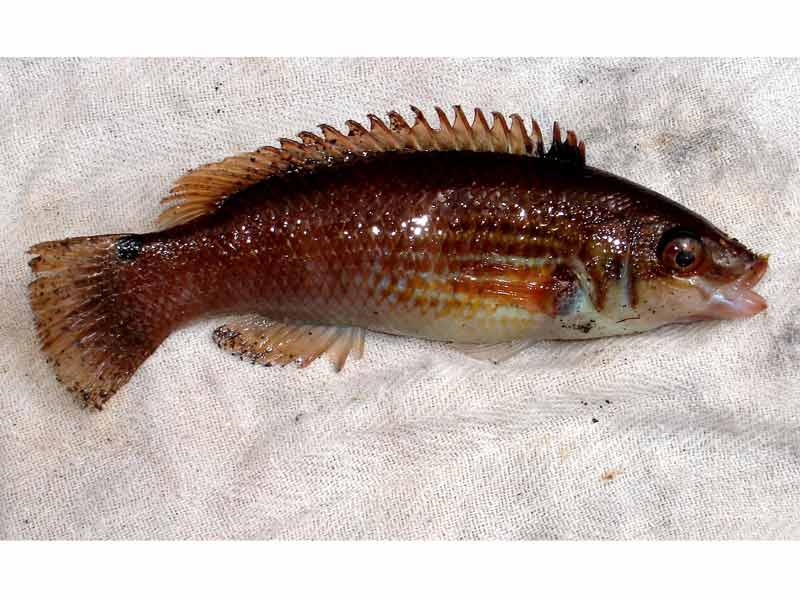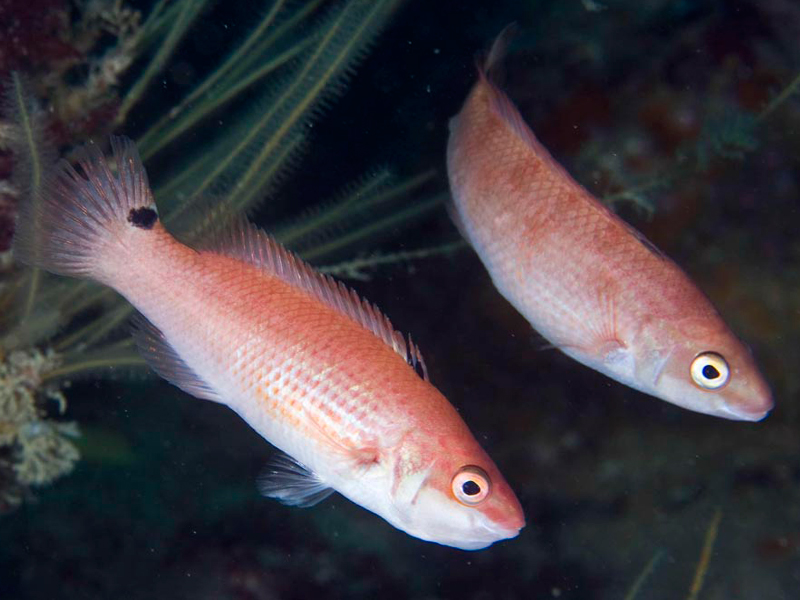 Researched by
Kate Reeds
Refereed by
Admin
Authority
(Linnaeus, 1758)
Other common names
-
Synonyms
-
Summary
Description
The goldsinny wrasse Ctenolabrus rupestris is brown, greenish or orange-red in colour. It is easily distinguishable from other wrasse species by two dark patches, one on the dorsal fin and one just in front of the tail fin. The head is small and pointed, with a large mouth, two rows of small teeth and fleshy lips. Adults are usually 10-12 cm in length, but may reach 18 cm.
Recorded distribution in Britain and Ireland
Widely distributed throughout Britain and Ireland, although rare in the North Sea and eastern Channel.
Habitat
Inhabits rocks or algae (particularly eelgrass) at depths between 1-50 m. Adults inhabit deeper waters, while young can be found further inshore and even inhabiting rock pools.
Identifying features
Up to 12 cm long.
Brown, greenish or orange-red in colour.
One dark spot on dorsal fin, another in front of the tail fin.
Small pointed head with large mouth.
Additional information
Prey species of the goldsinny include benthic crustacea, molluscs and also parasites from other fish species. It has also been a successful alternative to pesticides, in removing parasitic lice from commercially farmed salmon.
Bibliography
FishBase, 2000. FishBase. A global information system on fishes. [On-line] http://www.fishbase.org, 2001-05-03

Hayward, P.J. & Ryland, J.S. (ed.) 1995b. Handbook of the marine fauna of North-West Europe. Oxford: Oxford University Press.

Howson, C.M. & Picton, B.E., 1997. The species directory of the marine fauna and flora of the British Isles and surrounding seas. Belfast: Ulster Museum. [Ulster Museum publication, no. 276.]

JNCC (Joint Nature Conservation Committee), 1999. Marine Environment Resource Mapping And Information Database (MERMAID): Marine Nature Conservation Review Survey Database. [on-line] http://www.jncc.gov.uk/mermaid

Muus, B.J. & Dahlstrom, P., 1974. Collins guide to the sea fishes of Britain and North-Western Europe. Wm Collins Sons & Co. Ltd: London.

Picton, B.E. & Costello, M.J., 1998. BioMar biotope viewer: a guide to marine habitats, fauna and flora of Britain and Ireland. [CD-ROM] Environmental Sciences Unit, Trinity College, Dublin.

Whitehead, P.J.P., Bauchot, M.-L., Hureau, J.-C., Nielson, J. & Tortonese, E. 1986. Fishes of the North-eastern Atlantic and the Mediterranean. Vol. I, II & III. Paris: United Nations Educational, Scientific and Cultural Organisation (UNESCO).
Datasets
Citation
This review can be cited as:
Reeds, K.A. 2004. Ctenolabrus rupestris Goldsinny. In Tyler-Walters H. and Hiscock K. Marine Life Information Network: Biology and Sensitivity Key Information Reviews, [on-line]. Plymouth: Marine Biological Association of the United Kingdom. [cited 02-12-2023]. Available from: https://marlin.ac.uk/species/detail/1527
---
Last Updated: 10/08/2004