Harbour porpoise (Phocoena phocoena)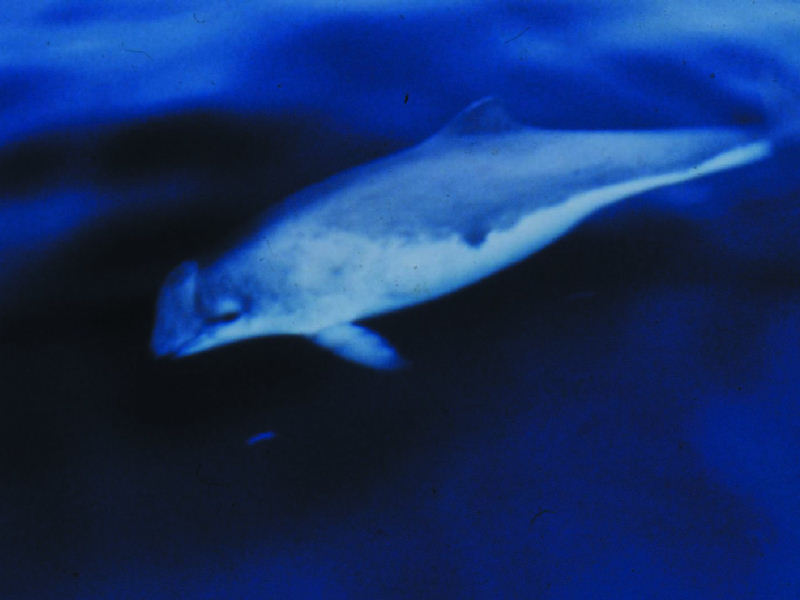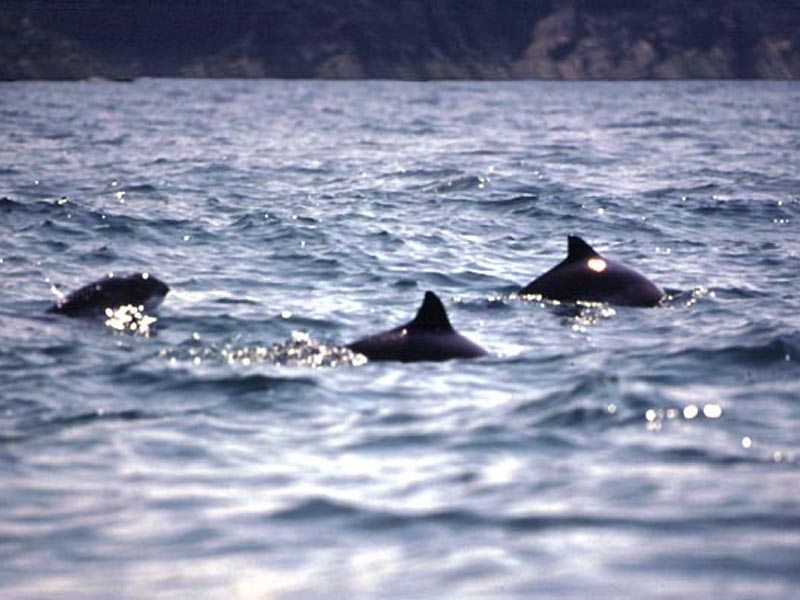 Researched by
Dean Russel
Refereed by
Admin
Authority
(Linnaeus, 1758)
Other common names
-
Synonyms
-
Summary
Description
Phocoena phocoena is a small cetacean with a blunt short beaked head. It exhibits counter-shading with the animal being generally dark grey on the back and white on the belly. A short, wide-based, triangular dorsal fin, with small bumps on the leading edge is situated midway along the back. The flippers are dark, small and rounded at the tips. The straight mouth line is dark and slopes upwards towards the eye.
Recorded distribution in Britain and Ireland
The harbour porpoise has been recorded around all coasts of Britain and Ireland.
Global distribution
Ranges from West Africa to Novaya Zemlya, in the North Pacific distributed from southern California and northern Japan, to the southern Beaufort and Chukchi seas. In the North Atlantic , distributed from the south-eastern U.S. to southern Baffin Island
Habitat
It can be found in cool temperate and subpolar waters. Usually found in near shore waters, but occasionally over deeper waters.
Identifying features
Body dark grey on back to white below.
Dorsal fin short, triangular, wide based, upright and set near middle of back.
Prominent median notch in flukes.
Upper jaw not extending much or at all past lower jaw.
Teeth blunt with expanded crowns, laterally compressed, small with 22 to 28 pairs of teeth in upper jaw and 21 to 25 in lower.
Maximum size to about 2 m.
Additional information
Phocoenids appear to live in smaller groups and have a simpler social structure than most delphinids. Most harbour porpoise are found in small groups consisting of less than 8 individuals but occasionally form large, loose groups of 50 to several hundred for feeding and migration.
The harbour porpoise is listed on Appendix II of CITES and Appendix II of the Bern Convention and Annexes II and IV of the EC Habitats Directive. It is also on Appendix 2 of the Bonn Convention (Anon, 1999z). All species of cetaceans are given protection under the Wildlife and Countryside Act 1981 and the Wildlife (Northern Ireland) Order 1985 (Anon, 1999z). All cetacean species are listed on Annex IV (Animal and Plant Species of Community Interest in Need of Strict Protection) of the EC Habitats Directive (Anon, 1999x). All whales are listed on Annex A of EU Council Regulation 338/97 and therefore treated by the EU as if they are on CITES Appendix I thus prohibiting their commercial trade (Anon, 1999x). Whaling is illegal in UK waters (Fisheries Act 1981), but neighbouring countries maintain the right to hunt (Anon, 1999x). An 'Agreement on the Conservation of Small Cetaceans in the Baltic and North Seas' (ASCOBANS), formulated in 1992, has now been signed by seven European countries, including the UK. Under the Agreement, provision is made for protection of specific areas, monitoring, research, information exchange, pollution control and heightening public awareness. Although aimed primarily at dolphins and porpoises, ASCOBANS includes all toothed whales except the sperm whale (Anon, 1999x).
Bibliography
Anonymous, 1999z. Harbour porpoise (Phocoena phocoena). Species Action Plan. http://www.ukbap.org.uk/UKPlans.aspx?ID=514, 2001-07-09

Howson, C.M. & Picton, B.E., 1997. The species directory of the marine fauna and flora of the British Isles and surrounding seas. Belfast: Ulster Museum. [Ulster Museum publication, no. 276.]

Jefferson, T.A., Leatherwood, S. & Webber, M.A., 1994. FAO species identification guide. Marine mammals of the world. Rome: United Nations Environment Programme, Food and Agriculture Organization of the United Nations.
Datasets
Citation
This review can be cited as:
Russel, D. 2006. Phocoena phocoena Harbour porpoise. In Tyler-Walters H. and Hiscock K. Marine Life Information Network: Biology and Sensitivity Key Information Reviews, [on-line]. Plymouth: Marine Biological Association of the United Kingdom. [cited 30-11-2023]. Available from: https://marlin.ac.uk/species/detail/1544
---
Last Updated: 16/10/2006