Grey thick-lipped mullet (Chelon labrosus)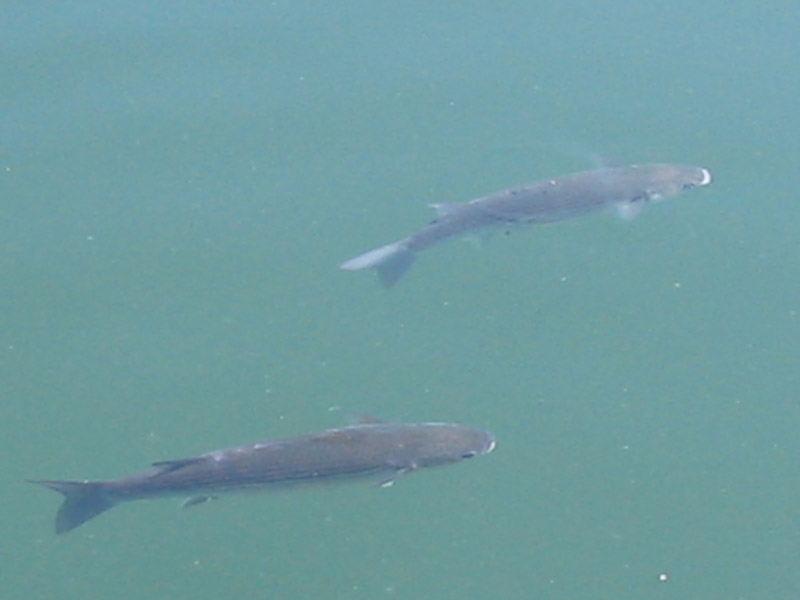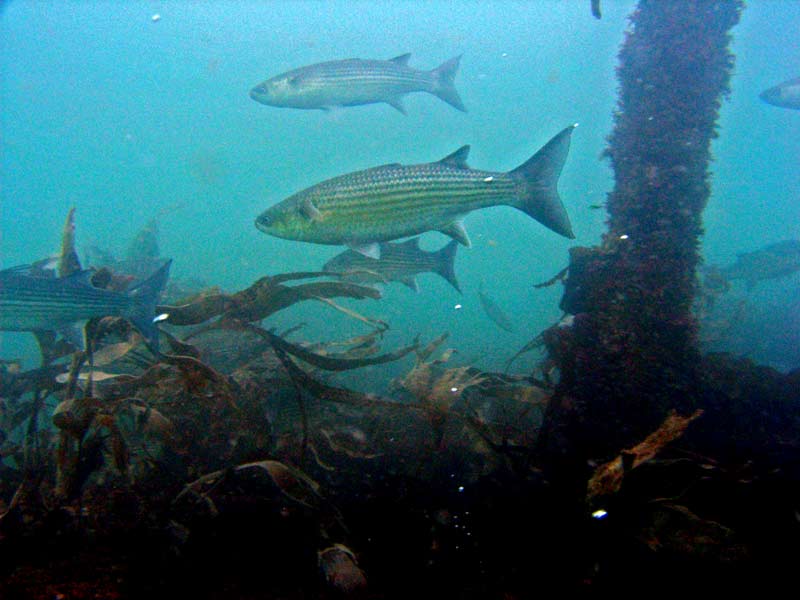 Researched by
Morvan Barnes
Refereed by
Admin
Authority
(Risso, 1827)
Other common names
-
Synonyms
-
Summary
Description
Chelon labrosus has a cylindrical elongate body up to 70 cm in length. It has a broad head that is flattened on top. It has a small upturned mouth. It has two well separated dorsal fins the first with 4 slender spines and the second with one spine and 8 soft rays. The pectoral fin is quite high on the body. The pelvic fins are situated midway between the pectoral base and the origin of the first dorsal. The tail is large and forked. It is grey-blue above and silvery on the flanks and the belly. Dark longitudinal stripes are present along the scale rows.
Recorded distribution in Britain and Ireland
Found all around the coasts of Britain and Ireland especially southern Scotland and the English Channel.
Habitat
The grey thick-lipped mullet is a demersal catadromous species usually found in shallow inshore waters or entering brackish lagoons and freshwater.
Identifying features
Up to 70 cm in length.
First dorsal with 4 spines, second with 8 soft rays.
Anal fin with 9 soft rays.
Upper lip about as deep as the pupil diameter with several rows of papillae on the lower third.
Dark longitudinal lateral stripes.
Additional information
No text entered
Bibliography
Froese, R. & Pauly, D., 2007. Fishbase. A global information system on fishes. [On-line] http://www.fishbase.org, 2008-02-18

Howson, C.M. & Picton, B.E., 1997. The species directory of the marine fauna and flora of the British Isles and surrounding seas. Belfast: Ulster Museum. [Ulster Museum publication, no. 276.]

Knijn, R.J., Boon, T.W., Heesen, H.J.L & Hislop, J.R.G., 1993. Atlas of North Sea Fishes. ICES cooperative research reports. ICES 194., Copenhagen

Whitehead, P.J.P., Bauchot, M.-L., Hureau, J.-C., Nielson, J. & Tortonese, E. 1986. Fishes of the North-eastern Atlantic and the Mediterranean. Vol. I, II & III. Paris: United Nations Educational, Scientific and Cultural Organisation (UNESCO).
Datasets
Citation
This review can be cited as:
Barnes, M.K.S. 2008. Chelon labrosus Grey thick-lipped mullet. In Tyler-Walters H. and Hiscock K. Marine Life Information Network: Biology and Sensitivity Key Information Reviews, [on-line]. Plymouth: Marine Biological Association of the United Kingdom. [cited 11-12-2023]. Available from: https://marlin.ac.uk/species/detail/155
---
Last Updated: 02/06/2008