Plumed sea fir (Aglaophenia tubulifera)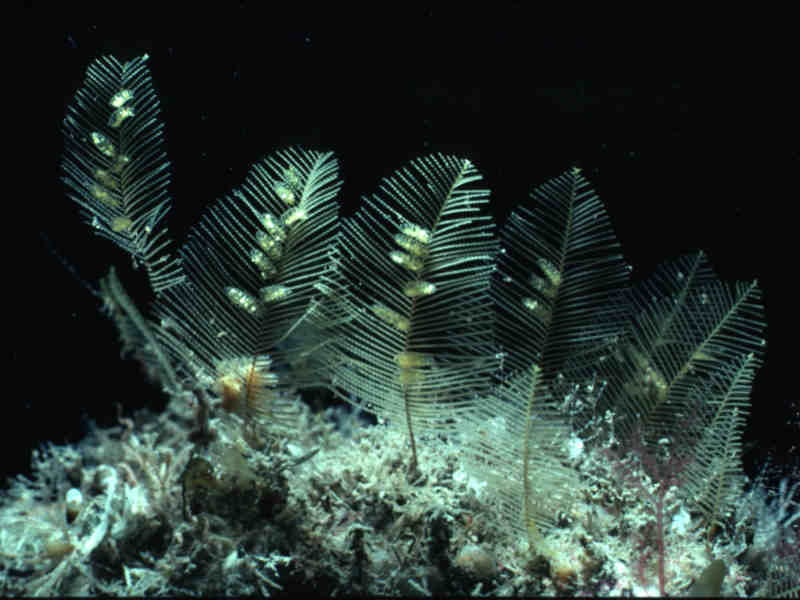 Researched by
Saskiya Richards
Refereed by
Admin
Authority
(Hincks, 1861)
Other common names
Plumed hydroid, Plume hydroid
Synonyms
-
Summary
Description
Aglaophenia tubulifera is a colonial hydroid that is infrequently branched at the stolon and has singular, erect, feather-like plumes with brown, monosiphonic stems reaching up to 6 cm in height. The plumes have numerous yellowish, straight or slightly curved branches (hydrocladia) that alternate on either side of the stem and absent towards the base. The upper surface of each branch has a single row of 4 polyps; a feeding hydranth that is nearest the stem and 3 inconspicuous mouth less nematophores. Hydranths are short and cylindrical with an encirclement of 10 short, round-tipped tentacles around the conical hypostome (mouth region) that is encased by a protective chitinous, elongated cup (hydrothecae). The hydrothecae are longer than the hydranths and have 9 projecting cusps, the outer one longest. Nematophores are smaller than the hydranths and encased by nematothecae, those furthest from the stem are horizontally level with the rim of hydrothecae on the same branch. Individual plumes have up to 12 groups of reproductive gonothecae that are protected by basket-like structures of yellowish branches (corbulae) and vary from 0.19 cm to 0.35 cm in length.
Recorded distribution in Britain and Ireland
Aglaophenia tubulifera is widespread from the Isle of Man to north-west Scotland and Irish coasts.
Global distribution
Aglaophenia tubulifera is distributed across the north-east Atlantic in cool, deep water from Morocco, along the coast of Brittany, past Roscoff and up towards it's northern limit in the British Isles.
Habitat
Aglaophenia tubulifera
inhabits a variety of substratum including pebbles, rocks, boulders, muddy sand and shell between depths of 10 m to 80 m. Colonies of
Aglaophenia tubulifera
have been recorded in rock pools at low water.
Aglaophenia tubulifera
attaches to the algal species
Cystoseira
and
Sargassum
, as well as the sea oak
Halidrys siliquosa
.
Identifying features
Colony of single, erect, feather-like plumes.
Plume stems brown, up to 6 cm.
Branches yellow, alternate on either side of stem.
Each branch has 1 hydranth and 3 nematophore polyps.
Hydranth short and cylindrical with 9 cusped hydrotheca and ring of 10 short tentacles around conical hypostome.
Up to 12 yellow corbulae per plume.
Additional information
Colonies of Aglaophenia tubulifera are dioecious. In Roscoff, reproduction has been known to take place from June-September (Svoboda & Cornelius, 1991). The brownish colour of the stem is due to symbiotic zooxanthellae (Svoboda & Cornelius, 1991). The spacing between the branches increases with water depth.
Bibliography
Bruce, J.R., Colman, J.S. & Jones, N.S., 1963. Marine fauna of the Isle of Man. Liverpool: Liverpool University Press.

Cornelius, P.F.S., 1995b. North-west European thecate hydroids and their medusae. Part 2. Sertulariidae to Campanulariidae. Shrewsbury: Field Studies Council. [Synopses of the British Fauna no. 50]

Crothers, J.H. (ed.), 1966. Dale Fort Marine Fauna. London: Field Studies Council.

Fish, J.D. & Fish, S., 1996. A student's guide to the seashore. Cambridge: Cambridge University Press.

Hayward, P., Nelson-Smith, T. & Shields, C. 1996. Collins pocket guide. Sea shore of Britain and northern Europe. London: HarperCollins.

Hayward, P.J. & Ryland, J.S. (ed.) 1995b. Handbook of the marine fauna of North-West Europe. Oxford: Oxford University Press.

Howson, C.M. & Picton, B.E., 1997. The species directory of the marine fauna and flora of the British Isles and surrounding seas. Belfast: Ulster Museum. [Ulster Museum publication, no. 276.]

Picton, B.E. & Costello, M.J., 1998. BioMar biotope viewer: a guide to marine habitats, fauna and flora of Britain and Ireland. [CD-ROM] Environmental Sciences Unit, Trinity College, Dublin.

Svoboda, A. & Cornelius, P. F. S., 1991. The European and Mediterranean species of Aglaophenia (Cnidaria: Hydrozoa). Zoologische Verhandelingen, 274, 72 pp.
Datasets
Citation
This review can be cited as:
Richards, S. 2007. Aglaophenia tubulifera Plumed sea fir. In Tyler-Walters H. and Hiscock K. Marine Life Information Network: Biology and Sensitivity Key Information Reviews, [on-line]. Plymouth: Marine Biological Association of the United Kingdom. [cited 10-12-2023]. Available from: https://marlin.ac.uk/species/detail/16
---
Last Updated: 12/09/2007