Bottle-brush hydroid (Thuiaria thuja)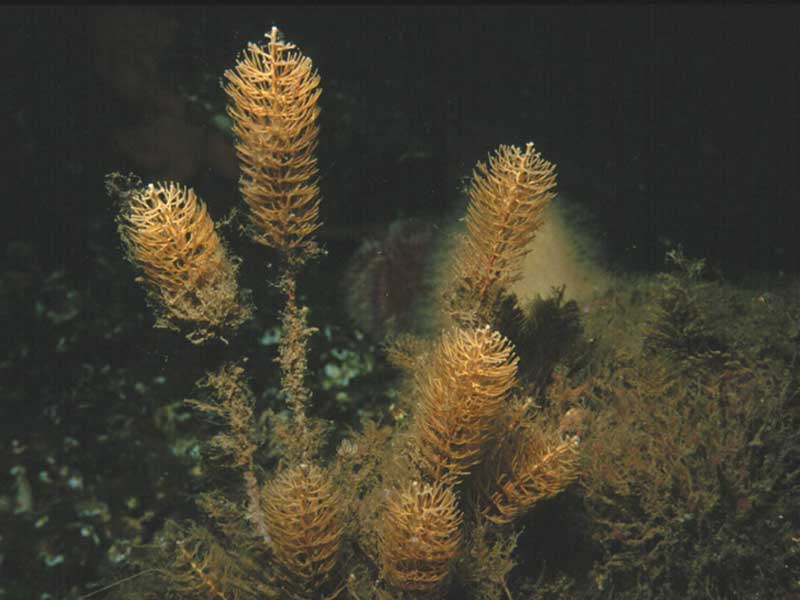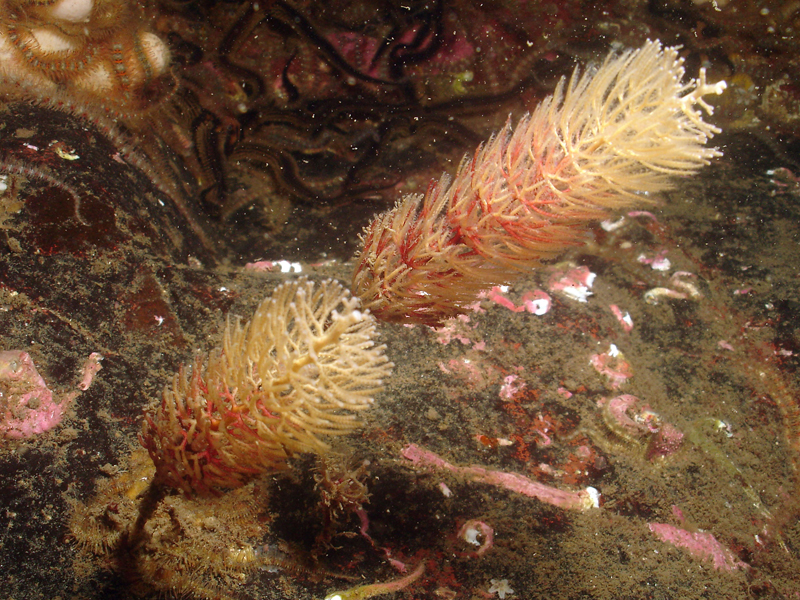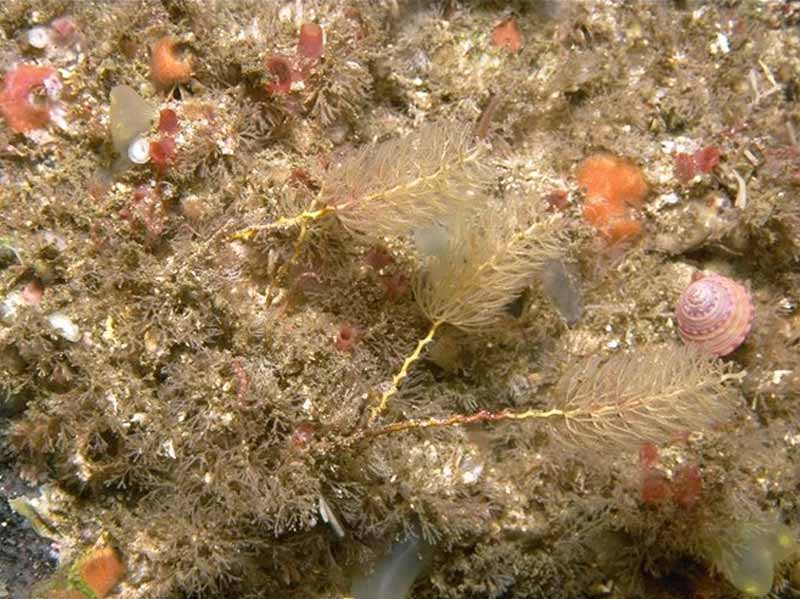 Researched by
Marie Skewes
Refereed by
Admin
Authority
(Linnaeus, 1758)
Other common names
-
Synonyms
-
Summary
Description
Colony 5-25 cm high, with a narrow, cylindrical brush shape. Short, dichotomizing side branches are closely spaced around a thick central stem. Young colonies are pinnate (feather-like) and become arranged in a bottle-brush shape when 2 cm high. Pinnate colonies have zig-zag stems and alternate branches.
Recorded distribution in Britain and Ireland
A northern species recorded south to Northumberland. Found in the Forth of Firth, Orkney and Shetland in Scotland.
Global distribution
Circumpolar arctic to northern temperate. In western Europe, recorded from Portugal to the north of Scandinavia but in the more southerly of these latitudes probably confined to deeper water.
Habitat
Present on hard substrata, including shells, from shallow sublittoral and offshore to edge of continental shelf (2-800 m).
Identifying features
Hydrothecae (protective cups around specialised feeding polyps) are present only on side branches.
Hydrothecae are flask-shaped, in two or three alternating series, and entirely immersed in the branch.
Gonothecae (protective cups surrounding specialised reproduction polyps) are oval and sharply tapered at the base.
Additional information
No text entered
Bibliography
Cornelius, P.F.S., 1995b. North-west European thecate hydroids and their medusae. Part 2. Sertulariidae to Campanulariidae. Shrewsbury: Field Studies Council. [Synopses of the British Fauna no. 50]

Fish, J.D. & Fish, S., 1996. A student's guide to the seashore. Cambridge: Cambridge University Press.

Hayward, P., Nelson-Smith, T. & Shields, C. 1996. Collins pocket guide. Sea shore of Britain and northern Europe. London: HarperCollins.

Hayward, P.J. & Ryland, J.S. (ed.) 1995b. Handbook of the marine fauna of North-West Europe. Oxford: Oxford University Press.

Hiscock, K., Southward, A., Tittley, I., Jory, A. & Hawkins, S., 2001. The impact of climate change on subtidal and intertidal benthic species in Scotland. Scottish National Heritage Research, Survey and Monitoring Report , no. 182., Edinburgh: Scottish National Heritage

Howson, C.M. & Picton, B.E., 1997. The species directory of the marine fauna and flora of the British Isles and surrounding seas. Belfast: Ulster Museum. [Ulster Museum publication, no. 276.]
Datasets
Environmental Records Information Centre North East, 2018. ERIC NE Combined dataset to 2017. Occurrence dataset: http://www.ericnortheast.org.ukl accessed via NBNAtlas.org on 2018-09-38

NBN (National Biodiversity Network) Atlas. Available from: https://www.nbnatlas.org.

OBIS (Ocean Biodiversity Information System), 2023. Global map of species distribution using gridded data. Available from: Ocean Biogeographic Information System. www.iobis.org. Accessed: 2023-11-30
Citation
This review can be cited as:
Skewes, M. 2001. Thuiaria thuja Bottle-brush hydroid. In Tyler-Walters H. and Hiscock K. Marine Life Information Network: Biology and Sensitivity Key Information Reviews, [on-line]. Plymouth: Marine Biological Association of the United Kingdom. [cited 30-11-2023]. Available from: https://marlin.ac.uk/species/detail/1600
---
Last Updated: 01/10/2001