Masked crab (Corystes cassivelaunus)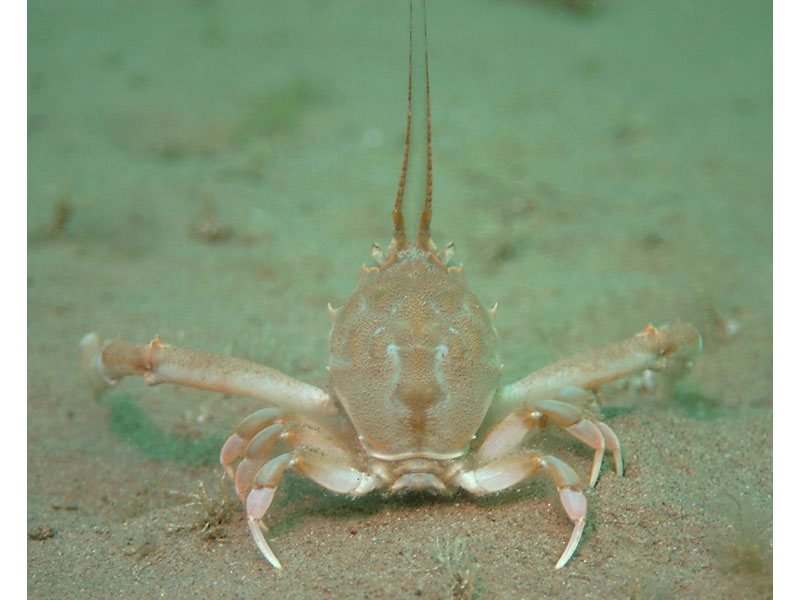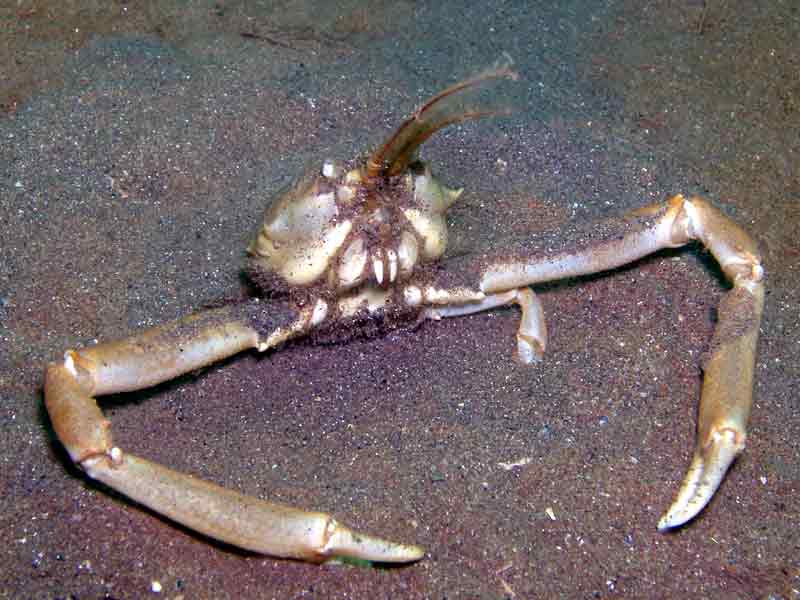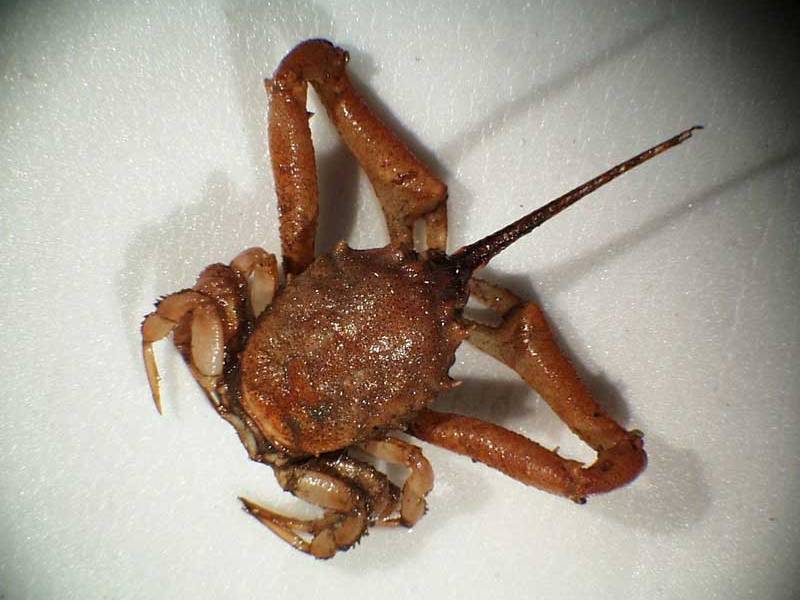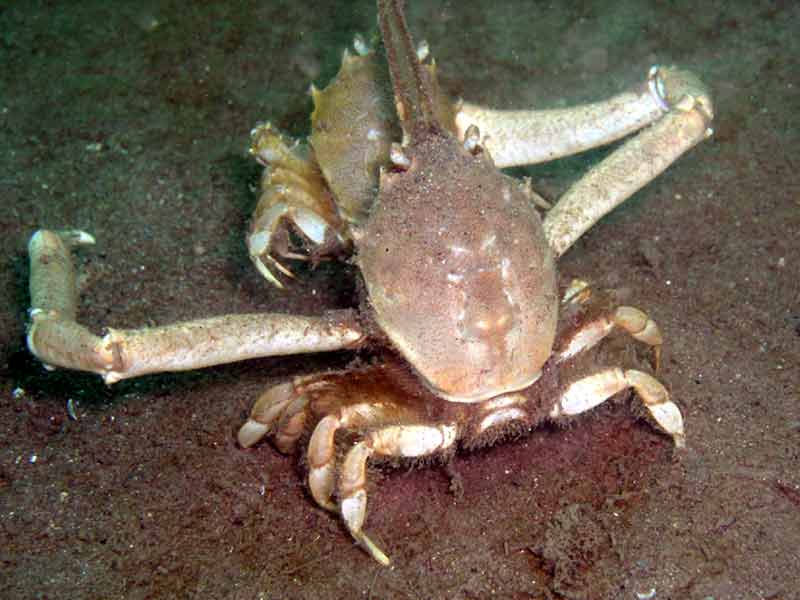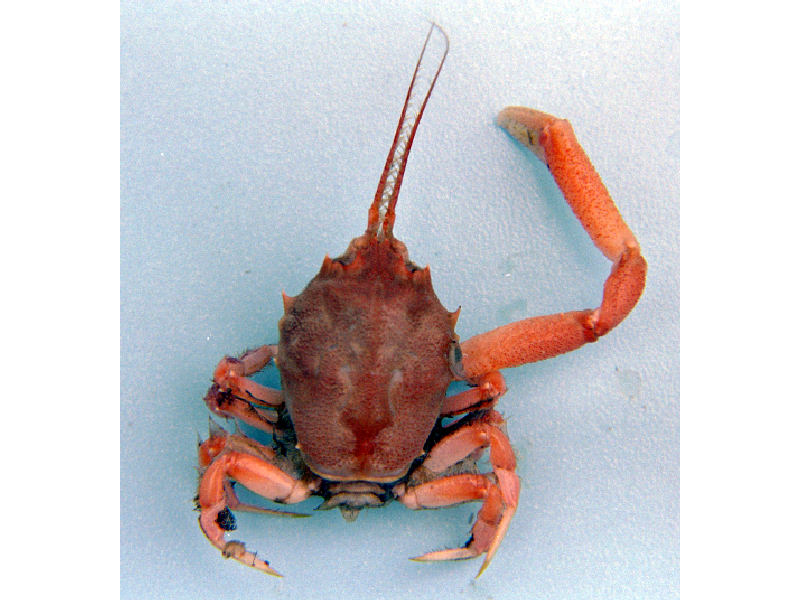 Researched by
Marie Skewes
Refereed by
Admin
Authority
(Pennant, 1777)
Other common names
-
Synonyms
-
Summary
Description
Corystes cassivelaunus is easily recognised by its elongate, ovoid carapace (up to 4 cm long and 3 cm wide). It is a reddish-brown to yellow in colour. The chelipeds of the male are twice the length of the carapace while those of the female are much smaller. There are 2 teeth between the eyes and the lateral margin has 4 teeth (of which the second is the largest). While buried, the crab's antennae are brought together and the setae interlock to form a respiratory tube.
Recorded distribution in Britain and Ireland
A southern species recorded on many British coasts but absent from much of northern Scotland.
Global distribution
From Norway and Sweden to Portugal and the Mediterranean.
Habitat
Typically found in burrows in the sand from the lower shore and shallow sublittoral to about 100 m.
Identifying features
Short rostrum.
Dorsal surface minutely granulated.
Ridges on carapace can sometimes resemble a face.
Antennae longer than carapace and heavily covered with setae.
Additional information
-none-
Bibliography
Campbell, A.C., 1982. The Hamlyn guide to the flora and fauna of the Mediterranean Sea. London: Hamlyn.

Crothers, J. & Crothers, M., 1988. A key to the crabs and crab-like animals of British inshore waters. Somerset, England: Field Studies Council. [AIDGAP guide, no. 155.]

Fish, J.D. & Fish, S., 1996. A student's guide to the seashore. Cambridge: Cambridge University Press.

Hayward, P., Nelson-Smith, T. & Shields, C. 1996. Collins pocket guide. Sea shore of Britain and northern Europe. London: HarperCollins.

Hayward, P.J. & Ryland, J.S. (ed.) 1995b. Handbook of the marine fauna of North-West Europe. Oxford: Oxford University Press.

Hiscock, K., Southward, A., Tittley, I., Jory, A. & Hawkins, S., 2001. The impact of climate change on subtidal and intertidal benthic species in Scotland. Scottish National Heritage Research, Survey and Monitoring Report , no. 182., Edinburgh: Scottish National Heritage

Howson, C.M. & Picton, B.E., 1997. The species directory of the marine fauna and flora of the British Isles and surrounding seas. Belfast: Ulster Museum. [Ulster Museum publication, no. 276.]

Ingle, R.W., 1980. British Crabs. Oxford: British Museum (Natural History), Oxford University Press.

Naylor, P., 2000. Marine Animals of the South West. Plymouth: Sound Diving Publications
Datasets
Citation
This review can be cited as:
Skewes, M. 2008. Corystes cassivelaunus Masked crab. In Tyler-Walters H. and Hiscock K. Marine Life Information Network: Biology and Sensitivity Key Information Reviews, [on-line]. Plymouth: Marine Biological Association of the United Kingdom. [cited 11-12-2023]. Available from: https://marlin.ac.uk/species/detail/1608
---
Last Updated: 17/04/2008