Wrinkled swimming crab (Liocarcinus corrugatus)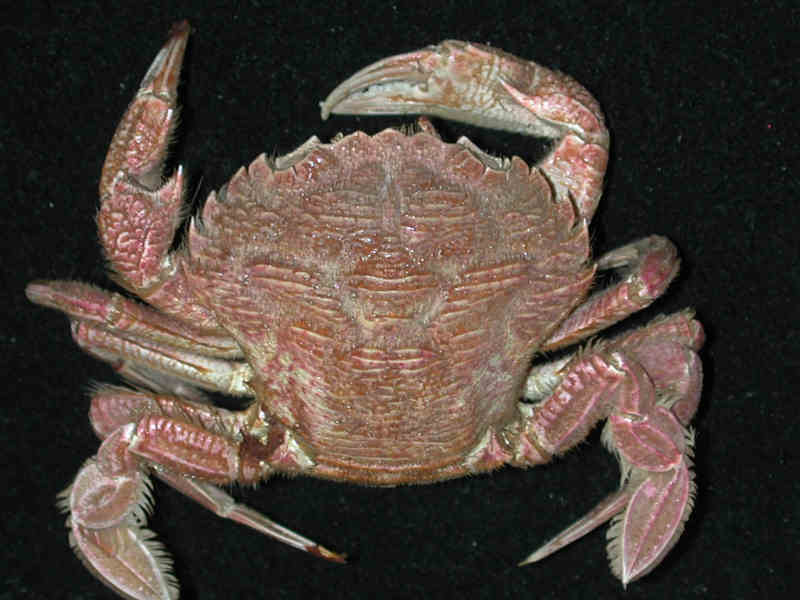 Researched by
Marie Skewes
Refereed by
Admin
Authority
(Pennant, 1777)
Other common names
-
Synonyms
-
Summary
Description
The carapace of Liocarcinus corrugatus reaches up to 43 mm in length and 41 mm in breadth. It is a reddish-brown in colour, sometimes with red or yellow patches. The carapace has numerous distinctive transverse ridges giving a 'corrugated' appearance. There are 5 prominent antero-lateral teeth on each side of the carapace and the margin of the frontal region has a shallow median lobe and a pair of very broad concave sub-median lobes.
Recorded distribution in Britain and Ireland
Liocarcinus corrugatus is a southern species that is found on south and west coasts of England and Ireland and in west Scotland. It is also common in Orkney.
Global distribution
Recorded south from the British Isles to the Mediterranean.
Habitat
Found on coarse sand and gravel down to 100 m.
Identifying features
The transverse ridges of the carapace bear fringes of small bristles.
Anterolateral teeth on the carapace are all approximately of equal size.
Additional information
No text entered
Bibliography
Campbell, A.C., 1982. The Hamlyn guide to the flora and fauna of the Mediterranean Sea. London: Hamlyn.

Crothers, J. & Crothers, M., 1988. A key to the crabs and crab-like animals of British inshore waters. Somerset, England: Field Studies Council. [AIDGAP guide, no. 155.]

Hayward, P., Nelson-Smith, T. & Shields, C. 1996. Collins pocket guide. Sea shore of Britain and northern Europe. London: HarperCollins.

Hayward, P.J. & Ryland, J.S. (ed.) 1995b. Handbook of the marine fauna of North-West Europe. Oxford: Oxford University Press.

Hiscock, K., Southward, A., Tittley, I., Jory, A. & Hawkins, S., 2001. The impact of climate change on subtidal and intertidal benthic species in Scotland. Scottish National Heritage Research, Survey and Monitoring Report , no. 182., Edinburgh: Scottish National Heritage

Howson, C.M. & Picton, B.E., 1997. The species directory of the marine fauna and flora of the British Isles and surrounding seas. Belfast: Ulster Museum. [Ulster Museum publication, no. 276.]

Ingle, R.W., 1980. British Crabs. Oxford: British Museum (Natural History), Oxford University Press.
Datasets
Centre for Environmental Data and Recording, 2018. IBIS Project Data. Occurrence dataset: https://www.nmni.com/CEDaR/CEDaR-Centre-for-Environmental-Data-and-Recording.aspx accessed via NBNAtlas.org on 2018-09-25.

NBN (National Biodiversity Network) Atlas. Available from: https://www.nbnatlas.org.

OBIS (Ocean Biodiversity Information System), 2023. Global map of species distribution using gridded data. Available from: Ocean Biogeographic Information System. www.iobis.org. Accessed: 2023-12-11
Citation
This review can be cited as:
Skewes, M. 2005. Liocarcinus corrugatus Wrinkled swimming crab. In Tyler-Walters H. and Hiscock K. Marine Life Information Network: Biology and Sensitivity Key Information Reviews, [on-line]. Plymouth: Marine Biological Association of the United Kingdom. [cited 11-12-2023]. Available from: https://marlin.ac.uk/species/detail/1613
---
Last Updated: 17/11/2005