Blunt gaper (Mya truncata)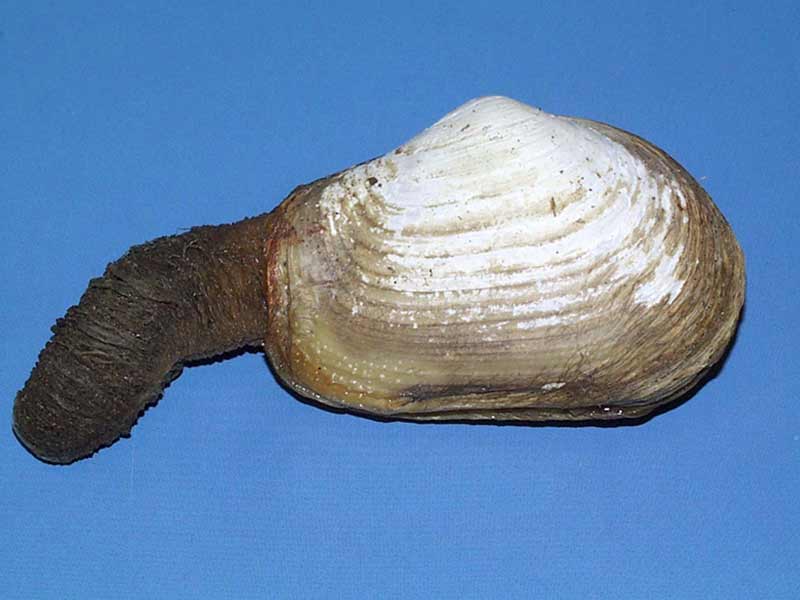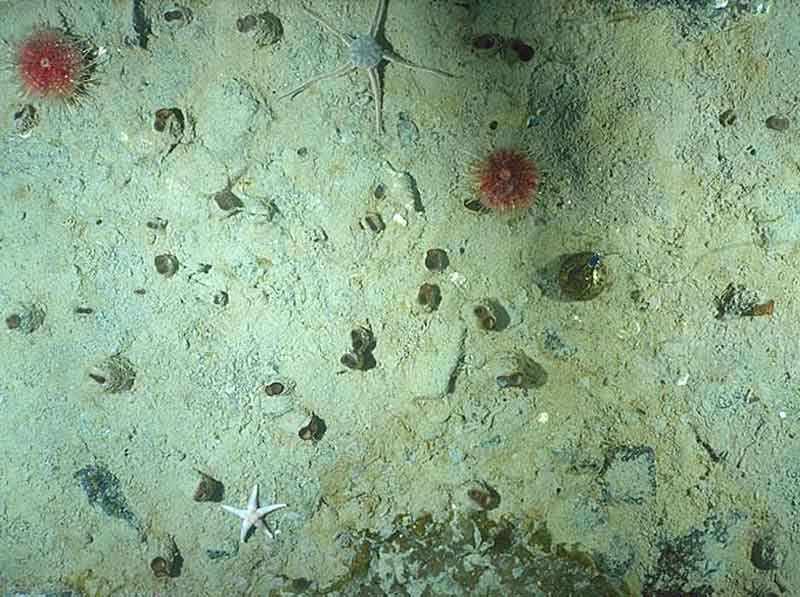 Researched by
Susie Ballerstedt
Refereed by
Admin
Authority
Linnaeus, 1758
Other common names
-
Synonyms
-
Summary
Description
The shell of Mya truncata can reach 7.5 cm in length, the anterior end is regularly rounded whilst the posterior end is abruptly blunt (truncated) with a large gape. The right valve is more convex than the left. The outer surface of the bivalve is off-white, and the outer layer of the shell (periostracum) is variable in colour from light olive to dark brown. The hinge of the left valve of the shell has a conspicuous spoon-shaped projection (chondrophore), to which the internal and external ligament is attached. The shell beaks are slightly posterior and directed inwards and touching. The pallial sinus is broad and deep with the lower margin irregularly confluent with the pallial line.
Recorded distribution in Britain and Ireland
Common around the coast of Britain, and recorded in several locations around the east and south coasts of Ireland.
Global distribution
Widely distributed over the whole of the Arctic and extends south to the Bay of Biscay in Europe, Massachusetts on the West Atlantic coast, and from Vancouver to Sachalin on the Pacific coast. Also reported from the coasts of Japan.
Habitat
Mya truncata burrows at considerable depths in mixed sand, sandy mud, or gravel substrata from the lower shore to about 70 m depth.
Identifying features
Bivalve abruptly blunt at posterior end of shell.
Shell length up to 7.5 cm.
Large gape at posterior end of shell.
Right valve more convex than the left.
Conspicuous spoon-shaped projection (chondrophore) on the hinge of the left valve.
Pallial sinus is broad and deep.
Additional information
Mya truncata
is smaller than
Mya arenaria
, with a blunt posterior end. The posterior of
Mya arenaria
is rounded.
Bibliography
Clay, E., 1966. Literature survey of the common fauna of estuaries. 12. Mya arenaria L., Mya truncata L. Imperial Chemical Industries Limited, Brixham Laboratory, BL/A/707.

Fish, J.D. & Fish, S., 1996. A student's guide to the seashore. Cambridge: Cambridge University Press.

Hayward, P., Nelson-Smith, T. & Shields, C. 1996. Collins pocket guide. Sea shore of Britain and northern Europe. London: HarperCollins.

Hayward, P.J. & Ryland, J.S. (ed.) 1995b. Handbook of the marine fauna of North-West Europe. Oxford: Oxford University Press.

Tebble, N., 1976. British Bivalve Seashells. A Handbook for Identification, 2nd ed. Edinburgh: British Museum (Natural History), Her Majesty's Stationary Office.
Datasets
Citation
This review can be cited as:
Ballerstedt, S. 2002. Mya truncata Blunt gaper. In Tyler-Walters H. and Hiscock K. Marine Life Information Network: Biology and Sensitivity Key Information Reviews, [on-line]. Plymouth: Marine Biological Association of the United Kingdom. [cited 02-12-2023]. Available from: https://marlin.ac.uk/species/detail/1626
---
Last Updated: 15/11/2002