Bristly crab (Pilumnus hirtellus)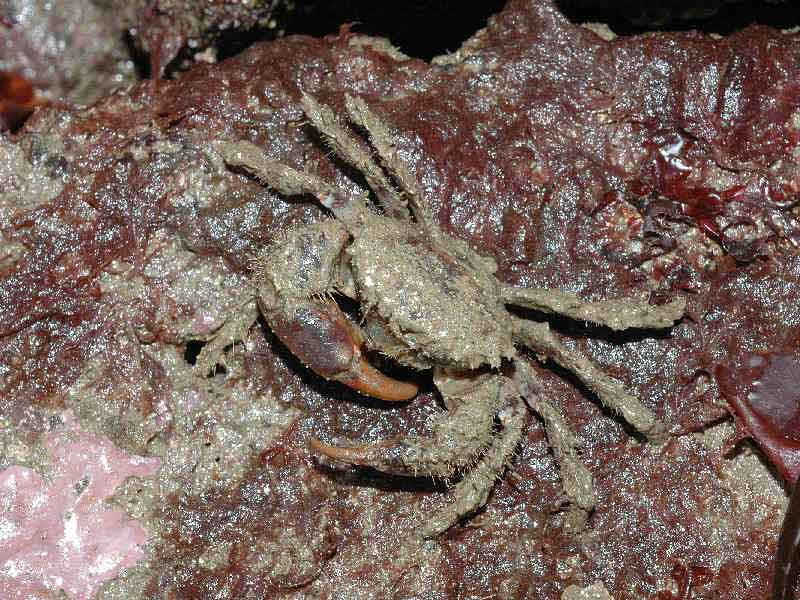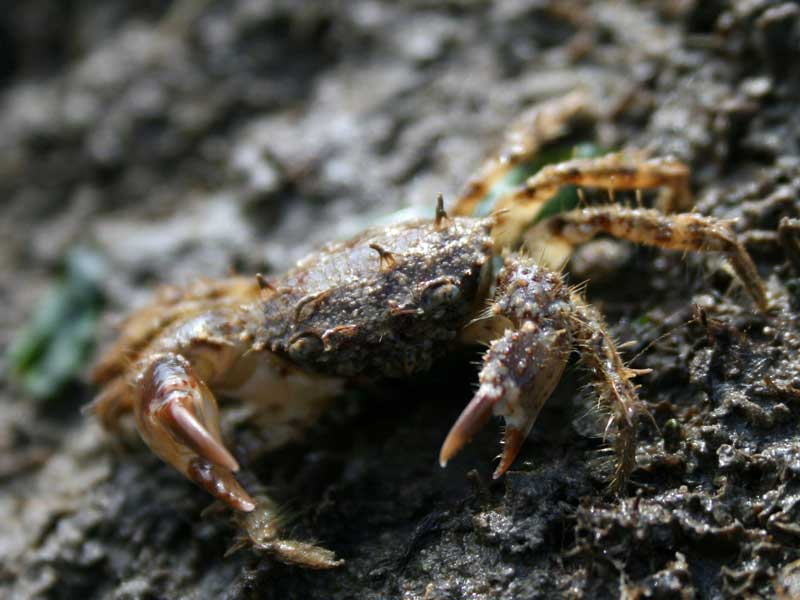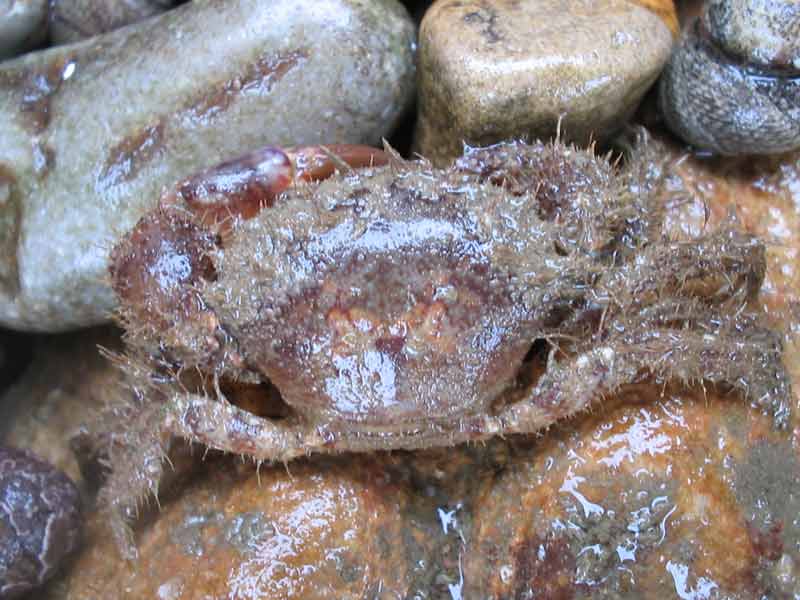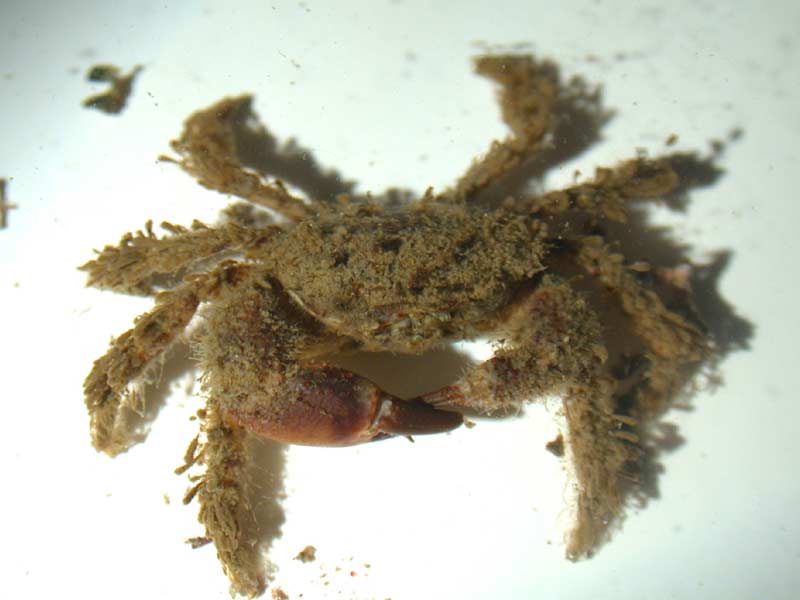 Researched by
Marie Skewes
Refereed by
Admin
Authority
(Linnaeus, 1761)
Other common names
-
Synonyms
-
Summary
Description
Carapace broader than it is long (up to 3 cm across), with 5 sharp unequally sized antero-lateral teeth on each side. Frontal region very finely serrated between the eyes. Carapace and all walking legs densely covered with club-shaped setae. Chelipeds stout and robust, one (usually the right) much larger than other, and brownish or purple in colour with orange to cream inner surfaces. Carapace reddish-brown, sometimes purplish in colour. Walking legs with alternate bands of purple and white or grey.
Recorded distribution in Britain and Ireland
Found on all British coasts but is most frequent in the south and west.
Global distribution
From southern Norway southwards to Cape Verde Islands, Mediterranean and Black Sea.
Habitat
Found on various substrata from muddy sand to rocks, under stones and sometimes among seaweed holdfasts, from the lower shore to depths of up to 80 m.
Identifying features
1st and 2nd antero-lateral teeth smaller than the rest.
Fixed finger of chelae brown at tip.
Dactyls curved distally and acutely pointed.
Propodus of smaller chela always spiny, that of larger one smooth or with just a few tubercles.
Carpus of walking legs may have small spine on the distal upper margin.
Additional information
Dorsal surface of carapace bears short spines beneath the setae; clearly evident in young specimens but increasingly hidden by hairs in older crabs. Silt often accumulates among setae making Pilumnus hirtellus difficult to see on dark or silty surfaces.
Bibliography
Crothers, J. & Crothers, M., 1988. A key to the crabs and crab-like animals of British inshore waters. Somerset, England: Field Studies Council. [AIDGAP guide, no. 155.]

Fish, J.D. & Fish, S., 1996. A student's guide to the seashore. Cambridge: Cambridge University Press.

Hayward, P., Nelson-Smith, T. & Shields, C. 1996. Collins pocket guide. Sea shore of Britain and northern Europe. London: HarperCollins.

Hayward, P.J. & Ryland, J.S. (ed.) 1995b. Handbook of the marine fauna of North-West Europe. Oxford: Oxford University Press.

Hiscock, K., Southward, A., Tittley, I., Jory, A. & Hawkins, S., 2001. The impact of climate change on subtidal and intertidal benthic species in Scotland. Scottish National Heritage Research, Survey and Monitoring Report , no. 182., Edinburgh: Scottish National Heritage

Howson, C.M. & Picton, B.E., 1997. The species directory of the marine fauna and flora of the British Isles and surrounding seas. Belfast: Ulster Museum. [Ulster Museum publication, no. 276.]

Ingle, R., 1997. Crayfishes, lobsters and crabs of Europe. An illustrated guide to common and traded species. London: Chapman and Hall.

Ingle, R.W., 1980. British Crabs. Oxford: British Museum (Natural History), Oxford University Press.
Datasets
Citation
This review can be cited as:
Skewes, M. 2008. Pilumnus hirtellus Bristly crab. In Tyler-Walters H. and Hiscock K. Marine Life Information Network: Biology and Sensitivity Key Information Reviews, [on-line]. Plymouth: Marine Biological Association of the United Kingdom. [cited 30-11-2023]. Available from: https://marlin.ac.uk/species/detail/1627
---
Last Updated: 08/05/2008