Streaked gurnard (Chelidonichthys lastoviza)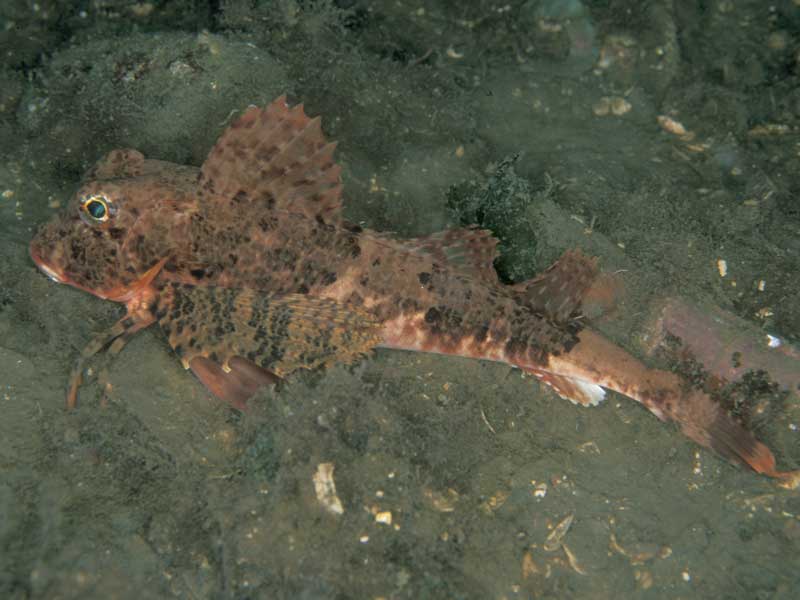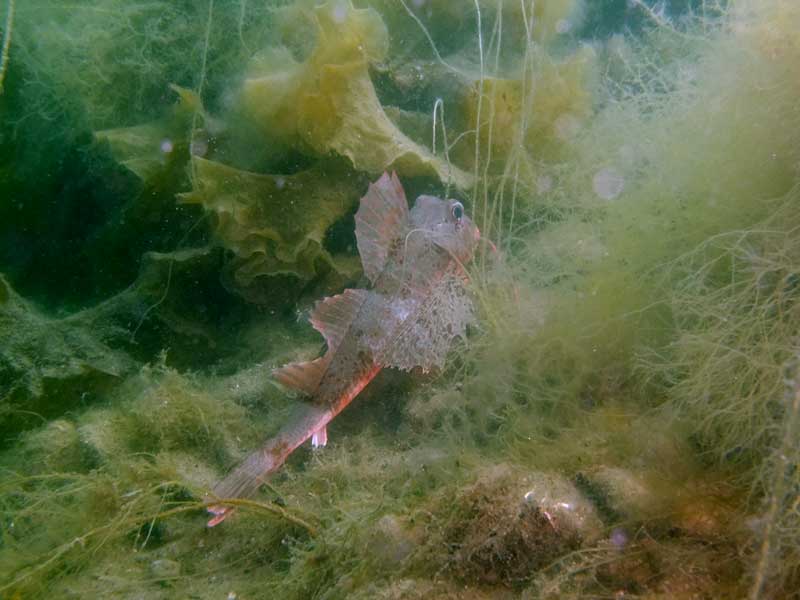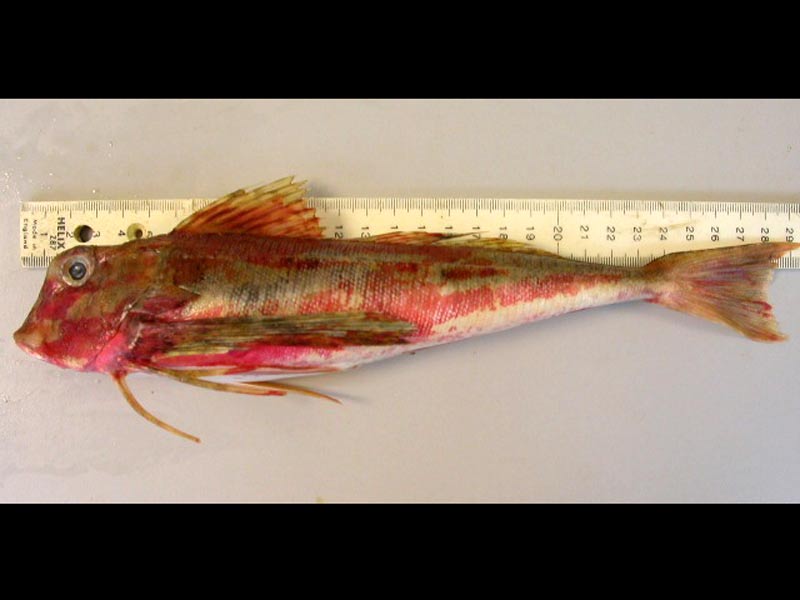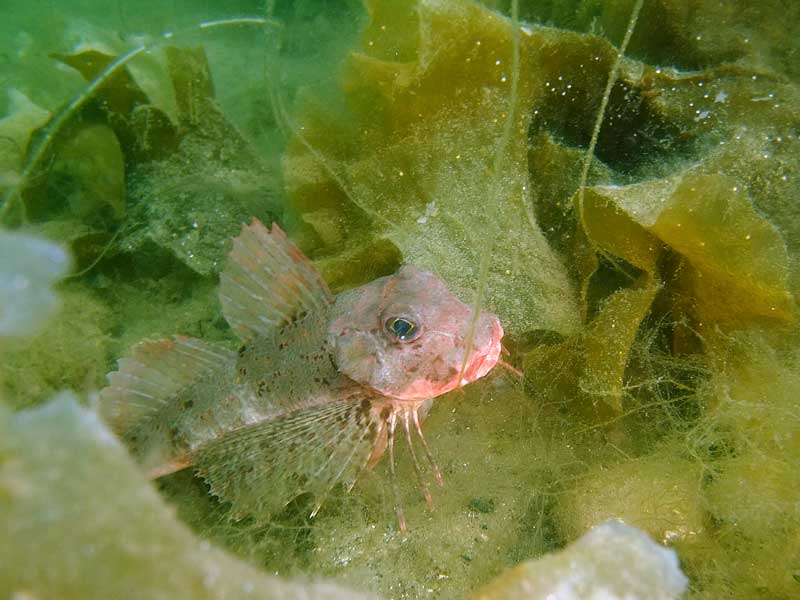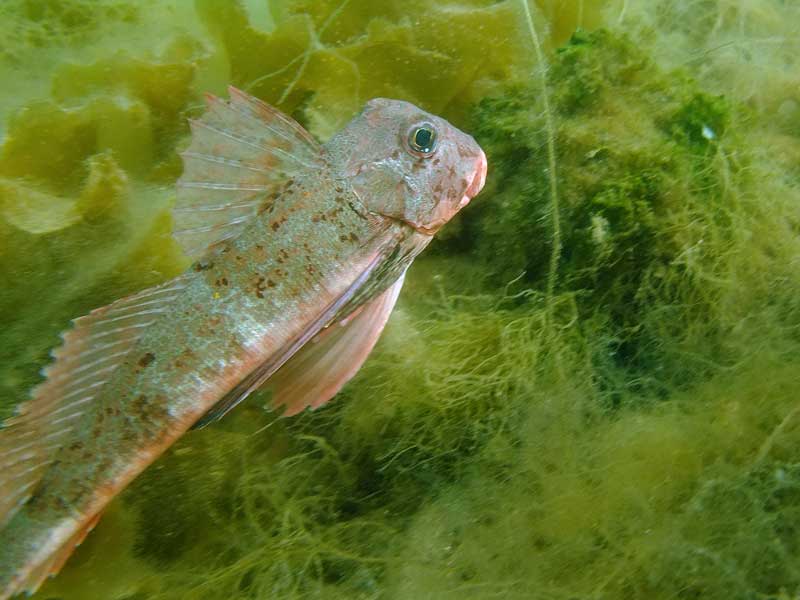 Researched by
Morvan Barnes
Refereed by
This information is not refereed
Authority
(Bonnaterre, 1788)
Other common names
-
Synonyms
Trigloporus lastoviza , Trigla (Trigloporus) lastoviza Bonnaterre, 1788
Summary
Description
Chelidonichthys lastoviza is a moderately sized gurnard reaching up to 40 cm in length, although usually only half that size. It has a large head with a steep forehead. Uniquely amongst gurnards, the body is covered with transverse ridges of skin that originate at the lateral line. The lateral line scales are enlarged and armed with small spines. It has two dorsal fins, the first with 9-11 spines and the second, like the anal fin, has 14-17 rays. The caudal fin is truncate. The streaked gurnard is red above and pale below with dark spots on the head and back. The grey pectoral fins have large dark blue spots.
Recorded distribution in Britain and Ireland
Recorded around the coasts of the Brtish Isles.
Global distribution
Recorded around the coasts of the British Isles, from the Shetland Isles to northern France, the Azores, in the Mediterranean, and south along the eastern Atlantic coast of Africa and South Africa.
Habitat
The streaked gurnard is a demersal species usually found over sandy and rocky bottoms, from the coast down to depths of about 150 m.
Identifying features
Up to 40 cm in length.
Steep forehead.
Body covered with transverse ridges of skin.
Enlarged lateral line scales armed with small spines.
Dark spots on back and head and blue spots on the long pectoral fins.
Three lowermost pectoral rays are detached.
Additional information
-none-
Bibliography
Froese, R. & Pauly, D., 2007. Fishbase. A global information system on fishes. [On-line] http://www.fishbase.org, 2008-02-18

Howson, C.M. & Picton, B.E., 1997. The species directory of the marine fauna and flora of the British Isles and surrounding seas. Belfast: Ulster Museum. [Ulster Museum publication, no. 276.]

Whitehead, P.J.P., Bauchot, M.-L., Hureau, J.-C., Nielson, J. & Tortonese, E. 1986. Fishes of the North-eastern Atlantic and the Mediterranean. Vol. I, II & III. Paris: United Nations Educational, Scientific and Cultural Organisation (UNESCO).
Datasets
NBN (National Biodiversity Network) Atlas. Available from: https://www.nbnatlas.org.

OBIS (Ocean Biodiversity Information System), 2023. Global map of species distribution using gridded data. Available from: Ocean Biogeographic Information System. www.iobis.org. Accessed: 2023-12-02
Citation
This review can be cited as:
Barnes, M.K.S. 2008. Chelidonichthys lastoviza Streaked gurnard. In Tyler-Walters H. and Hiscock K. Marine Life Information Network: Biology and Sensitivity Key Information Reviews, [on-line]. Plymouth: Marine Biological Association of the United Kingdom. [cited 02-12-2023]. Available from: https://marlin.ac.uk/species/detail/163
---
Last Updated: 02/06/2008