Mottled red mail shell (Tonicella marmorea)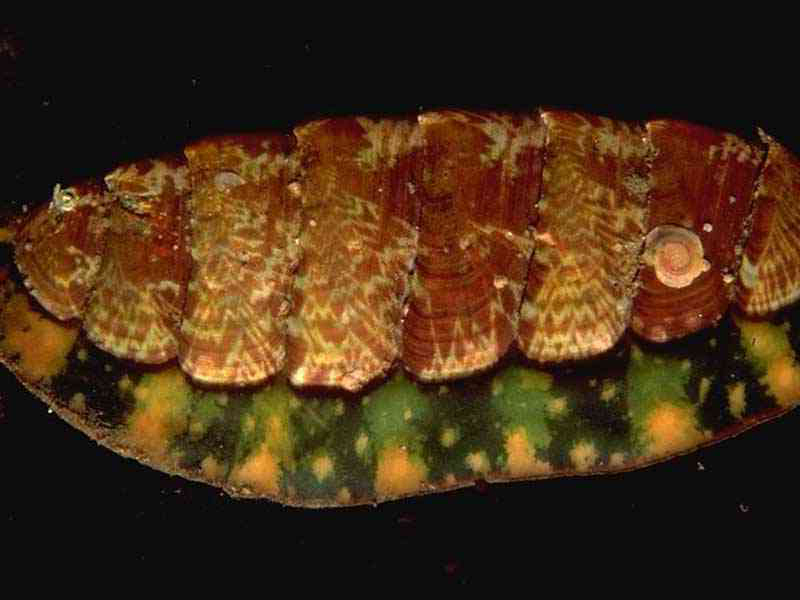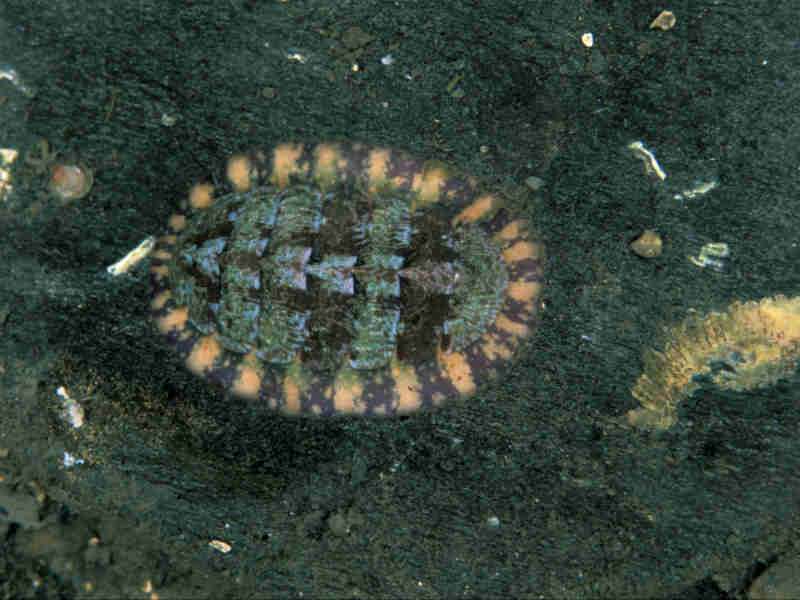 Researched by
Marie Skewes
Refereed by
Admin
Authority
(O. Fabricius, 1780)
Other common names
Mottled red chiton, Lined red chiton
Synonyms
-
Summary
Description
A large, broadly oval chiton, up to 4 cm in length. The shell plates are smooth and glossy, reddish brown in colour with variable white or pale brown marbling. Girdle broad, thin and leathery, reddish-brown with a fringe of tiny, flattened spines (red, green or purple in colour, sometimes banded). The mantle has 17-26 pairs of gills, usually in the posterior region of the mantle groove but occasionally distributed throughout the entire groove.
Recorded distribution in Britain and Ireland
A northern species found predominantly in Scotland, northern England and the north of Ireland but recorded as far south as south Devon.
Global distribution
An Atlantic-Boreal species reported from the Arctic Ocean and the coasts of Norway, Sweden and Britain, Geenland and the Atlantic coast of North America.
Habitat
Found on rocks and stones from the lower shore to depths of about 200 m.
Identifying features
Shell plates with indistinct keels but pronounced beaks.
Distinct growth bands present.
Girdle leathery with widely spaced, minute granules
Additional information
A detailed key to the chitons is provided by Jones & Baxter (1987).
Bibliography
Fish, J.D. & Fish, S., 1996. A student's guide to the seashore. Cambridge: Cambridge University Press.

Hayward, P., Nelson-Smith, T. & Shields, C. 1996. Collins pocket guide. Sea shore of Britain and northern Europe. London: HarperCollins.

Hayward, P.J. & Ryland, J.S. (ed.) 1995b. Handbook of the marine fauna of North-West Europe. Oxford: Oxford University Press.

Hiscock, K., Southward, A., Tittley, I., Jory, A. & Hawkins, S., 2001. The impact of climate change on subtidal and intertidal benthic species in Scotland. Scottish National Heritage Research, Survey and Monitoring Report , no. 182., Edinburgh: Scottish National Heritage

Howson, C.M. & Picton, B.E., 1997. The species directory of the marine fauna and flora of the British Isles and surrounding seas. Belfast: Ulster Museum. [Ulster Museum publication, no. 276.]

Jones, A.M. & Baxter, J.M., 1987b. Molluscs: Caudofoveata, Solenogastres, Polyplacophora and Scaphopoda. Avon: The Bath Press. [Synopses of the British Fauna No. 37.]

McMillan, N.F., 1968. British Shells. London: Frederick Warne & Co Ltd.
Datasets
Citation
This review can be cited as:
Skewes, M. 2003. Tonicella marmorea Mottled red mail shell. In Tyler-Walters H. and Hiscock K. Marine Life Information Network: Biology and Sensitivity Key Information Reviews, [on-line]. Plymouth: Marine Biological Association of the United Kingdom. [cited 11-12-2023]. Available from: https://marlin.ac.uk/species/detail/1633
---
Last Updated: 28/05/2003