A gastropod (Cerithiopsis tubercularis)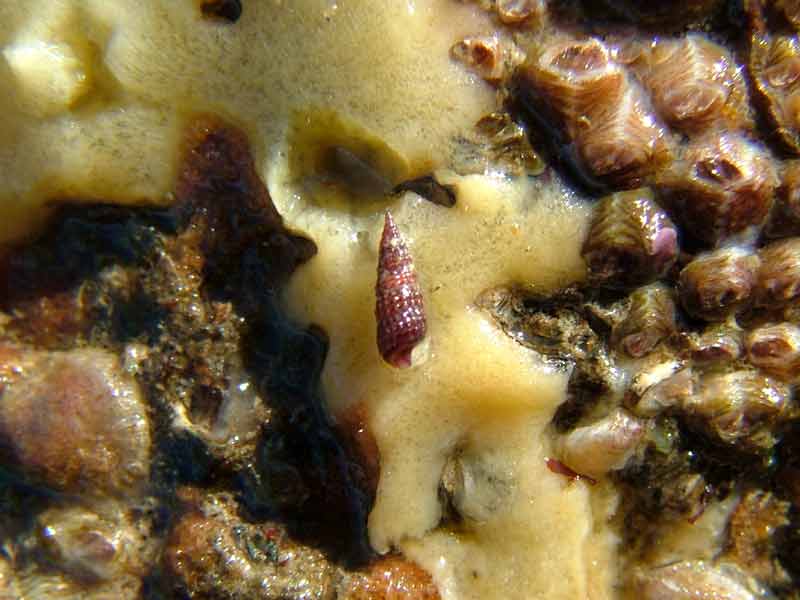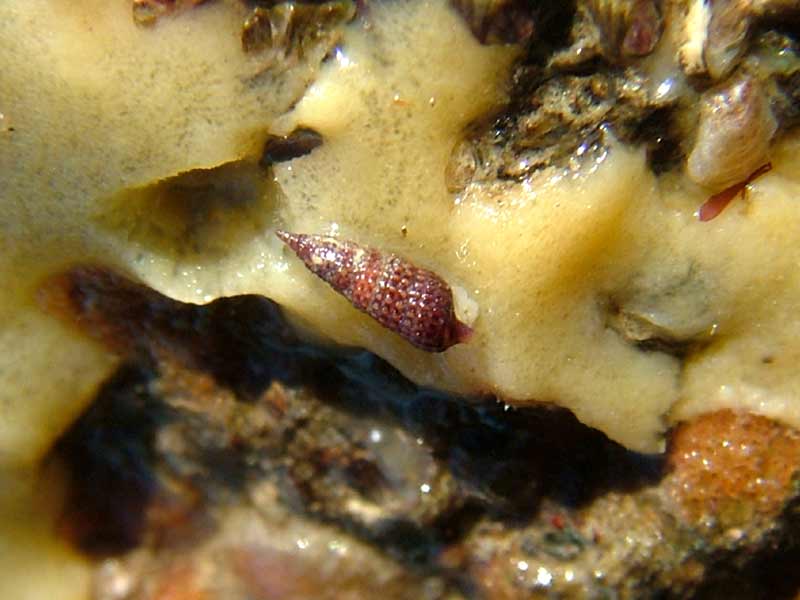 Researched by
Marie Skewes
Refereed by
This information is not refereed
Authority
(Montagu, 1803)
Other common names
-
Synonyms
-
Summary
Description
A slender shell to 7 mm long with up to 14 flat-sided whorls. Aperture oval, with thin, crenulate outer lip and a short, broad siphonal canal. Shell chestnut-brown, tapering to a point only in the region of the first 2 whorls. Tubercles pale brown. Head bears a pair of long, linear tentacles, covered around the distal half with bristle-like cilia.
Recorded distribution in Britain and Ireland
On south-west coasts of Britain and occasionally recorded off the west coast of Scotland.
Global distribution
From Norway to the Mediterranean and the Azores but absent from the southern North Sea.
Habitat
Found in pools, on sponges such as
Halichondria (Halichondria) panicea
and
Hymeniacidon perleve
, particularly where associated with coralline algae. Also found on the sheltered sponge-covered slopes and crevices of rocks and under boulders. From the lower shore to 100 m.
Identifying features
Each whorl with 3 spiral rows of close set, rounded elevations (tubercles).
Base of last whorl also with 2-3 spiral ridges.
Tubercles near outer lip elongated axially.
Small aperture with basal siphonal notch.
Additional information
Occurrence in Britain may be increased by seawater warming.
Bibliography
Fretter, V., 1951. Observations on the life history and functional morphology of Cerithiopsis tubercularis (Montagu) and Triphora perversa (L.). Journal of the Marine Biological Association of the United Kingdom, 29, 567-586.

Graham, A., 1971. British Prosobranchs. London: Academic Press.[Synopses of the British Fauna, no. 2.]

Graham, A., 1988. Molluscs: prosobranchs and pyramellid gastropods (2nd ed.). Leiden: E.J. Brill/Dr W. Backhuys. [Synopses of the British Fauna No. 2]

Hayward, P., Nelson-Smith, T. & Shields, C. 1996. Collins pocket guide. Sea shore of Britain and northern Europe. London: HarperCollins.

Hayward, P.J. & Ryland, J.S. (ed.) 1995b. Handbook of the marine fauna of North-West Europe. Oxford: Oxford University Press.

Hiscock, K., Southward, A., Tittley, I., Jory, A. & Hawkins, S., 2001. The impact of climate change on subtidal and intertidal benthic species in Scotland. Scottish National Heritage Research, Survey and Monitoring Report , no. 182., Edinburgh: Scottish National Heritage

Howson, C.M. & Picton, B.E., 1997. The species directory of the marine fauna and flora of the British Isles and surrounding seas. Belfast: Ulster Museum. [Ulster Museum publication, no. 276.]

McMillan, N.F., 1968. British Shells. London: Frederick Warne & Co Ltd.
Datasets
Citation
This review can be cited as:
Skewes, M. 2007. Cerithiopsis tubercularis A gastropod. In Tyler-Walters H. and Hiscock K. Marine Life Information Network: Biology and Sensitivity Key Information Reviews, [on-line]. Plymouth: Marine Biological Association of the United Kingdom. [cited 11-12-2023]. Available from: https://marlin.ac.uk/species/detail/1646
---
Last Updated: 08/06/2007