A gastropod (Colus islandicus)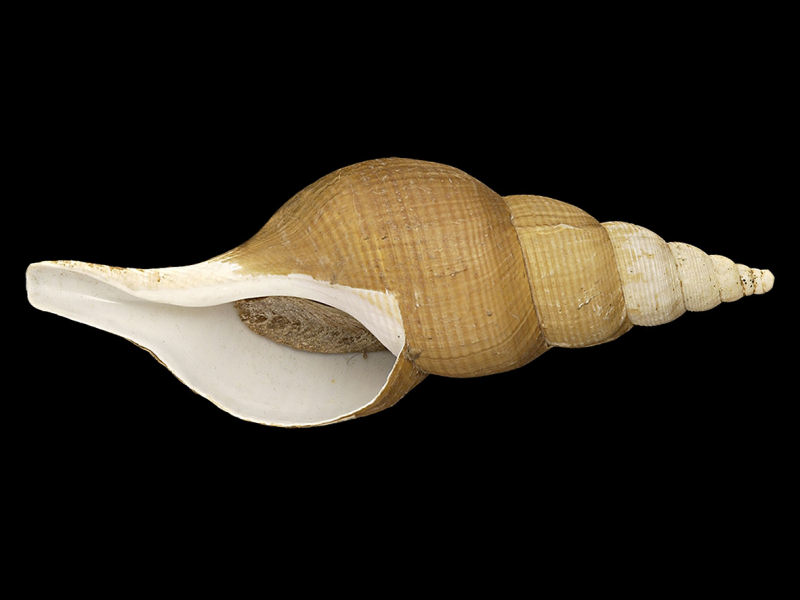 Researched by
Marie Skewes
Refereed by
Admin
Authority
(Mohr, 1786)
Other common names
-
Synonyms
-
Summary
Description
A tall shell, up to 15 cm high and 5 cm broad, with up to 9 moderately tumid whorls that form a spire with a concave profile. Protoconch bulbous, often of greater diameter than the next whorl and set more obliquely on the spire. Numerous pronounced spiral ridges present. Outer lip arises between spiral ridges 10-12 on last whorl. Shell white with a pale-yellow horny layer overlying the calcareous matter of the shell (periostracum).
Recorded distribution in Britain and Ireland
Colus islandicus is a northern species extending south to Shetland, the north coast of Scotland and Northern Ireland. Subfossil shells may be found in more southern waters.
Global distribution
The species has a circumpolar distribution but extends south in the eastern Atlantic as far as northern Britain.
Habitat
Occurs on soft substrata from 10-3000 m.
Identifying features
A tall shell with a bulbous protoconch.
Whorls with numerous spiral ridges and covered with a periostracum.
Aperture with a long, narrow, almost straight siphonal canal.
Additional information
Similar to Colus gracilis but the spiral ridges are more pronounced, especially towards the apex, and the siphonal canal does not incline markedly to the left as it does in Colus gracilis. Occurrence in Britain may be adversely affected by seawater warming.
Bibliography
Graham, A., 1988. Molluscs: prosobranchs and pyramellid gastropods (2nd ed.). Leiden: E.J. Brill/Dr W. Backhuys. [Synopses of the British Fauna No. 2]

Hayward, P., Nelson-Smith, T. & Shields, C. 1996. Collins pocket guide. Sea shore of Britain and northern Europe. London: HarperCollins.

Hayward, P.J. & Ryland, J.S. (ed.) 1995b. Handbook of the marine fauna of North-West Europe. Oxford: Oxford University Press.

Hiscock, K., Southward, A., Tittley, I., Jory, A. & Hawkins, S., 2001. The impact of climate change on subtidal and intertidal benthic species in Scotland. Scottish National Heritage Research, Survey and Monitoring Report , no. 182., Edinburgh: Scottish National Heritage

Howson, C.M. & Picton, B.E., 1997. The species directory of the marine fauna and flora of the British Isles and surrounding seas. Belfast: Ulster Museum. [Ulster Museum publication, no. 276.]

McMillan, N.F., 1968. British Shells. London: Frederick Warne & Co Ltd.
Datasets
Citation
This review can be cited as:
Skewes, M. 2005. Colus islandicus A gastropod. In Tyler-Walters H. and Hiscock K. Marine Life Information Network: Biology and Sensitivity Key Information Reviews, [on-line]. Plymouth: Marine Biological Association of the United Kingdom. [cited 10-12-2023]. Available from: https://marlin.ac.uk/species/detail/1655
---
Last Updated: 17/10/2005