Spiny starfish (Marthasterias glacialis)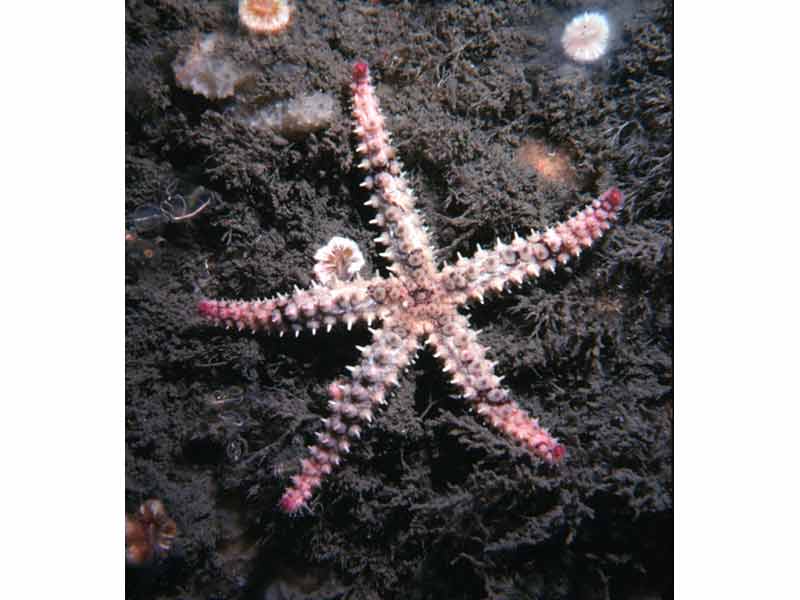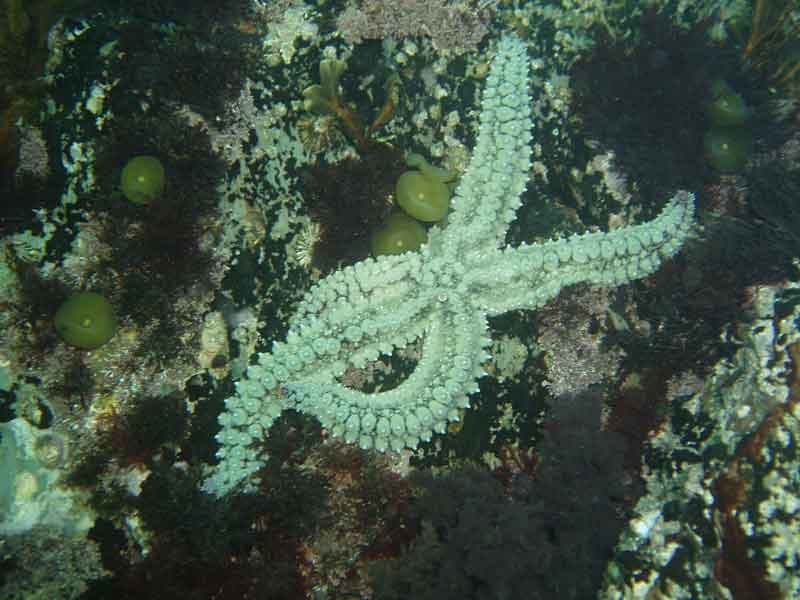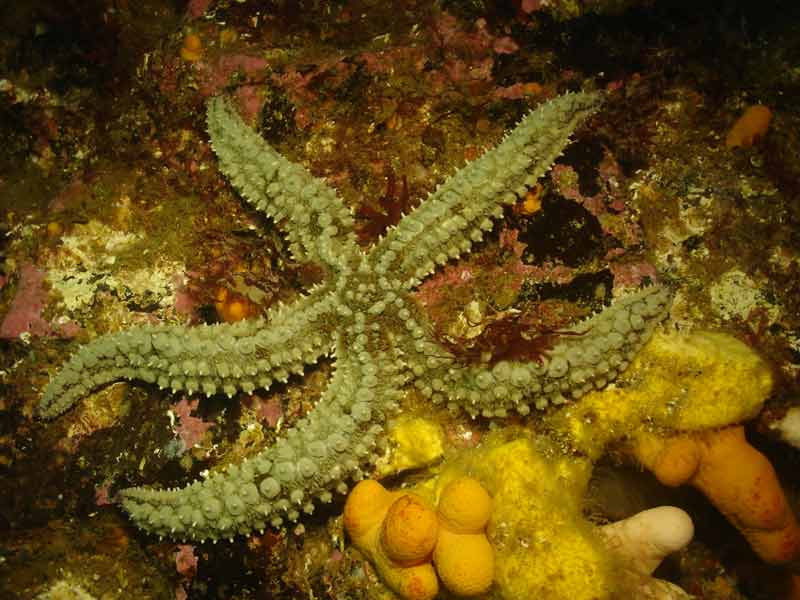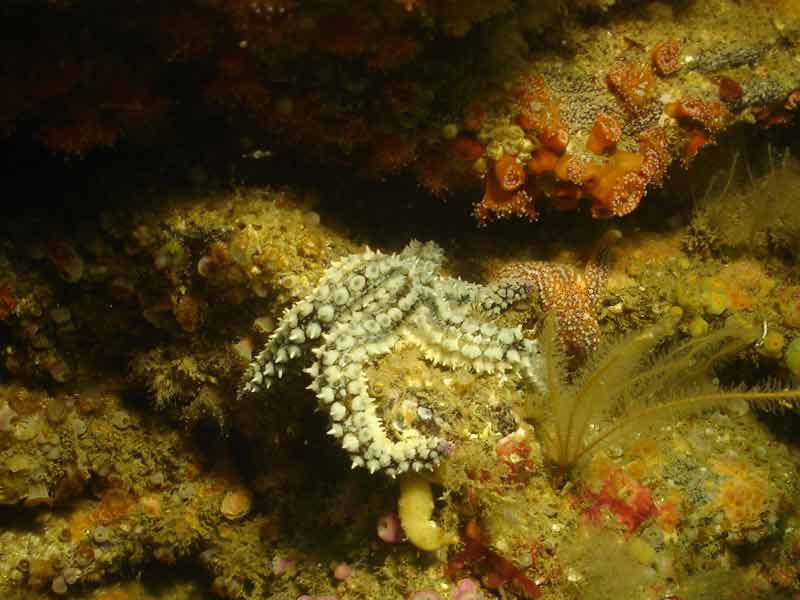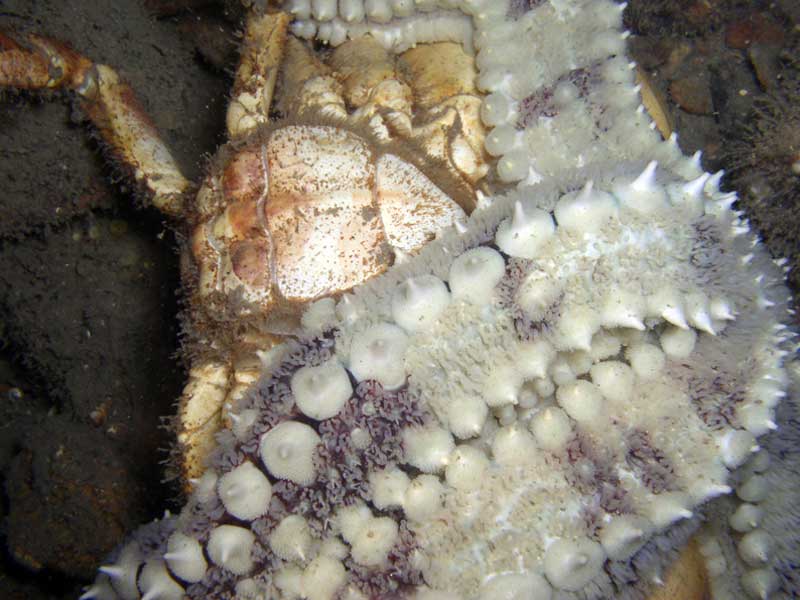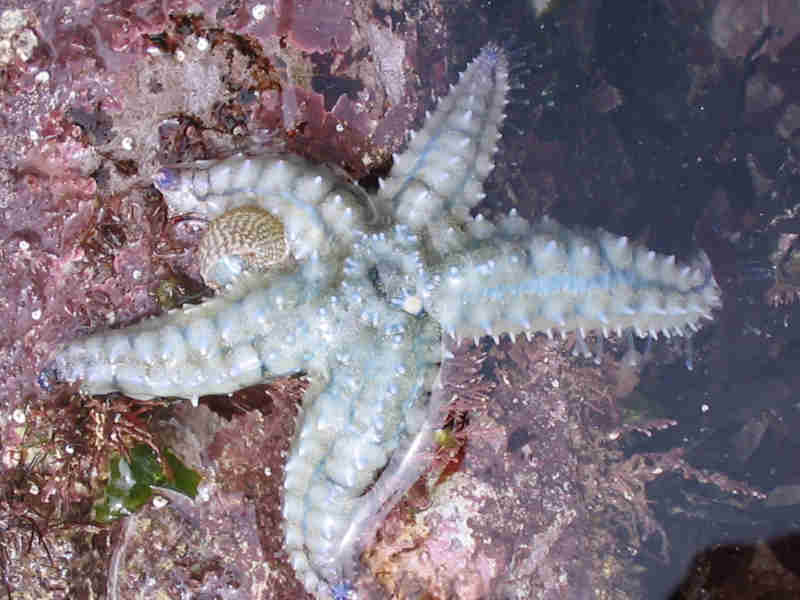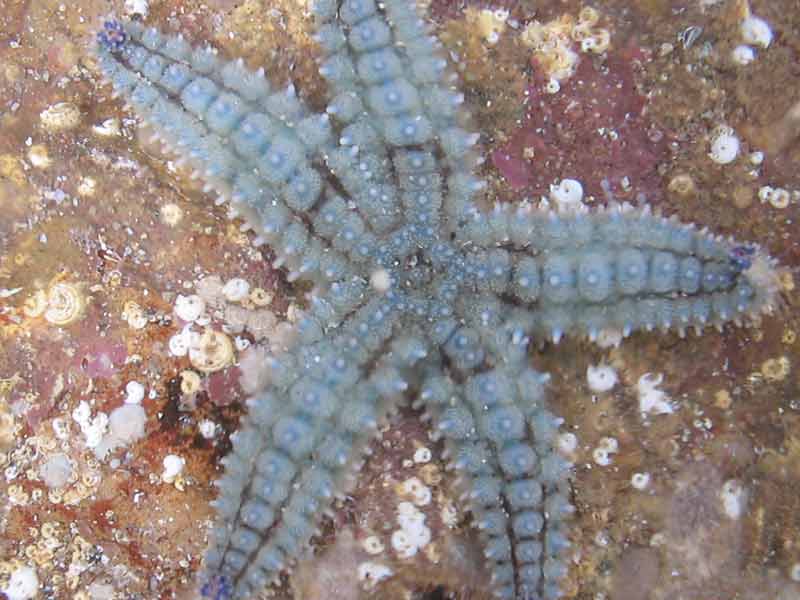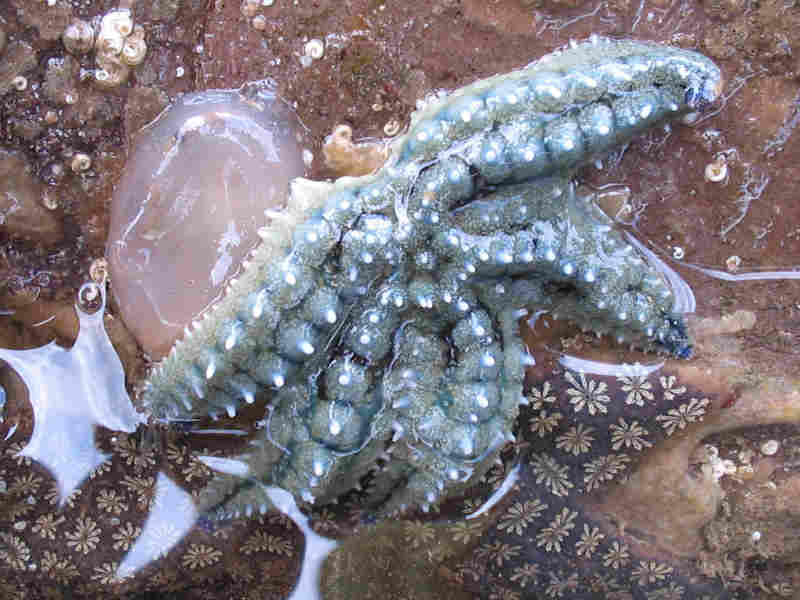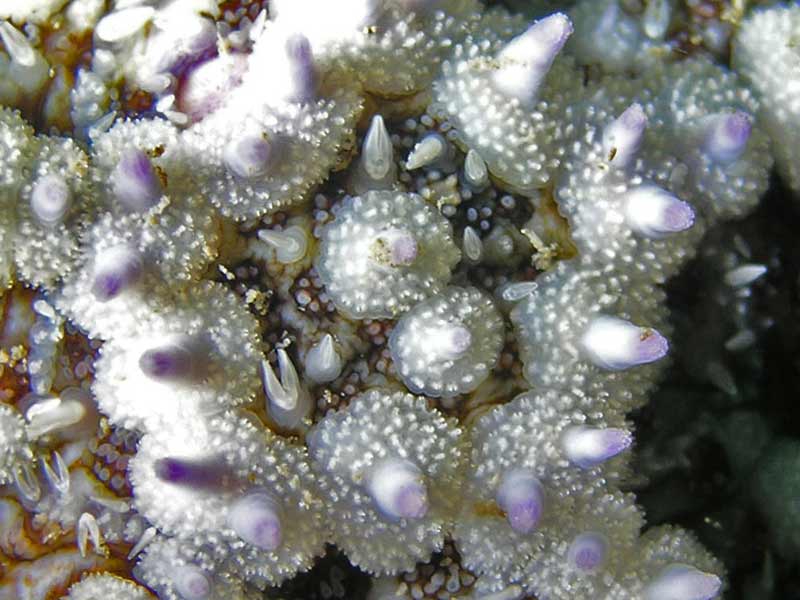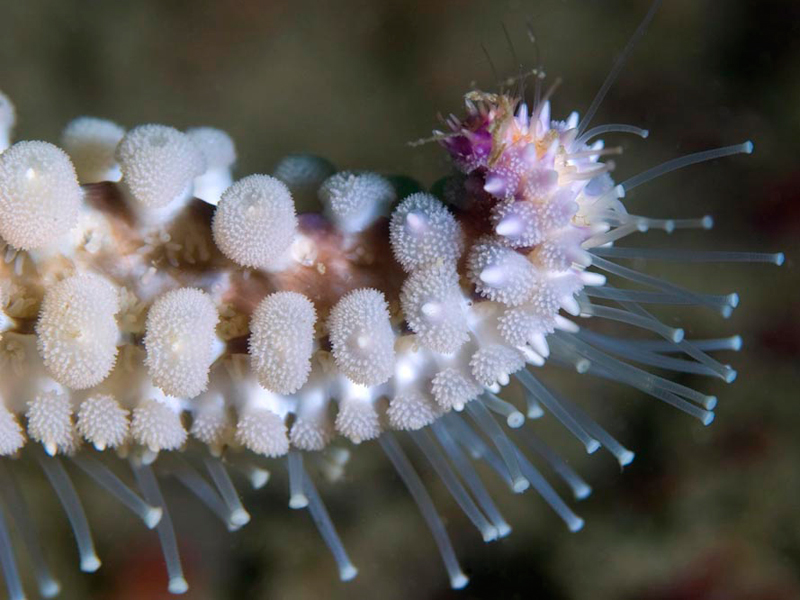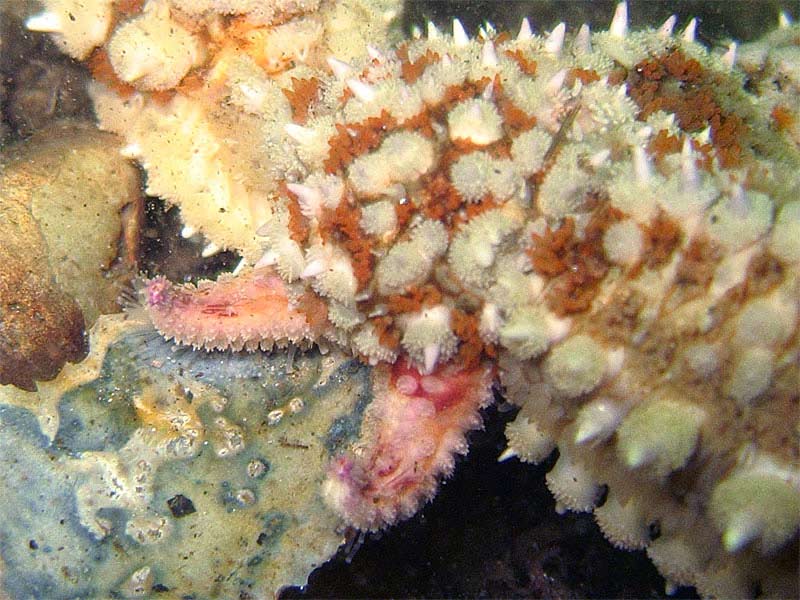 Researched by
Olwen Ager
Refereed by
Admin
Authority
(Linnaeus, 1758)
Other common names
-
Synonyms
-
Summary
Description
Marthasterias glacialis is a large starfish up to 70 cm across, commonly 25-30 cm. It has 5 narrow tapering arms with 3 rows of longitudinal spines along each arm. The spines are white, usually with purple tips. spines are surrounded by specialised minute modified spines (pedicellariae), which are used for protection and to gather food. Marthasterias glacialis can be dirty brown to pale greyish green in colour with purple tips to the arms.
Recorded distribution in Britain and Ireland
Marthasterias glacialis is recorded from the southwest and west coast of England and the west coast of Scotland. It has only been recorded at one site on the east coast (St Abbs, Scotland) and has not been recorded in the eastern English Channel.
Global distribution
Marthasterias glacialis is found from northern Norway to the Mediterranean and West Africa.
Habitat
Marthasterias glacialis is found from extreme low water to about 200 m. It can be found in a variety of habitats from sheltered muddy sites to wave exposed rock faces.
Identifying features
Up to 70 cm across.
5 narrow tapering arms
Arms with 3 longitudinal rows of white, spines (usually purple tipped).
Spines surrounded by cushions of pedicellariae.
Pale grey to green tinged with purple, yellow or reddish in colour.
Additional information
Small individuals of Marthasterias glacialis may be confused with Leptasterias mulleri (Northern starfish).
Bibliography
Fish, J.D. & Fish, S., 1996. A student's guide to the seashore. Cambridge: Cambridge University Press.

Hayward, P., Nelson-Smith, T. & Shields, C. 1996. Collins pocket guide. Sea shore of Britain and northern Europe. London: HarperCollins.

Hayward, P.J. & Ryland, J.S. (ed.) 1995b. Handbook of the marine fauna of North-West Europe. Oxford: Oxford University Press.

Howson, C.M. & Picton, B.E., 1997. The species directory of the marine fauna and flora of the British Isles and surrounding seas. Belfast: Ulster Museum. [Ulster Museum publication, no. 276.]

Hyman, L.V., 1955. The Invertebrates: Vol. IV. Echinodermata. The coelomate Bilateria. New York: McGraw Hill.

JNCC (Joint Nature Conservation Committee), 1999. Marine Environment Resource Mapping And Information Database (MERMAID): Marine Nature Conservation Review Survey Database. [on-line] http://www.jncc.gov.uk/mermaid

Mortensen, T.H., 1927. Handbook of the echinoderms of the British Isles. London: Humphrey Milford, Oxford University Press.

Picton, B.E. & Costello, M.J., 1998. BioMar biotope viewer: a guide to marine habitats, fauna and flora of Britain and Ireland. [CD-ROM] Environmental Sciences Unit, Trinity College, Dublin.

Picton, B.E., 1993. A field guide to the shallow-water echinoderms of the British Isles. London: Immel Publishing Ltd.
Datasets
Citation
This review can be cited as:
Ager, O.E.D. 2008. Marthasterias glacialis Spiny starfish. In Tyler-Walters H. and Hiscock K. Marine Life Information Network: Biology and Sensitivity Key Information Reviews, [on-line]. Plymouth: Marine Biological Association of the United Kingdom. [cited 06-12-2023]. Available from: https://marlin.ac.uk/species/detail/1688
---
Last Updated: 29/04/2008