Black brittlestar (Ophiocomina nigra)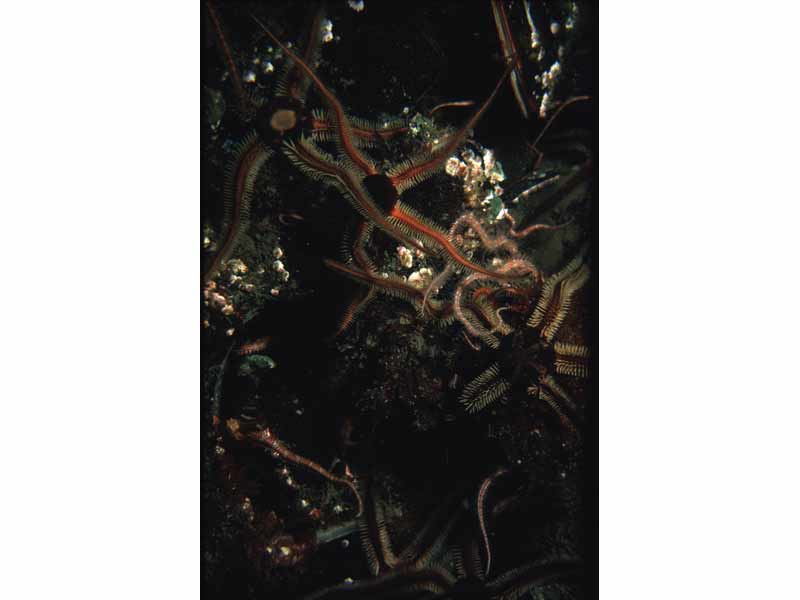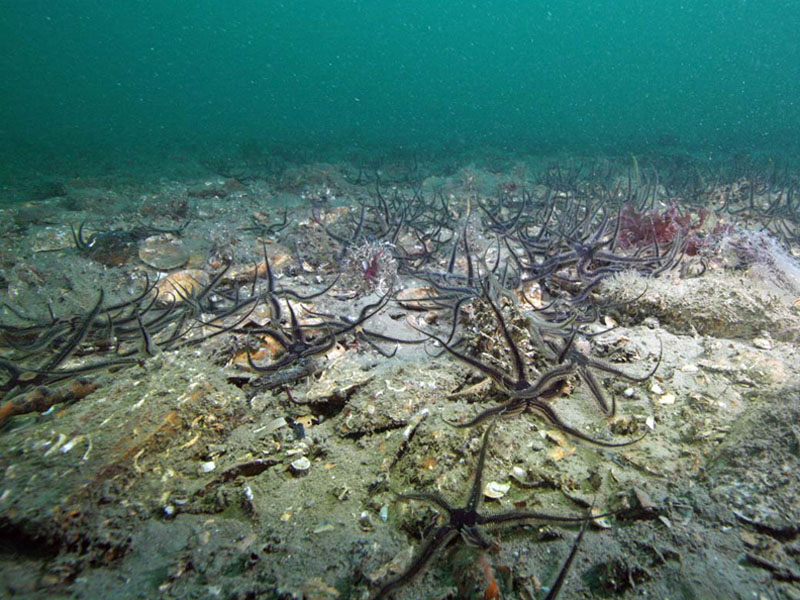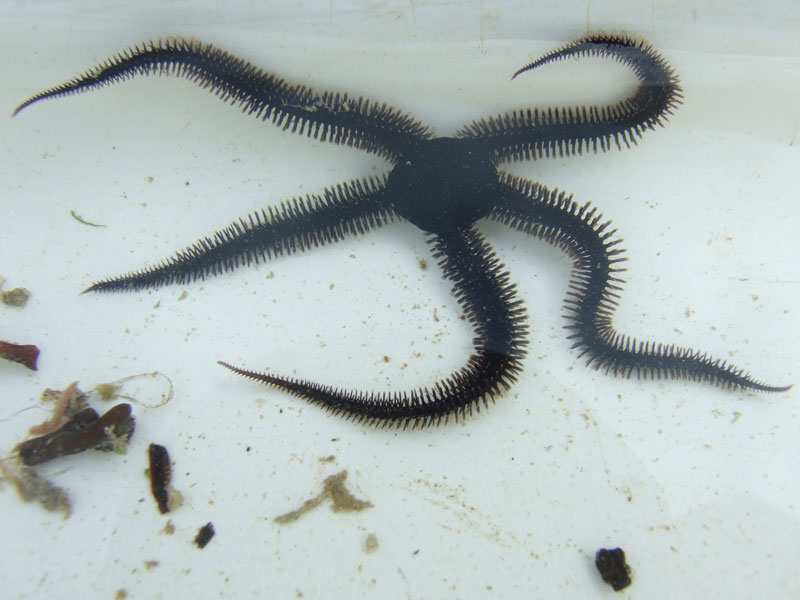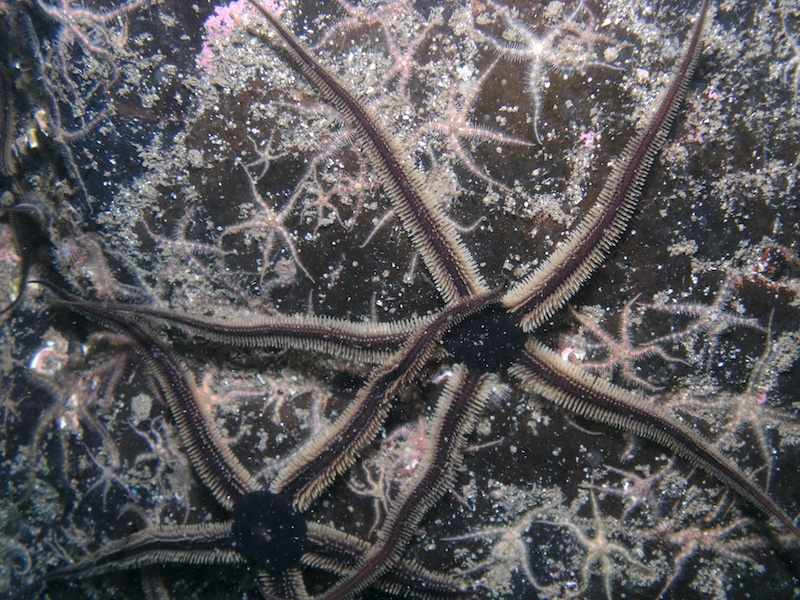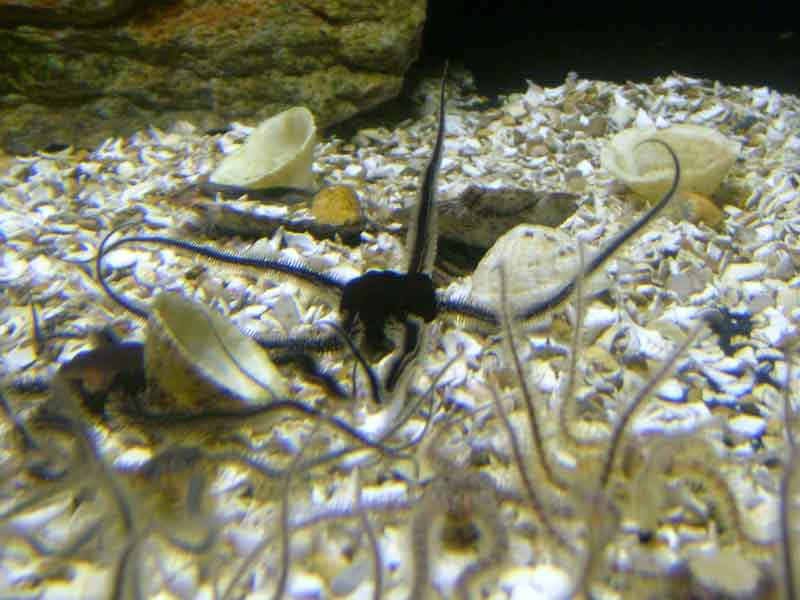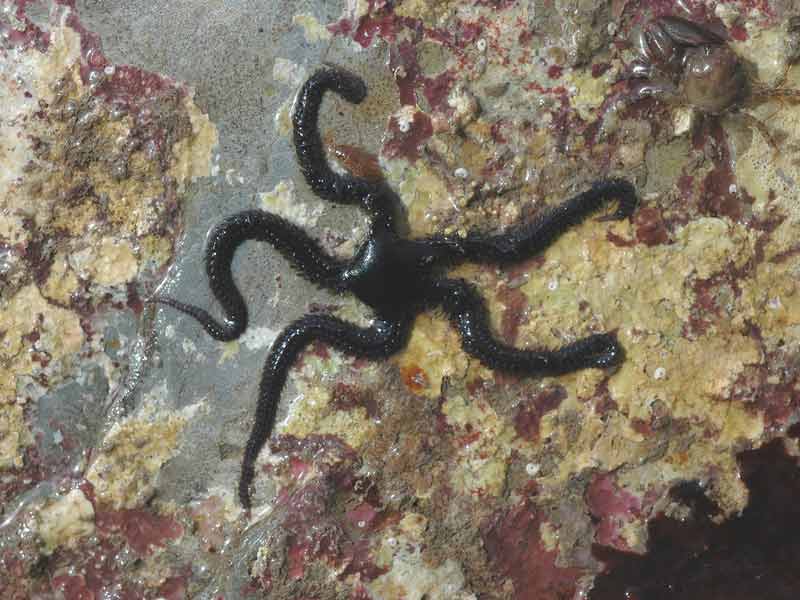 Researched by
Penny Avant
Refereed by
Admin
Authority
(Abildgaard in O.F. Müller, 1789)
Other common names
-
Synonyms
-
Summary
Description
A dark-coloured brittlestar, with a round flattish central disc up to 2.5 cm in diameter. The five, thin, flexible arms are about five times the disc diameter in length. Down both sides of each arm is a row of short, erect spines, arranged like teeth on a comb. Ophiocomina nigra moves by means of mainly horizontal movements of the arms that push against the rocky substratum.
Recorded distribution in Britain and Ireland
Common around all British coasts apart from the southern North Sea, and all round the coast of Ireland.
Global distribution
Found on coasts from West Norway south to the Azores and in the Mediterranean.
Habitat
Ophiocomina nigra is found on hard substrata, such as boulders, bedrock and gravel, on moderately exposed coasts with some water movement. It occurs from low water of spring tides to a depth of 400 m, although it appears to be rare below 100 m.
Identifying features
Large brittlestar, usually dark brown or black in colour.
The central disc is up to 2.5 cm in diameter and is round, flattish and smooth.
Five, thin, flexible arms, well defined from the disc and about five times its diameter in length.
A prominent row of small, erect spines down both sides of each arm.
Additional information
Pale, almost white, specimens may occur in any population.
Bibliography
Bruce, J.R., Colman, J.S. & Jones, N.S., 1963. Marine fauna of the Isle of Man. Liverpool: Liverpool University Press.

Hayward, P., Nelson-Smith, T. & Shields, C. 1996. Collins pocket guide. Sea shore of Britain and northern Europe. London: HarperCollins.

Hayward, P.J. & Ryland, J.S. (ed.) 1995b. Handbook of the marine fauna of North-West Europe. Oxford: Oxford University Press.

Howson, C.M. & Picton, B.E., 1997. The species directory of the marine fauna and flora of the British Isles and surrounding seas. Belfast: Ulster Museum. [Ulster Museum publication, no. 276.]

JNCC (Joint Nature Conservation Committee), 1999. Marine Environment Resource Mapping And Information Database (MERMAID): Marine Nature Conservation Review Survey Database. [on-line] http://www.jncc.gov.uk/mermaid

Mortensen, T.H., 1927. Handbook of the echinoderms of the British Isles. London: Humphrey Milford, Oxford University Press.

Picton, B.E. & Costello, M.J., 1998. BioMar biotope viewer: a guide to marine habitats, fauna and flora of Britain and Ireland. [CD-ROM] Environmental Sciences Unit, Trinity College, Dublin.

Picton, B.E., 1993. A field guide to the shallow-water echinoderms of the British Isles. London: Immel Publishing Ltd.
Datasets
Citation
This review can be cited as:
Avant, P. 2008. Ophiocomina nigra Black brittlestar. In Tyler-Walters H. and Hiscock K. Marine Life Information Network: Biology and Sensitivity Key Information Reviews, [on-line]. Plymouth: Marine Biological Association of the United Kingdom. [cited 02-12-2023]. Available from: https://marlin.ac.uk/species/detail/1706
---
Last Updated: 17/04/2008