Peacock worm (Sabella pavonina)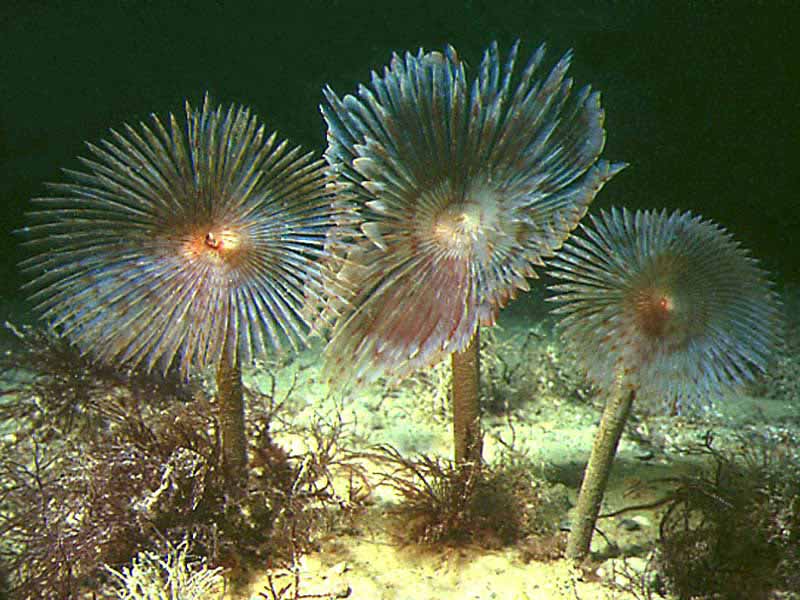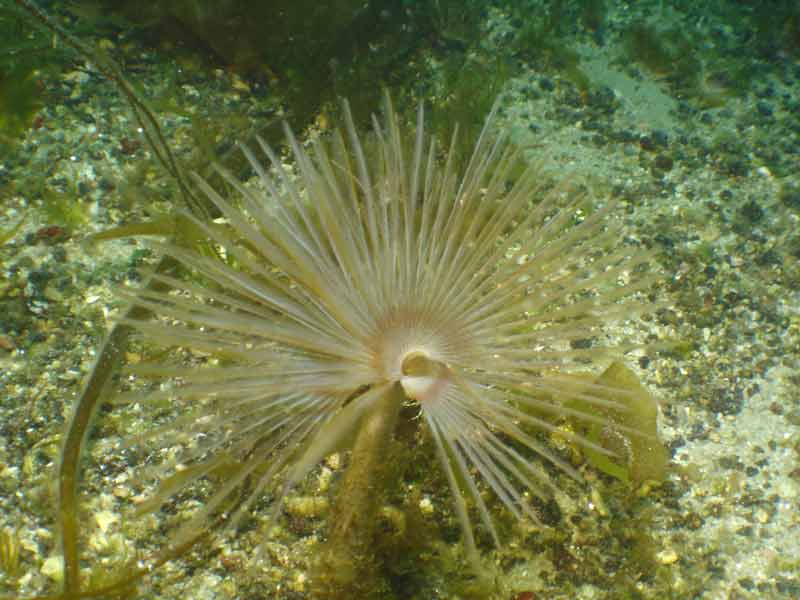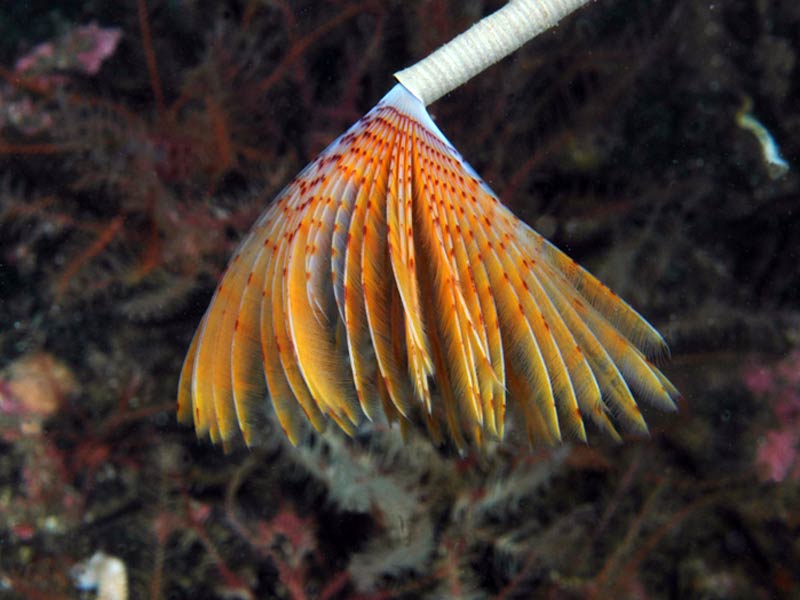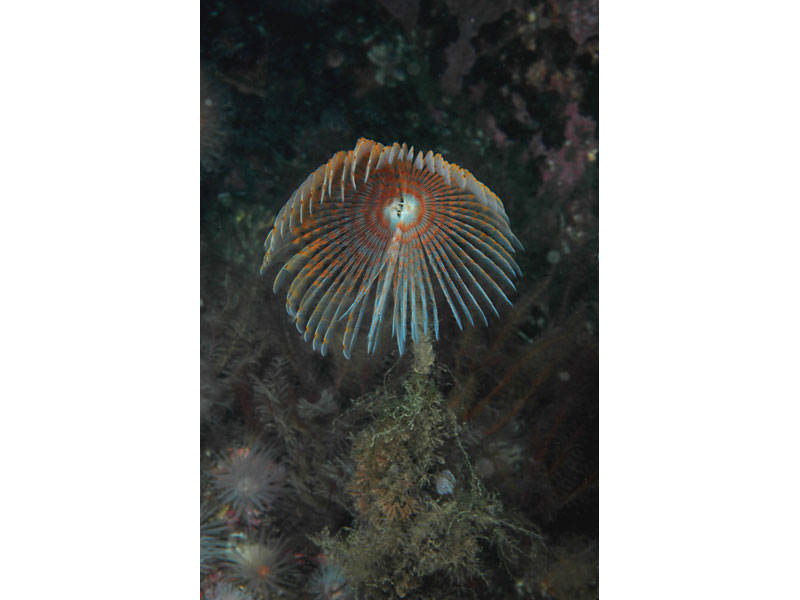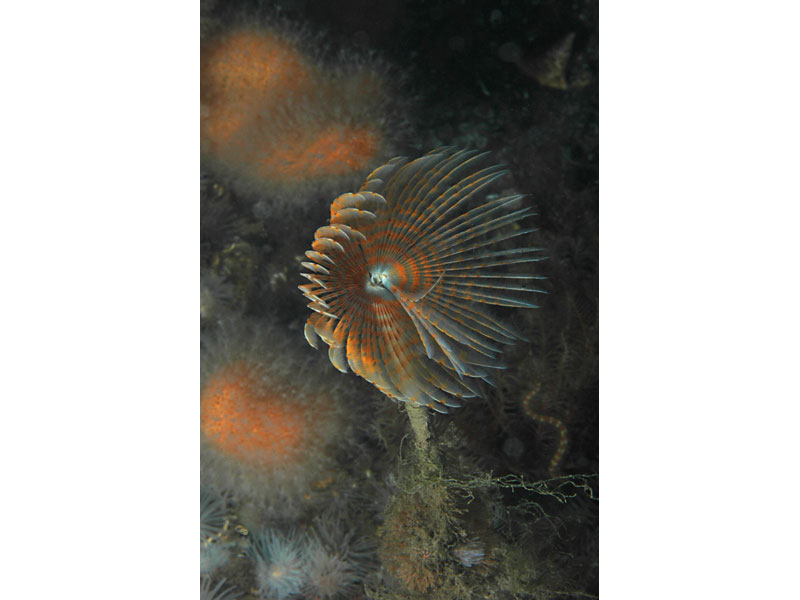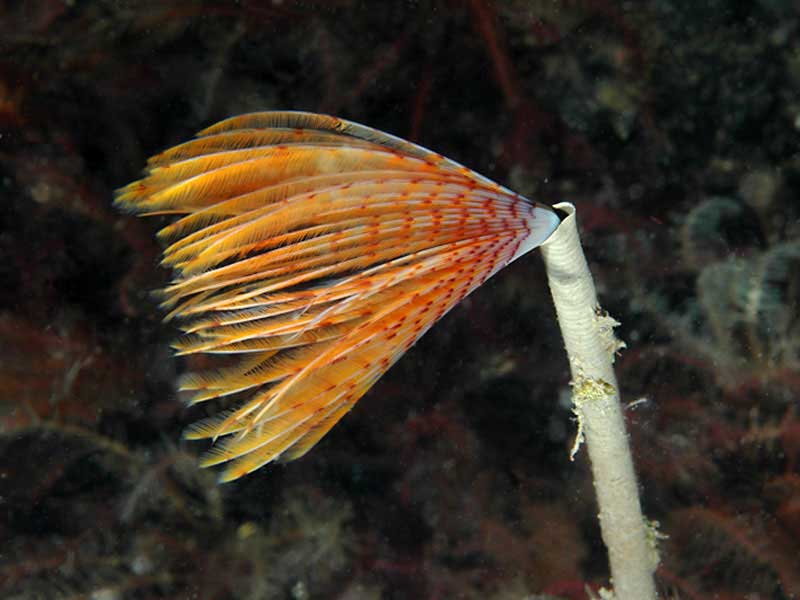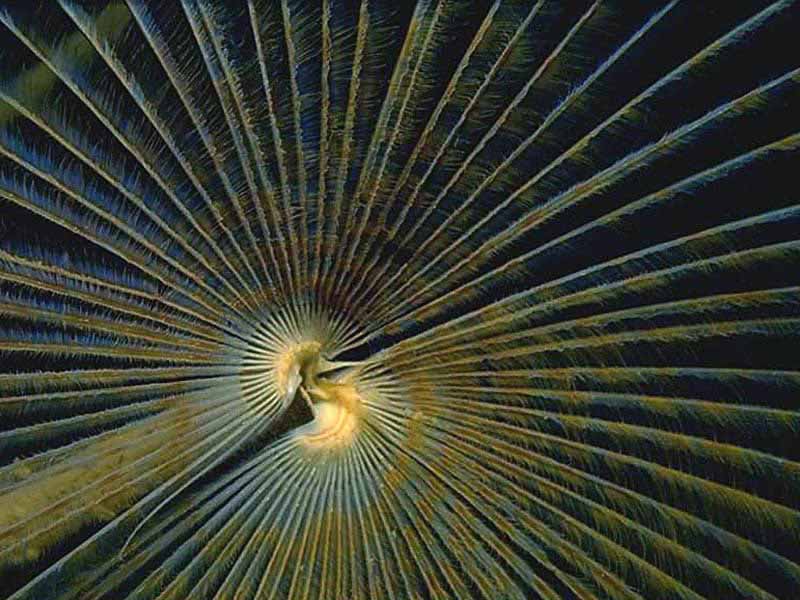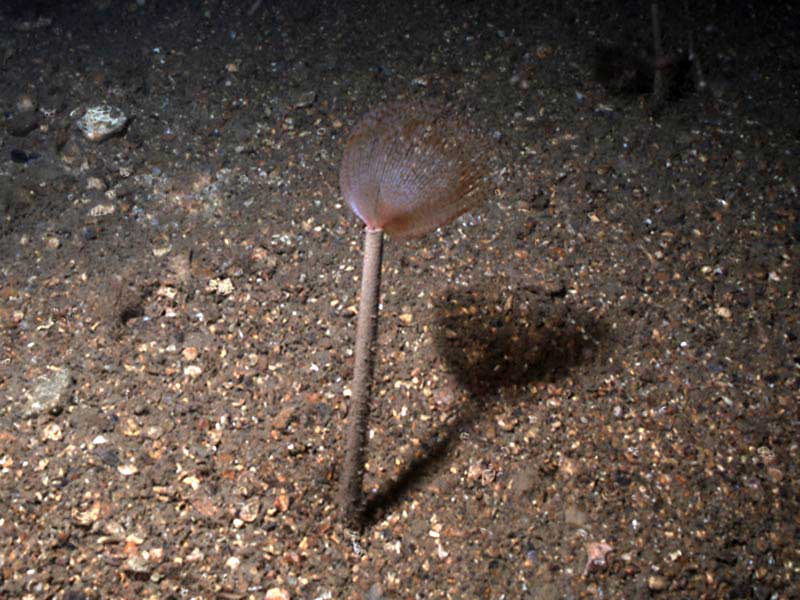 Researched by
Penny Avant
Refereed by
Admin
Authority
Savigny, 1822
Other common names
-
Synonyms
Sabella penicillus (Gmelin, 1791)
Summary
Description
A long, slender, many segmented worm up to 30 cm long and only 4mm in width. It lives permanently in a smooth, flexible, muddy tube that projects up to 10 cm above the sand. The head projects from the tube during feeding and bears a daisy-like crown of feathery tentacles in two groups. The body can be yellowish-orange or greyish purple in colour and the crown is banded in various colours.
Recorded distribution in Britain and Ireland
Widely distributed, and locally abundant, around all British coasts.
Global distribution
Widely distributed in north west Europe.
Habitat
Found on stones in sand and mud, at and below low water.
Identifying features
A long, thin worm, up to 30 cm in length and 4 mm in width, with many segments.
The body is orange to dull purple in colour.
Conspicuous crown of feathery tentacles banded in red, brown and purple, withdrawn into the tube when not feeding.
Chaetae small, slender and unobtrusive.
The muddy tube is smooth and flexible and projects up to 10cm above the substrate.
Additional information
Identification of the family Sabellidae to species level depends on the fine structure of the parapods (see Fauchald, 1977).
Bibliography
Bruce, J.R., Colman, J.S. & Jones, N.S., 1963. Marine fauna of the Isle of Man. Liverpool: Liverpool University Press.

Fauchald, K., 1977. The polychaete worms. Definitions and keys to the orders, families and genera. USA: Natural History Museum of Los Angeles County.

Fish, J.D. & Fish, S., 1996. A student's guide to the seashore. Cambridge: Cambridge University Press.

Hayward, P., Nelson-Smith, T. & Shields, C. 1996. Collins pocket guide. Sea shore of Britain and northern Europe. London: HarperCollins.

Hayward, P.J. & Ryland, J.S. (ed.) 1995b. Handbook of the marine fauna of North-West Europe. Oxford: Oxford University Press.

Howson, C.M. & Picton, B.E., 1997. The species directory of the marine fauna and flora of the British Isles and surrounding seas. Belfast: Ulster Museum. [Ulster Museum publication, no. 276.]

JNCC (Joint Nature Conservation Committee), 1999. Marine Environment Resource Mapping And Information Database (MERMAID): Marine Nature Conservation Review Survey Database. [on-line] http://www.jncc.gov.uk/mermaid

Picton, B.E. & Costello, M.J., 1998. BioMar biotope viewer: a guide to marine habitats, fauna and flora of Britain and Ireland. [CD-ROM] Environmental Sciences Unit, Trinity College, Dublin.
Datasets
Citation
This review can be cited as:
Avant, P. 2008. Sabella pavonina Peacock worm. In Tyler-Walters H. and Hiscock K. Marine Life Information Network: Biology and Sensitivity Key Information Reviews, [on-line]. Plymouth: Marine Biological Association of the United Kingdom. [cited 02-12-2023]. Available from: https://marlin.ac.uk/species/detail/1717
---
Last Updated: 24/04/2008