Armoured bristleworm (Scoloplos armiger)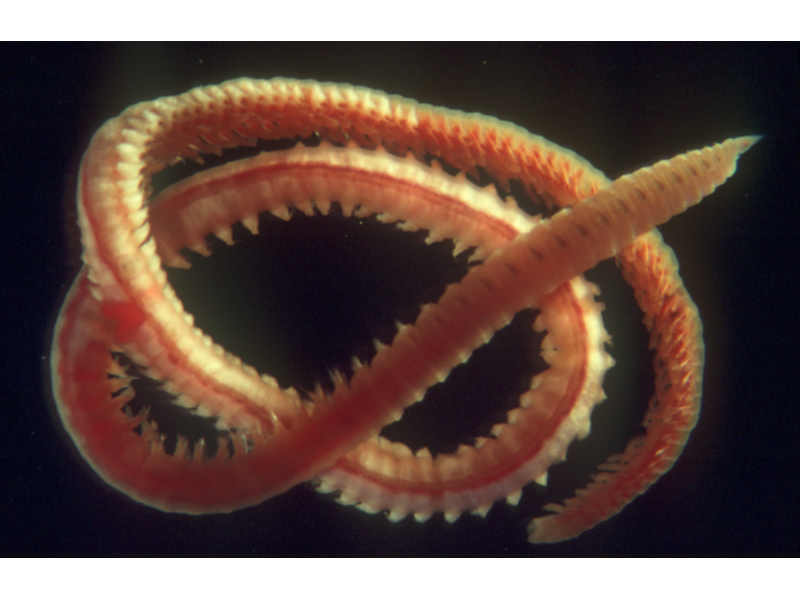 Researched by
Susie Ballerstedt
Refereed by
Admin
Authority
(Müller, 1776)
Other common names
-
Synonyms
-
Summary
Description
Scoloplos armiger reaches lengths of 12 cm with 200 or more body segments. The front region of the body is swollen and sharply pointed, giving the head a cone-shaped appearance. The eyes are not easily detectable. Gills occur dorsally from segments 9 to 17 onwards and the tip of the posterior has 2 long cirri. Scoloplos armiger is red or reddish brown in colour, and has prominent red blood vessels running down the length of the body.
Recorded distribution in Britain and Ireland
Widely distributed around the coasts of Britain and Ireland.
Habitat
Occurs on the low shore and shallow sublittoral in fine, muddy sand, often amongst seagrasses. May be found in the lower reaches of estuaries.
Identifying features
Red to bright orange-pink in colour.
Sharply pointed, cone-shaped head.
Up to 12 cm in length with 200 or more body segments.
The posterior has 2 long cirri.
Prominent red blood vessels.
Additional information
-none-
Citation
This review can be cited as:
Ballerstedt, S. 2005. Scoloplos armiger Armoured bristleworm. In Tyler-Walters H. and Hiscock K. Marine Life Information Network: Biology and Sensitivity Key Information Reviews, [on-line]. Plymouth: Marine Biological Association of the United Kingdom. [cited 10-12-2023]. Available from: https://marlin.ac.uk/species/detail/1721
---
Last Updated: 27/10/2005