A sponge (Adreus fascicularis)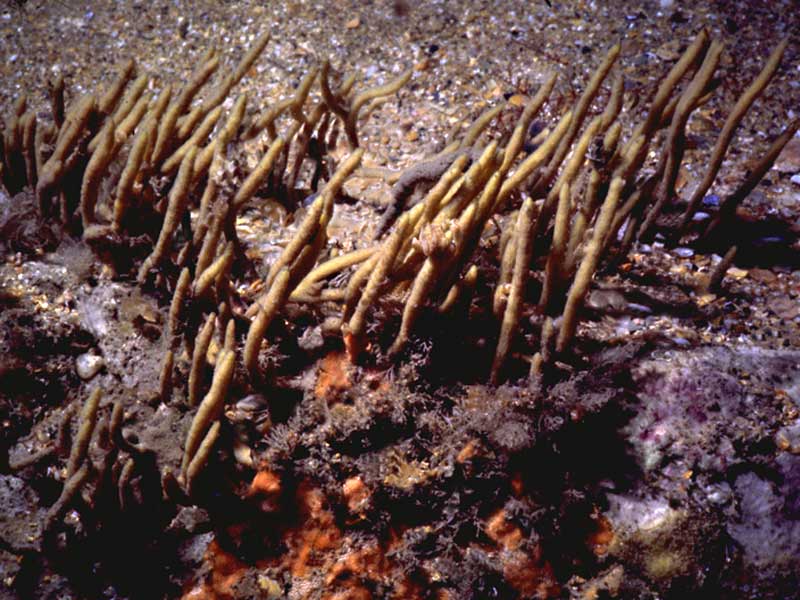 Researched by
Penny Avant
Refereed by
Admin
Authority
(Bowerbank, 1866)
Other common names
-
Synonyms
Dictyocylindrus fascicularis (Bowerbank, 1866)
Summary
Description
An erect, slender sponge, up to about 12 cm high that branches dichotomously from the base. Amber yellow in colour. The narrow stems are cylindrical and smooth.
Recorded distribution in Britain and Ireland
Rare around the southwest coast of England, reported from Lyme Bay, Dorset, Plymouth, Devon and around the coast of Lundy.
Habitat
Found sublittorally, at a depth of 10 - 30 m, on sand-covered rock.
Identifying features
An arborescent sponge growing up to about 12 cm in height.
The slender, cylindrical branches are smooth.
Amber-yellow in colour.
Additional information
No text entered
Bibliography
Bowerbank, J.S., 1865. A monograph of the British Spongiadae, vol. II. London: Ray Society.

Bowerbank, J.S., 1874. A monograph of the British Spongiadae, vol. lll. London: Hardwicke.

Hiscock, K., Stone, S.M.K. & George, J.D., 1983. The marine fauna of Lundy. Porifera (sponges): a preliminary study. Report of the Lundy Field Society, 134, 16-35.

Howson, C.M. & Picton, B.E., 1997. The species directory of the marine fauna and flora of the British Isles and surrounding seas. Belfast: Ulster Museum. [Ulster Museum publication, no. 276.]

JNCC (Joint Nature Conservation Committee), 1999. Marine Environment Resource Mapping And Information Database (MERMAID): Marine Nature Conservation Review Survey Database. [on-line] http://www.jncc.gov.uk/mermaid
Datasets
NBN (National Biodiversity Network) Atlas. Available from: https://www.nbnatlas.org.

OBIS (Ocean Biodiversity Information System), 2023. Global map of species distribution using gridded data. Available from: Ocean Biogeographic Information System. www.iobis.org. Accessed: 2023-12-06
Citation
This review can be cited as:
Avant, P. 2002. Adreus fascicularis A sponge. In Tyler-Walters H. and Hiscock K. Marine Life Information Network: Biology and Sensitivity Key Information Reviews, [on-line]. Plymouth: Marine Biological Association of the United Kingdom. [cited 06-12-2023]. Available from: https://marlin.ac.uk/species/detail/1728
---
Last Updated: 21/06/2002