A sea slug (Ancula gibbosa)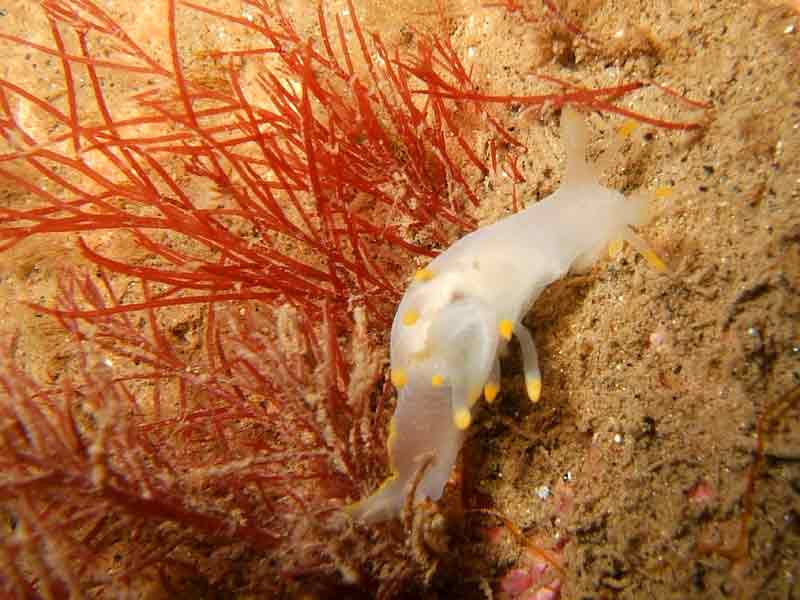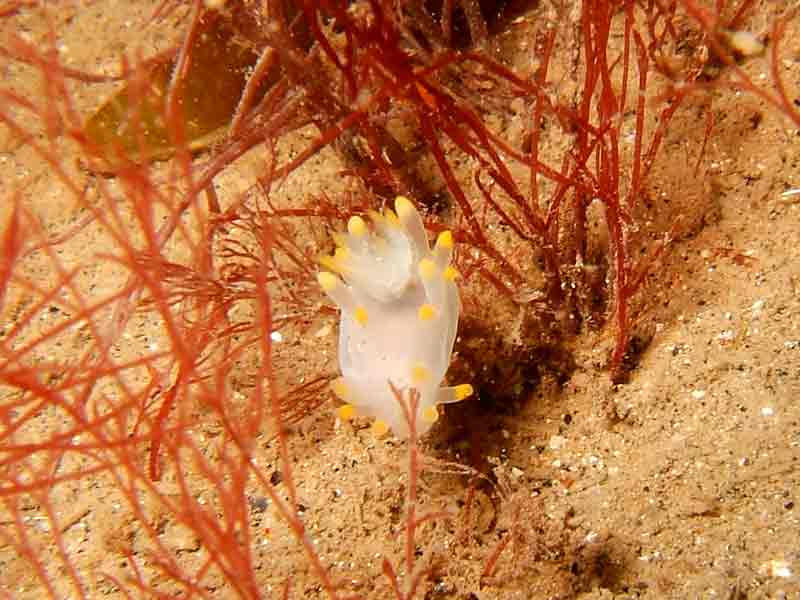 Researched by
Natalie Sweet
Refereed by
Admin
Authority
(Risso, 1818)
Other common names
-
Synonyms
-
Summary
Description
Ancula gibbosa is a translucent cream or white nudibranch reaching lengths of up to 33 mm. The rhinophores and gills have coloured tips; the tips of the pallial and rhinophoral processes are usually bright yelllow or orange, rarely white. The foot margins may also be yellow. The rhinophores have crinkly stalks which are cylindrical in the region of the lamellae and swollen medially. Elongate processes issue from the rhinophore stalk rather than from the head, and the oral tentacles are also elongate and finger like.
Recorded distribution in Britain and Ireland
Found all around the British Isles.
Habitat
Ancula gibbosa may be found under rocks in shallow water and offshore to around 110 m. Known to eat the colonial ascidians Diplosoma listerianum, Botryllus schlosseri and Botrylloides leachi, Ancula gibbosa may also feed on the erect bryozoans with which it is commonly found.
Identifying features
Translucent cream or white
2 longer processes projecting forward from the base of each rhinophore
Several processes at the sides of the gill cluster
Orange pigment found in tips of the rhinophores and on tip of tail
Additional information
No text entered
Bibliography
Hayward, P.J. & Ryland, J.S. (ed.) 1995b. Handbook of the marine fauna of North-West Europe. Oxford: Oxford University Press.

Howson, C.M. & Picton, B.E., 1997. The species directory of the marine fauna and flora of the British Isles and surrounding seas. Belfast: Ulster Museum. [Ulster Museum publication, no. 276.]

Picton, B. E. & Morrow, C.C., 1994. A Field Guide to the Nudibranchs of the British Isles. London: Immel Publishing Ltd.

Thompson, T. E. & Brown, G. H., 1976. British Opisthobranch Molluscs. London: Academic Press. [Synopses of the British Fauna, no. 8.]

Thompson, T.E. & Brown, G.H., 1984. Biology of Opisthobranch Molluscs, vol. II. London: Ray Society.

WoRMS 2007. The World Register of Marine Species (WoRMS). http://www.marinespecies.org, 2008-10-31
Datasets
Citation
This review can be cited as:
Sweet, N. A. 2008. Ancula gibbosa A sea slug. In Tyler-Walters H. and Hiscock K. Marine Life Information Network: Biology and Sensitivity Key Information Reviews, [on-line]. Plymouth: Marine Biological Association of the United Kingdom. [cited 06-12-2023]. Available from: https://marlin.ac.uk/species/detail/175
---
Last Updated: 06/08/2008