Crumpled duster sponge (Axinella damicornis)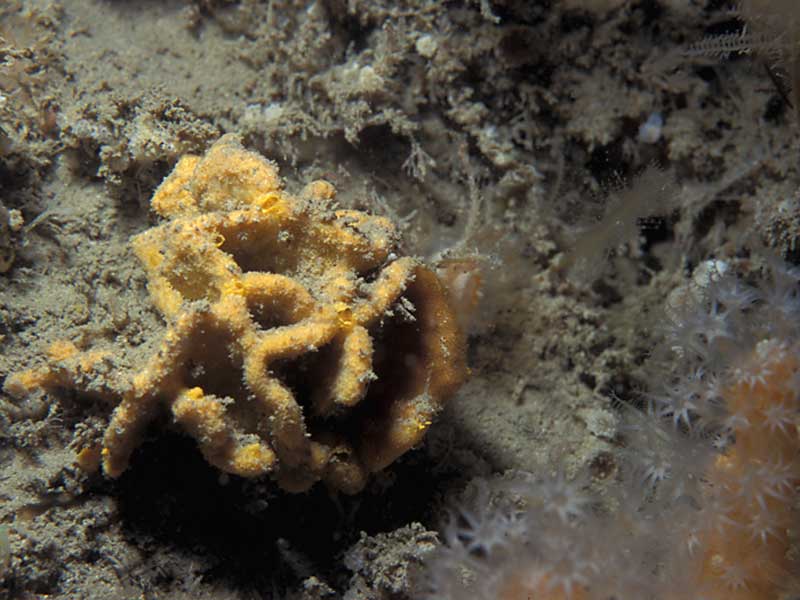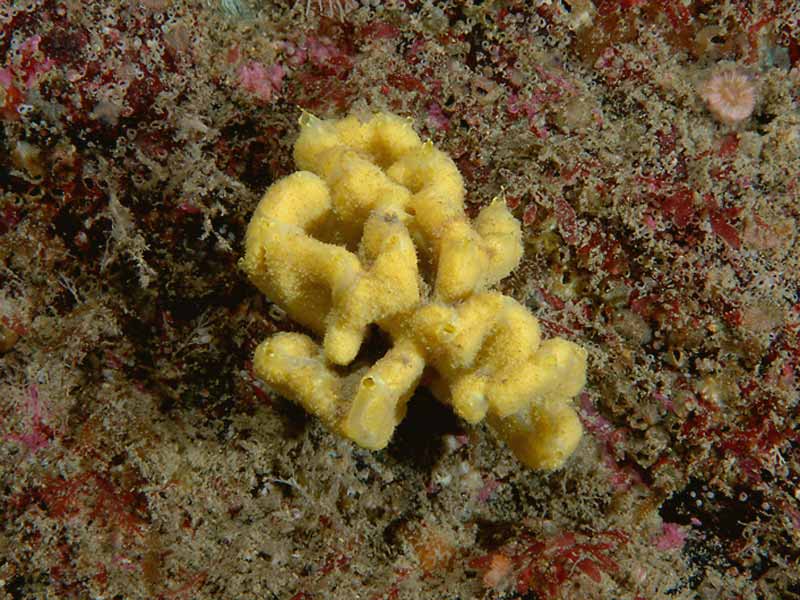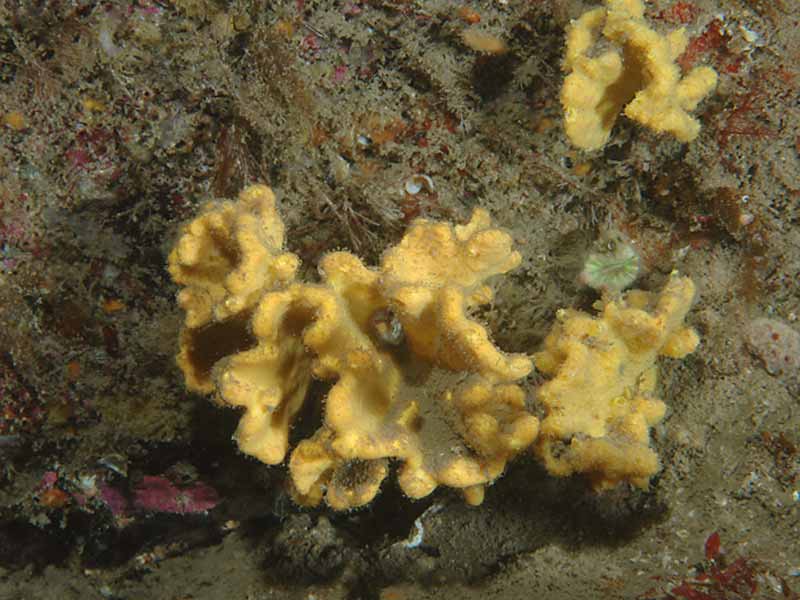 Researched by
Penny Avant
Refereed by
Admin
Authority
(Esper, 1794)
Other common names
Yellow sponge
Synonyms
Axinella cinnamomea (Nardo, 1833)
Summary
Description
An erect, squat sponge that grows up to 10 cm in height and is bright yellow, verging on orange at the margins. The branches fuse to form variable stubby finger-like shapes. The surface is velvety due to unevenly projecting skeletal spicules and looks as if it is dusted with small yellow particles. The sponge has a firm consistency and does not contract when out of water.
Recorded distribution in Britain and Ireland
Recorded on the south coast of Devon, the Isles of Scilly, Lundy, west Wales and the west coast of Ireland.
Global distribution
Occurs on the coast of Brittany and is common in the Mediterranean.
Habitat
Found sublittorally to a depth of about 30 m on sloping rock surfaces, sometimes in silty conditions, at sites with varying degrees of wave exposure. Commonly found with other sponges, cnidarians and bryozoans.
Identifying features
A bright yellow, squat, branching sponge, up to 10 cm in height.
Branches fuse irregularly to give a variable appearance.
Terminal branches about 3 mm in diameter.
Surface is velvety and has 'mealy' appearance as if dusted with small yellow particles.
Firm consistency.
Additional information
No text entered
Bibliography
Howson, C.M. & Picton, B.E., 1997. The species directory of the marine fauna and flora of the British Isles and surrounding seas. Belfast: Ulster Museum. [Ulster Museum publication, no. 276.]

Moore, J., 2002. An atlas of marine Biodiversity Action Plan species and habitats and Species of Conservation Concern in Wales, 2nd edn. Report to the Countryside Council for Wales, CCW Contract Science Report no. 509.

Moss, D., & Ackers, G. (eds.), 1982. The UCS Sponge Guide. Produced by R. Earll. Ross-on-Wye: The Underwater Conservation Society.

Van Soest, R.W.M., Picton, B. & Morrow, C., 2000. Sponges of the North East Atlantic. [CD-ROM] Windows version 1.0. Amsterdam: Biodiversity Center of ETI, Multimedia Interactive Software. [World Biodiversity Database CD-ROM Series.]
Datasets
Centre for Environmental Data and Recording, 2018. Ulster Museum Marine Surveys of Northern Ireland Coastal Waters. Occurrence dataset https://www.nmni.com/CEDaR/CEDaR-Centre-for-Environmental-Data-and-Recording.aspx accessed via NBNAtlas.org on 2018-09-25.

NBN (National Biodiversity Network) Atlas. Available from: https://www.nbnatlas.org.

OBIS (Ocean Biodiversity Information System), 2023. Global map of species distribution using gridded data. Available from: Ocean Biogeographic Information System. www.iobis.org. Accessed: 2023-12-11
Citation
This review can be cited as:
Avant, P. 2006. Axinella damicornis Crumpled duster sponge. In Tyler-Walters H. and Hiscock K. Marine Life Information Network: Biology and Sensitivity Key Information Reviews, [on-line]. Plymouth: Marine Biological Association of the United Kingdom. [cited 11-12-2023]. Available from: https://marlin.ac.uk/species/detail/1784
---
Last Updated: 05/12/2006