Orange sea lichen (Caloplaca marina)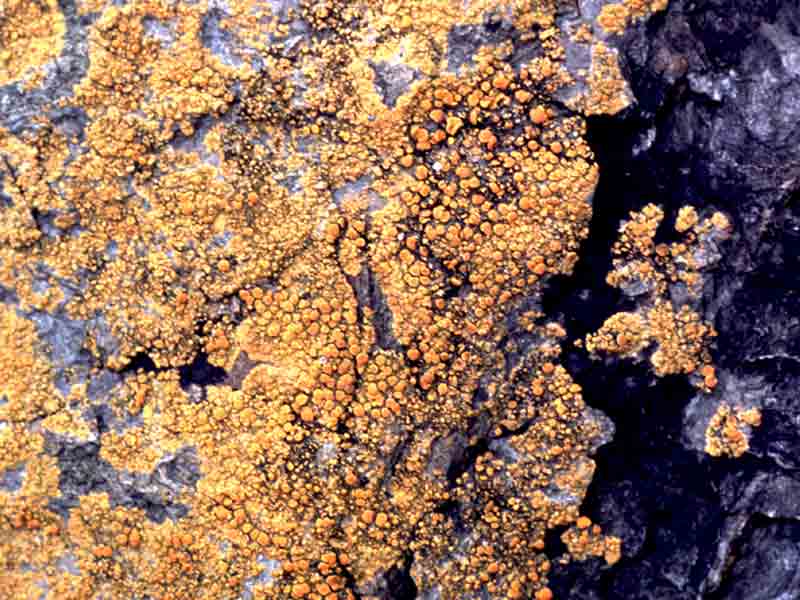 Researched by
Dr Harvey Tyler-Walters
Refereed by
Admin
Authority
Wedd., 1873
Other common names
-
Synonyms
-
Summary
Description
An encrusting yellow-orange to bright orange lichen. The thallus is composed of small granules or 'islands' of tissue but is never powdery. When well developed the crust may be composed of small convex islands of tissue often with a paler edge. Disc-like, convex and deep reddish orange fruiting bodies occur on the surface of the thallus.
Recorded distribution in Britain and Ireland
Widely distributed around the British Isles. Gaps in its recorded distribution probably due to lack of suitable substrata.
Habitat
A strictly maritime species, common on hard rocks and concrete from just above high water level.
Identifying features
Thallus granular, orange to orange red in colour but never powdery.
Fruiting bodies disc-like, convex and deep reddish orange.
Marginal lobes not clearly defined.
Strictly maritime at or above high water.
Additional information
Caloplaca marina is one of several species of Caloplaca found on rocks at or above high water. Caloplaca thallincola may occur at the same position but prefers sheltered conditions. Caloplaca thallincola is a lighter orange with a distinct lobose margin. Caloplaca maritima is also similar but is never orange and the thallus is composed of more convex, paler, wax-like islands of tissue. Identification to genus or species level may require simple chemical tests; for details see Dobson (2000).
Bibliography
CABI Bioscience, 2000. Index Fungorum Database. [On-line] http://194.131.255.3/cabipages/index.htm, 2002-04-23

Dobson, F.S., 1997. Lichens of Rocky Shores. [Foldout pamphlet]. Shrewsbury: Field Studies Council.

Dobson, F.S., 2000. Lichens: an illustrated guide to the British and Irish species. Slough: The Richmond Publishing Co. Ltd.

Hayward, P., Nelson-Smith, T. & Shields, C. 1996. Collins pocket guide. Sea shore of Britain and northern Europe. London: HarperCollins.
Datasets
Citation
This review can be cited as:
Tyler-Walters, H., 2002. Caloplaca marina Orange sea lichen. In Tyler-Walters H. and Hiscock K. Marine Life Information Network: Biology and Sensitivity Key Information Reviews, [on-line]. Plymouth: Marine Biological Association of the United Kingdom. [cited 11-12-2023]. Available from: https://marlin.ac.uk/species/detail/1796
---
Last Updated: 10/07/2002