Common orange lichen (Xanthoria parietina)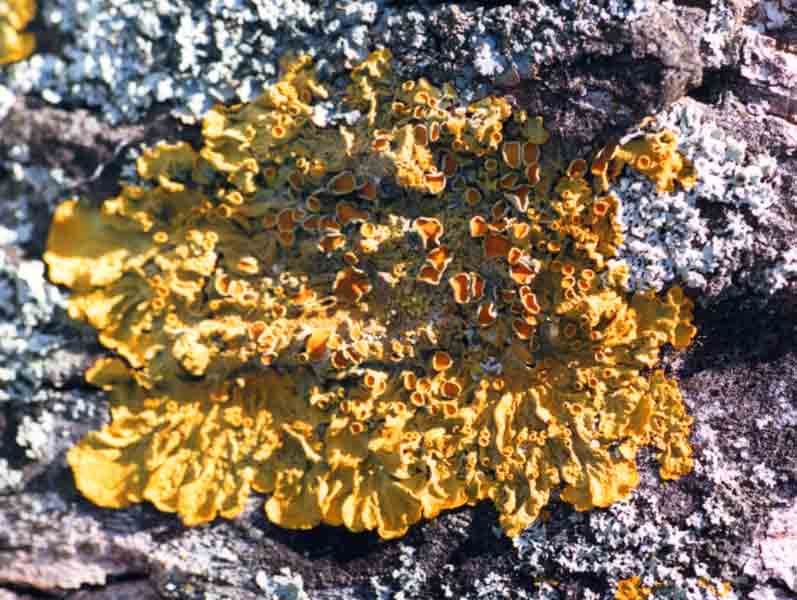 Researched by
Dr Harvey Tyler-Walters
Refereed by
Admin
Authority
(L.) Beltr., 1858
Other common names
-
Synonyms
-
Summary
Description
A foliose lichen forming large, rounded patches up to 10 cm across, with wide, round-lipped marginal lobes. The thallus is yellowish green to greenish grey in shade but bright orange in brightly lit situations. In older specimens the centre of the thallus may die out. Lobes are long, wrinkled, over-lapping, up to 7 mm wide at the margin, and often turn up to reveal a white underside with root-like hairs. Lobes may be narrow in exposed conditions such as on the seashore. Fruiting bodies sit on the surface of the thallus and are composed of an orange disc with a paler margin, which may become crenulate. Fruiting bodes are most abundant in the centre of the thallus.
Recorded distribution in Britain and Ireland
Widespread across the British Isles, inland but commonest near the coast.
Habitat
Xanthoria parietina may form a distinct narrow band on rocks and walls just above high water level. It also occurs inland on rocks, walls and bark. Common on nutrient rich areas such as beneath bird perching areas.
Identifying features
Thallus foliose, orange, with white underside and root-like hairs.
Thallus lobes, wrinkled, over-lapping, wider than 1 mm, up to 7 mm wide at margin.
Fruiting bodies with an orange disc surrounded by a raised paler margin, which becomes crenulate.
Additional information
Dobson (2000) suggested that Xanthoria parietina was one of the most resistant foliose lichens to air pollution.
Bibliography
CABI Bioscience, 2000. Index Fungorum Database. [On-line] http://194.131.255.3/cabipages/index.htm, 2002-04-23

Dobson, F.S., 1997. Lichens of Rocky Shores. [Foldout pamphlet]. Shrewsbury: Field Studies Council.

Dobson, F.S., 2000. Lichens: an illustrated guide to the British and Irish species. Slough: The Richmond Publishing Co. Ltd.

Hayward, P., Nelson-Smith, T. & Shields, C. 1996. Collins pocket guide. Sea shore of Britain and northern Europe. London: HarperCollins.
Datasets
Citation
This review can be cited as:
Tyler-Walters, H., 2008. Xanthoria parietina Common orange lichen. In Tyler-Walters H. and Hiscock K. Marine Life Information Network: Biology and Sensitivity Key Information Reviews, [on-line]. Plymouth: Marine Biological Association of the United Kingdom. [cited 11-12-2023]. Available from: https://marlin.ac.uk/species/detail/1798
---
Last Updated: 29/04/2008