Sea ivory (Ramalina siliquosa)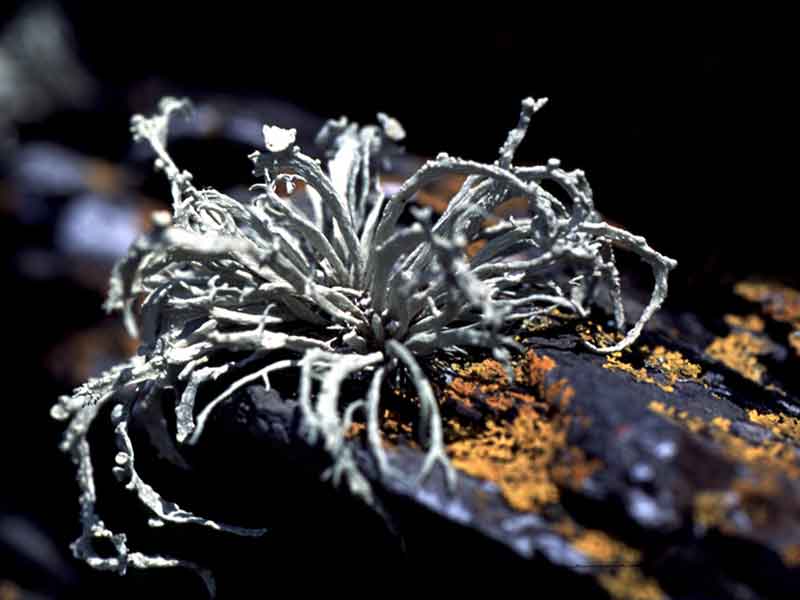 Researched by
Dr Harvey Tyler-Walters
Refereed by
Admin
Authority
(Hudson) A.L. Smith, 1918
Other common names
-
Synonyms
-
Summary
Description
A shrubby, yellow-grey to greenish grey lichen between 2 -7 cm long. The thallus is composed of erect or slightly pendant lobes, arising from the base, little divided, often scimitar shaped but very variable. Lobes may be glossy, or with granular outgrowths (warts) and wrinkled. The lobes are 2-9 mm wide with white spots towards the tips but not normally blackened at the base. The thallus often bears pale fawn coloured fruiting bodies, usually on short stalks. The thallus is hard and brittle when dry.
Recorded distribution in Britain and Ireland
Widely distributed around the British Isles. Gaps in its recorded distribution are probably due to lack of suitable substrata.
Habitat
Found on hard siliceous rock in and above the splash zone, and inland in areas subject to maritime influence, such as the tops of sea cliffs.
Identifying features
Thallus fructicose (shrubby), attached to substratum at single point.
Thallus hard and brittle when dry.
Thallus erect or slightly pendant and yellow-grey to greenish grey in colour.
Lobes, 2-9mm wide, white spotted towards the tips, coarsely tufted with granular outgrowths on surface, and rarely blackened at base.
Additional information
Ramalina siliquosa is eaten by sheep in Shetland and North Wales (Dobson, 2000).
Bibliography
CABI Bioscience, 2000. Index Fungorum Database. [On-line] http://194.131.255.3/cabipages/index.htm, 2002-04-23

Dobson, F.S., 1997. Lichens of Rocky Shores. [Foldout pamphlet]. Shrewsbury: Field Studies Council.

Dobson, F.S., 2000. Lichens: an illustrated guide to the British and Irish species. Slough: The Richmond Publishing Co. Ltd.

Hayward, P., Nelson-Smith, T. & Shields, C. 1996. Collins pocket guide. Sea shore of Britain and northern Europe. London: HarperCollins.
Datasets
Citation
This review can be cited as:
Tyler-Walters, H., 2002. Ramalina siliquosa Sea ivory. In Tyler-Walters H. and Hiscock K. Marine Life Information Network: Biology and Sensitivity Key Information Reviews, [on-line]. Plymouth: Marine Biological Association of the United Kingdom. [cited 11-12-2023]. Available from: https://marlin.ac.uk/species/detail/1799
---
Last Updated: 12/07/2002