A lichen (Verrucaria mucosa)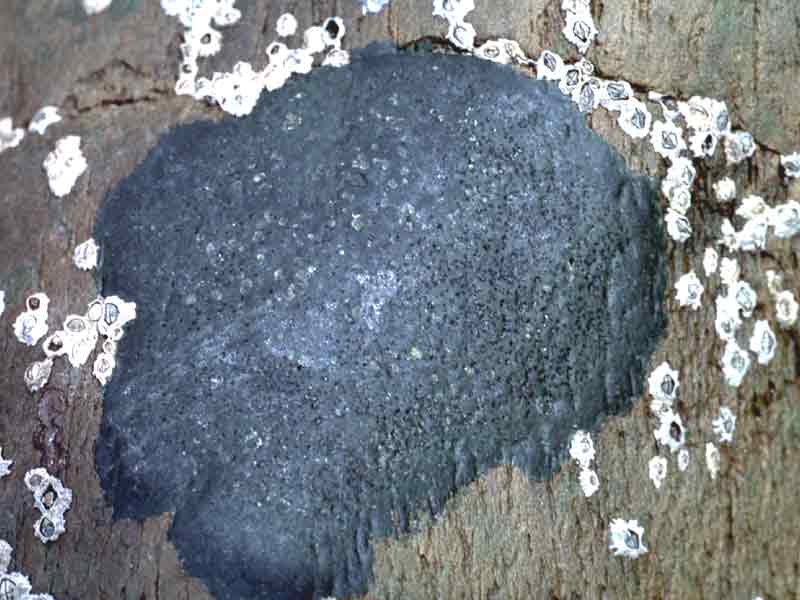 Researched by
Dr Harvey Tyler-Walters
Refereed by
Admin
Authority
Wahlenberg, 1803
Other common names
-
Synonyms
-
Summary
Description
A thin, encrusting lichen forming bright bottle-green to dark olive green patches on mid shore to lower shore rocks. The thallus is smooth, oily or slightly irregularly cracked in appearance with a white edge around the margin. The thallus may be up to 30cm across. Small, black fruiting bodies are embedded in the thallus and become slightly raised when dry.
Recorded distribution in Britain and Ireland
Widely distributed around Britain and Ireland on rocky shores but not recorded from the shores of south east England, probably due to a lack of suitable substrata.
Habitat
Found on well lit rocks from the middle to the lower shore. Rarer on wave sheltered shores.
Identifying features
Thallus bright bottle-green to dark olive green in colour.
Thallus bears a white margin (prothallus).
Small, black fruiting bodies (perithecia) embedded in thallus when wet and raised when dry.
Additional information
May be confused with
Verrucaria maura
or
Verrucaria striatula
.
Verrucaria striatula
is similar but bears elevated black dots or ridges and prominent black fruiting bodies.
Verrucaria maura
has a matt black, cracked encrusting thallus with numerous small black fruiting bodies and occurs from just below to above high water level.
Bibliography
CABI Bioscience, 2000. Index Fungorum Database. [On-line] http://194.131.255.3/cabipages/index.htm, 2002-04-23

Dobson, F.S., 1997. Lichens of Rocky Shores. [Foldout pamphlet]. Shrewsbury: Field Studies Council.

Dobson, F.S., 2000. Lichens: an illustrated guide to the British and Irish species. Slough: The Richmond Publishing Co. Ltd.

Fletcher, A., 1980. Marine and maritime lichens of rocky shores: their ecology, physiology, and biological interactions. In The Shore Environment, vol. 2: Ecosystems (ed. J.H. Price, D.E.G. Irvine & W.F. Farnham), pp. 789-842. London: Academic Press. [Systematics Association Special Volume no. 17(b)].
Datasets
Citation
This review can be cited as:
Tyler-Walters, H., 2002. Verrucaria mucosa A lichen. In Tyler-Walters H. and Hiscock K. Marine Life Information Network: Biology and Sensitivity Key Information Reviews, [on-line]. Plymouth: Marine Biological Association of the United Kingdom. [cited 11-12-2023]. Available from: https://marlin.ac.uk/species/detail/1804
---
Last Updated: 10/07/2002