Cartilaginous cock's comb (Plocamium cartilagineum)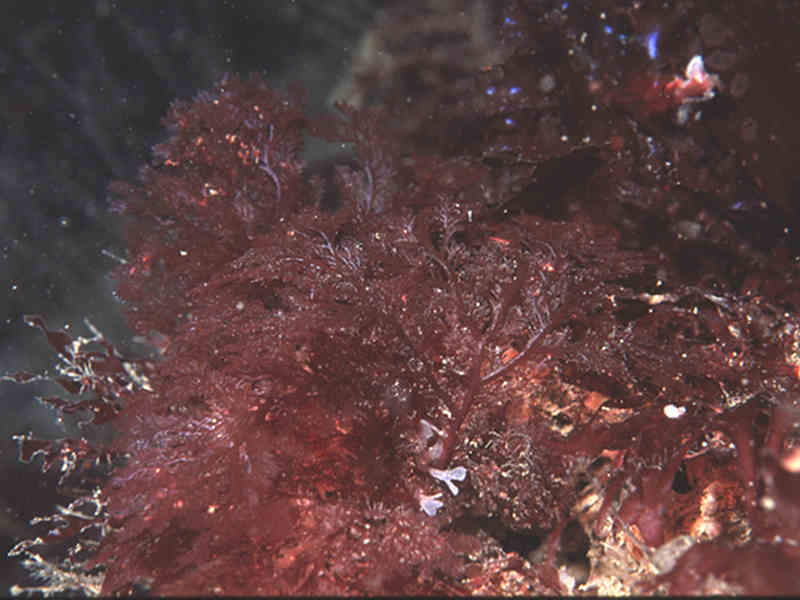 Researched by
Jenny Smirthwaite
Refereed by
Admin
Authority
(Linnaeus) P.S.Dixon, 1967
Other common names
-
Synonyms
-
Summary
Description
A bright scarlet seaweed up to 30 cm in length with branching fronds. The branching occurs alternately along the fronds and becomes more frequent towards the tips. The general appearance of these seaweeds can greatly vary from very compact and closely branched to a much broader appearance with widely separated branching. The tips are incurving and ultimate branching occurs only to one side, giving a distinctive feathery or comb-like appearance.
Recorded distribution in Britain and Ireland
Widely distributed around Britain and Ireland.
Global distribution
NE Atlantic, Mediterranean, Pacific, Indian Ocean, Australasian Antarctica
Habitat
Grows on rocks in shallow water and as an epiphyte on other seaweeds e.g. on the stipe of
Laminaria hyperborea
.
Identifying features
Bright scarlet branching fronds.
Branching frequency increasing towards tips, which are incurving giving a feathery or comb-like appearance.
Branching on tips to one side only.
Additional information
The variety Plocamium cartilagineum uncinatum displays reflexed rather than incurved branching at tips but is less common in British Isles and more frequent in Mediterranean.
Bibliography
Campbell, A.C., 1982. The Hamlyn guide to the flora and fauna of the Mediterranean Sea. London: Hamlyn.

Dixon, P.S. & Irvine, L.M., 1977. Seaweeds of the British Isles. Volume 1 Rhodophyta. Part 1 Introduction, Nemaliales, Gigartinales. London: British Museum (Natural History) London.

Guiry, M.D. & Nic Dhonncha, E., 2002. AlgaeBase. World Wide Web electronic publication http://www.algaebase.org,

Hardy, F.G. & Guiry, M.D., 2003. A check-list and atlas of the seaweeds of Britain and Ireland. London: British Phycological Society
Datasets
Citation
This review can be cited as:
Smirthwaite, J. 2006. Plocamium cartilagineum Cartilaginous cock's comb. In Tyler-Walters H. and Hiscock K. Marine Life Information Network: Biology and Sensitivity Key Information Reviews, [on-line]. Plymouth: Marine Biological Association of the United Kingdom. [cited 02-12-2023]. Available from: https://marlin.ac.uk/species/detail/1825
---
Last Updated: 07/11/2006