A sea cucumber (Ocnus planci)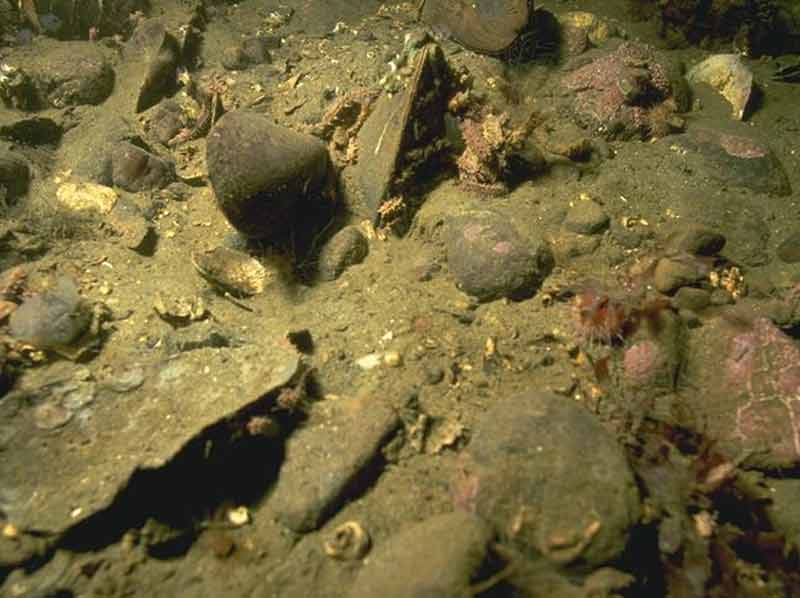 Researched by
Dr Harvey Tyler-Walters
Refereed by
Admin
Authority
(Brandt, 1835)
Other common names
-
Synonyms
Cucumaria planci (Brandt, 1835)
Summary
Description
A large sea cucumber up to 15 cm long and 3.5 cm in diameter but usually smaller. The body is tough, stiff, smooth and slightly angular. Usually russet, dark or purple-brown in colour, often with spots or dark lines between each of the five body sections. Tube feet are lighter in colour than the body and arranged in five double rows. The eight large and two small feeding tentacles are branched, leaf-like, and lighter in colour than the body.
Recorded distribution in Britain and Ireland
Recorded from Wider Firth, Orkney; off Runswick Bay, east England; Dogger Bank; Tremadoc Bay, north Wales; southern Ireland; Carlingford and Strangford Lough, Northern Ireland, and sea lochs and inlets of western Scotland.
Global distribution
Recorded from Portugal, the Mediterranean and West Africa (Senegal).
Habitat
Found on soft muddy sediments in areas of moderate to weak water flow at depths of 2 -175 m. It is epifaunal, congregating on rises in the substratum, pebbles, cobbles, sessile invertebrates or on the fronds of algae.
Identifying features
Tube feet arranged in double rows.
Body russet brown and skin smooth.
Eight large and two small, ventral feeding tentacles.
Spicules in body wall, mainly knobbed button shaped plates with more than 4 holes, with superficial, small, flat baskets.
Additional information
Ocnus planci is the unique characterizing species of the biotope IMU.Ocn (see review for details). Ocnus brunneus may be a smaller form of Ocnus planci. Ocnus brunneus is russet brown in colour, with tube feet singly arranged in five rows, growing up to 2.5 cm in length and 0.5 cm in diameter but usually smaller. The taxonomy of Ocnus planci and Ocnus brunneus was discussed in detail by McKenzie (1984 & 1991). McKenzie (1997) suggested that these species should be recorded separately until their taxonomy had been resolved. McKenzie (1991) noted that Ocnus planci had also been confused with Aslia lefevrei. Therefore, some of the records mapped above may have been mis-identified.
Bibliography
Dipper, F.A. & Beaver, R., 1999. Marine Nature Conservation Review Sector 12. Sea lochs in the Clyde Sea: area summaries. Peterborough: Joint Nature Conservation Committee. [Coasts and Seas of the United Kingdom. MNCR Series]

Howson, C.M. & Picton, B.E., 1997. The species directory of the marine fauna and flora of the British Isles and surrounding seas. Belfast: Ulster Museum. [Ulster Museum publication, no. 276.]

Howson, C.M., Connor, D.W. & Holt, R.H.F., 1994. The Scottish sealochs - an account of surveys undertaken for the Marine Nature Conservation Review. Joint Nature Conservation Committee Report, No. 164 (Marine Nature Conservation Review Report MNCR/SR/27)., Joint Nature Conservation Committee Report, No. 164 (Marine Nature Conservation Review Report MNCR/SR/27).

JNCC (Joint Nature Conservation Committee), 1999. Marine Environment Resource Mapping And Information Database (MERMAID): Marine Nature Conservation Review Survey Database. [on-line] http://www.jncc.gov.uk/mermaid

McKenzie, J.D., 1984. Description of a neotype for the holothurian Ocnus brunneus (Forbes MS in Thompson, 1840) from Strangford Lough, Northern Ireland (Holothurioidea; Dendrochirotida). Bulletin of the British Museum (Natural History), Zoology series, 47, 265-272.

McKenzie, J.D., 1991. The taxonomy and natural history of north European dendrochirote holothurians (Echinodermata). Journal of Natural History, 25, 123-171.

McKenzie, J.D., 1997. Echinodermata. In The species directory of the marine fauna and flora of the British Isles and surrounding seas (ed. C.M. Howson & B. Picton), pp. 288-295.

Mortensen, T.H., 1927. Handbook of the echinoderms of the British Isles. London: Humphrey Milford, Oxford University Press.

Murray, E., Dalkin, M.J., Fortune, F. & Begg, K., 1999. Marine Nature Conservation Review Sector 2. Orkney: area summaries. Peterborough: Joint Nature Conservation Committee. [Coasts and sea of the United Kingdom. MNCR Series.]

Ölscher E.M. & Fedra, K., 1977. On the ecology of a suspension feeding benthic community: filter efficiency and behaviour. In Biology of benthic organisms (ed. B.F. Keegan, P.O. Ceidigh & P.J.S. Boaden), pp. 483-492. Oxford: Pergamon Press.

Picton, B.E., 1993. A field guide to the shallow-water echinoderms of the British Isles. London: Immel Publishing Ltd.

Southward, E.C. & Campbell, A.C., 2006. Echinoderms. The Linnean Society of London. Avon: The Bath Press. [Synopses of the British Fauna No. 56.]
Datasets
Citation
This review can be cited as:
Tyler-Walters, H., 2002. Ocnus planci A sea cucumber. In Tyler-Walters H. and Hiscock K. Marine Life Information Network: Biology and Sensitivity Key Information Reviews, [on-line]. Plymouth: Marine Biological Association of the United Kingdom. [cited 11-12-2023]. Available from: https://marlin.ac.uk/species/detail/1861
---
Last Updated: 19/11/2002