Shredded carrot sponge (Amphilectus fucorum)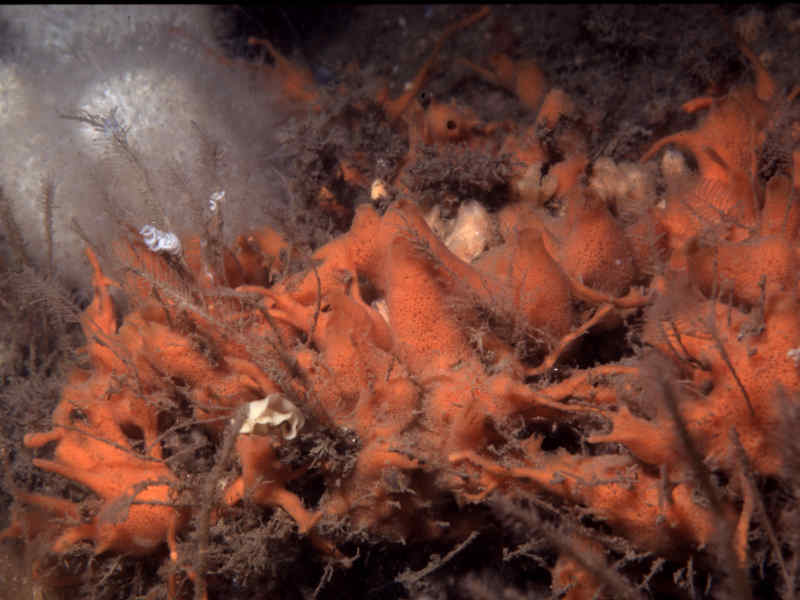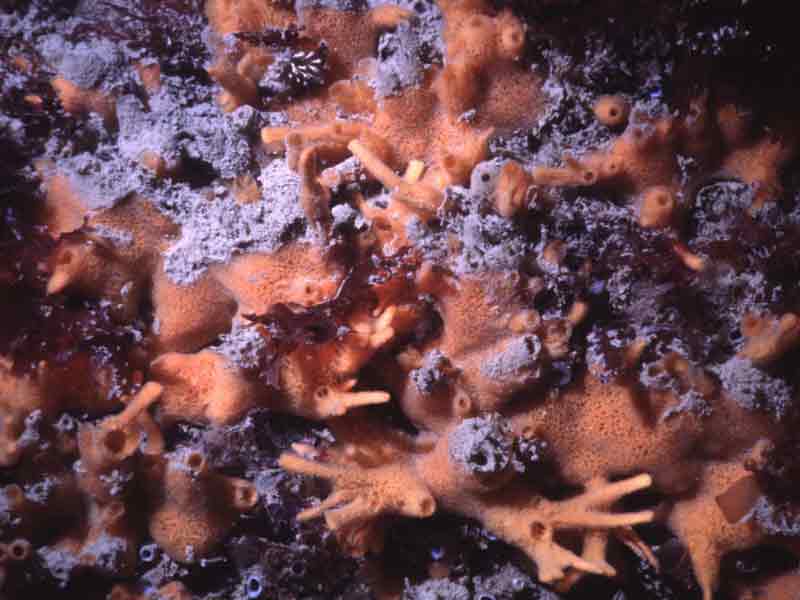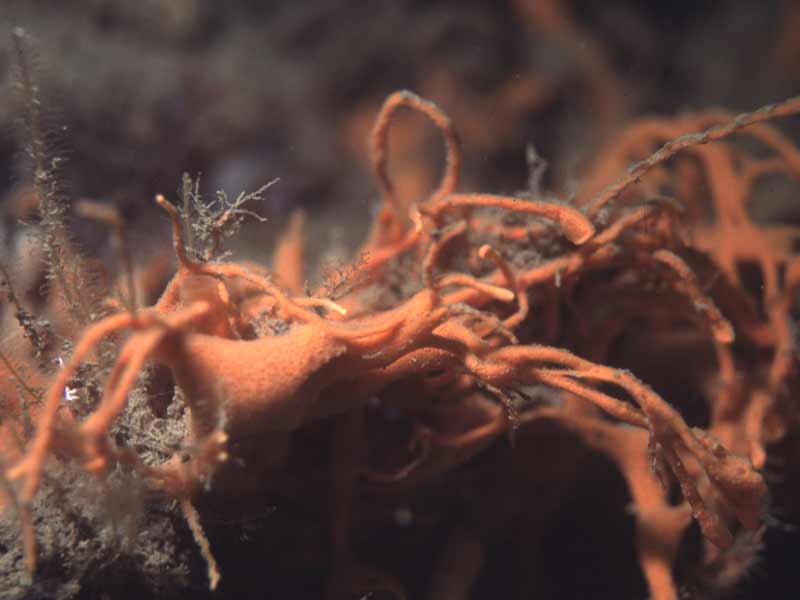 Researched by
Edward Mayhew
Refereed by
Admin
Authority
(Esper, 1794)
Other common names
-
Synonyms
Amphilectus fucorum , Amphilectus fucorum (Esper, 1794), Esperiopsis fucorum
Summary
Description
An intense reddish orange encrusting soft sponge, which becomes colourless in alcohol. The body shape is highly variable amongst individuals (extremely polymorphic) and individuals are fast growing, changing shape within a few weeks. It can form thin sheets, cushions, or massive, lobose or branched structures. The sponge can also occur in hollow 'amphora' shaped forms in sheltered conditions.
Recorded distribution in Britain and Ireland
Recorded from the Shetland Isles, Orkney, Fraserburgh, the Firth of Forth, Northumberland and east Yorkshire, the southeast, south and southwest coasts of England, the west coasts of England and Scotland, and all coasts of Ireland.
Global distribution
Recorded on the Atlantic coasts of Europe from Norway and the Faeroe Islands to the Mediterranean.
Habitat
It occurs in the shallow sublittoral zone, often overgrowing the holdfasts of Laminaria sp. or sessile invertebrates. It can tolerate a wide range of exposures and can also be found in areas experiencing strong tidal currents. Occasionally found in cryptic low-littoral habitats.
Identifying features
Encrusting or creeping branching soft sponge.
Soft, delicate and very flexible consistency, with slight contraction.
Massive-lobose (vertical growth results in lobed forms, lateral growth results in ridged forms), thin sheets, cushions or branched forms.
Size variation from 2 cm to 15 cm high.
Non-contracting oscules only slightly raised from the surface, or at the top of volcano-like growths.
May have tassel growths originating from the oscule margins.
Branching form individuals are often arranged in linear series.
Sponge surface is even, with moderate friction and fairly open in appearance.
Subectosomal tissue is peppered with pore channels which are covered with a thin transparent layer.
Has a characteristic and strong odour.
Megasclere spicules are smooth and usually curved.
Microsclere spicules are small and have ends which bear shovel-shaped structures (isochela).
Additional information
The pigment can be squeezed out between the fingers. The sponge is thought to go colourless in deeper water. It has also been found growing up hydroid stems.
Bibliography
Hayward, P.J. & Ryland, J.S. (ed.) 1995b. Handbook of the marine fauna of North-West Europe. Oxford: Oxford University Press.

Hooper, J.N.A. & Van Soest, R.W.M., 2002. Systema Porifera: A guide to the classification of sponges. Volume 1 & 2. New York: Kluwer Academic/ Plenum Publishers.

Howson, C.M. & Picton, B.E., 1997. The species directory of the marine fauna and flora of the British Isles and surrounding seas. Belfast: Ulster Museum. [Ulster Museum publication, no. 276.]

JNCC (Joint Nature Conservation Committee), 1999. Marine Environment Resource Mapping And Information Database (MERMAID): Marine Nature Conservation Review Survey Database. [on-line] http://www.jncc.gov.uk/mermaid

Moss, D., & Ackers, G. (eds.), 1982. The UCS Sponge Guide. Produced by R. Earll. Ross-on-Wye: The Underwater Conservation Society.

Stachowitsch, M., 1992. The invertebrates: an illustrated glossary. USA: Wiley-Liss.

Van Soest, R.W.M., Picton, B. & Morrow, C., 2000. Sponges of the North East Atlantic. [CD-ROM] Windows version 1.0. Amsterdam: Biodiversity Center of ETI, Multimedia Interactive Software. [World Biodiversity Database CD-ROM Series.]
Datasets
Citation
This review can be cited as:
Mayhew, E.M. 2004. Amphilectus fucorum Shredded carrot sponge. In Tyler-Walters H. and Hiscock K. Marine Life Information Network: Biology and Sensitivity Key Information Reviews, [on-line]. Plymouth: Marine Biological Association of the United Kingdom. [cited 06-12-2023]. Available from: https://marlin.ac.uk/species/detail/1863
---
Last Updated: 29/07/2004