Elegant sea anemone (Cylista elegans)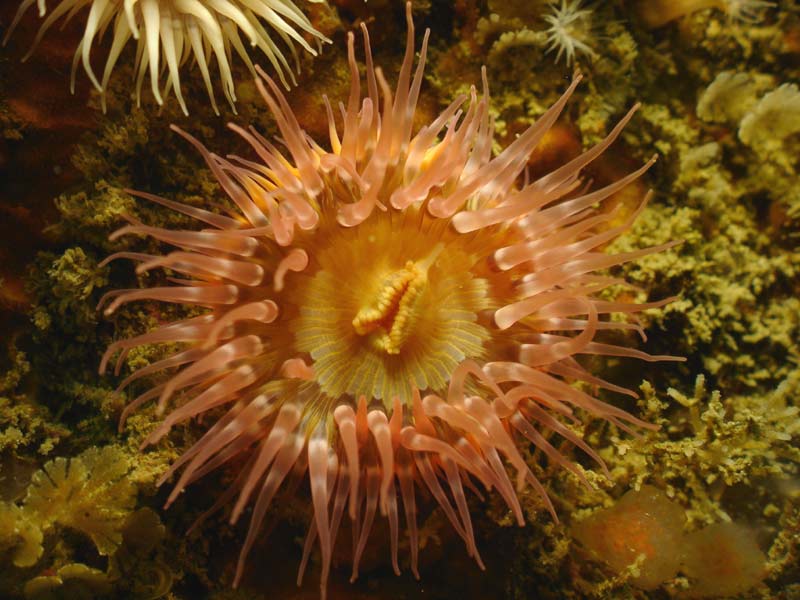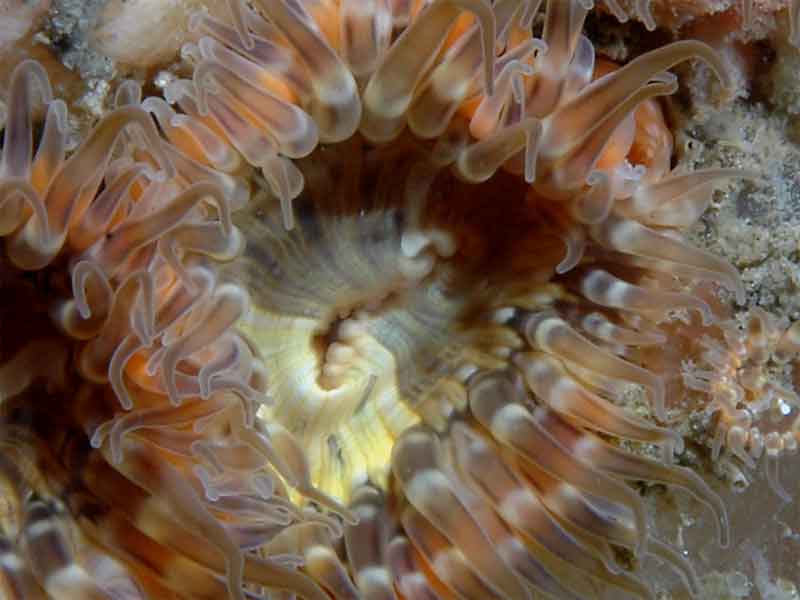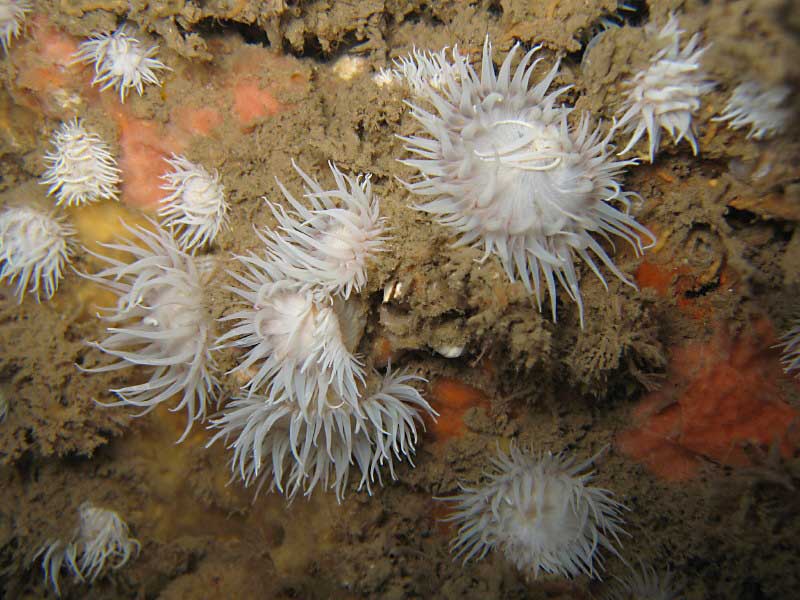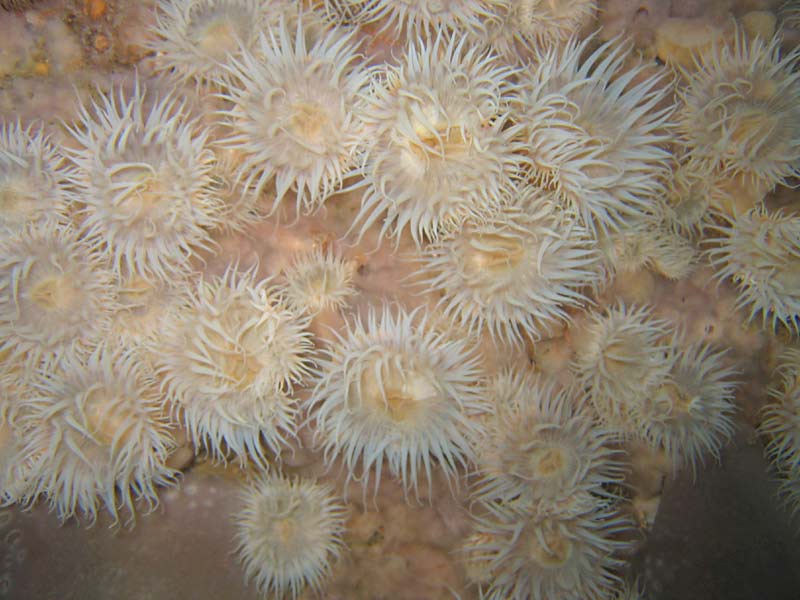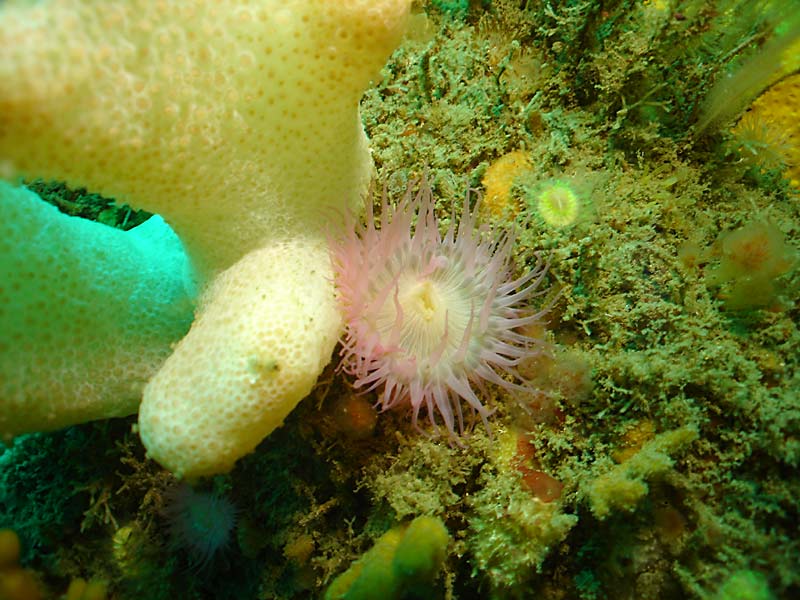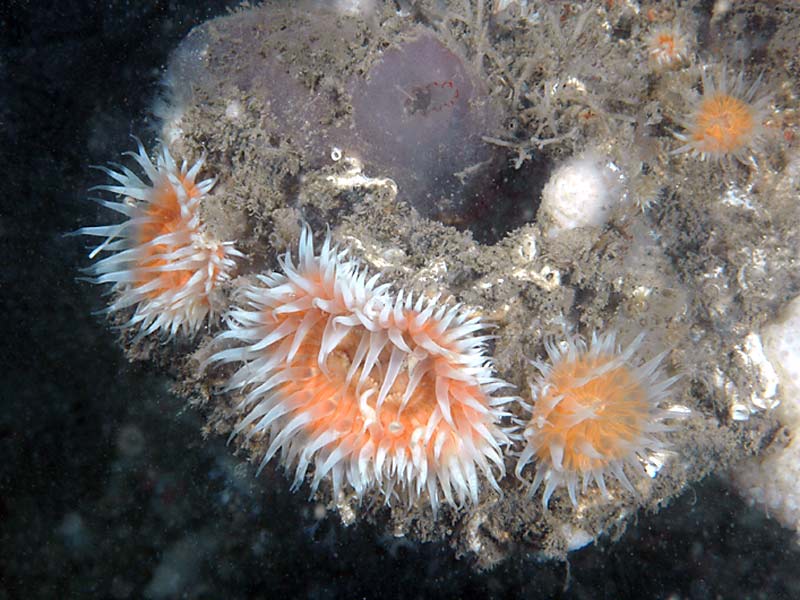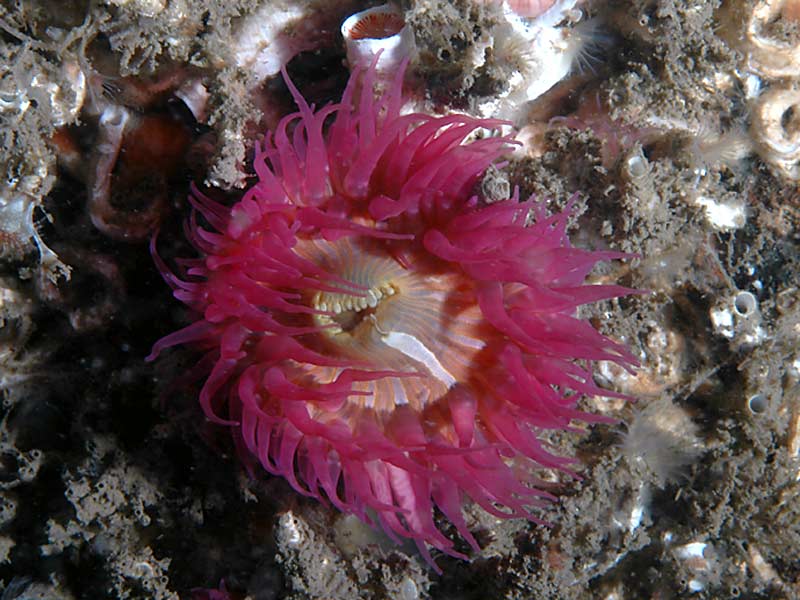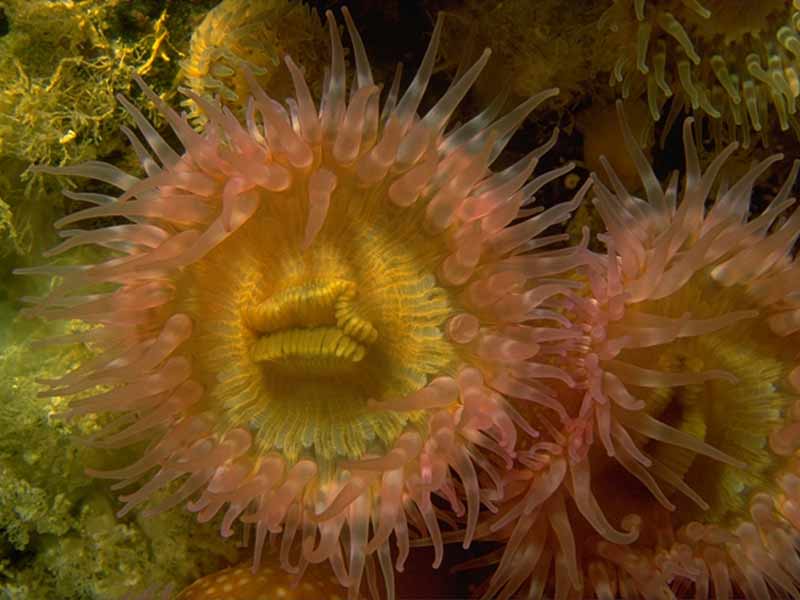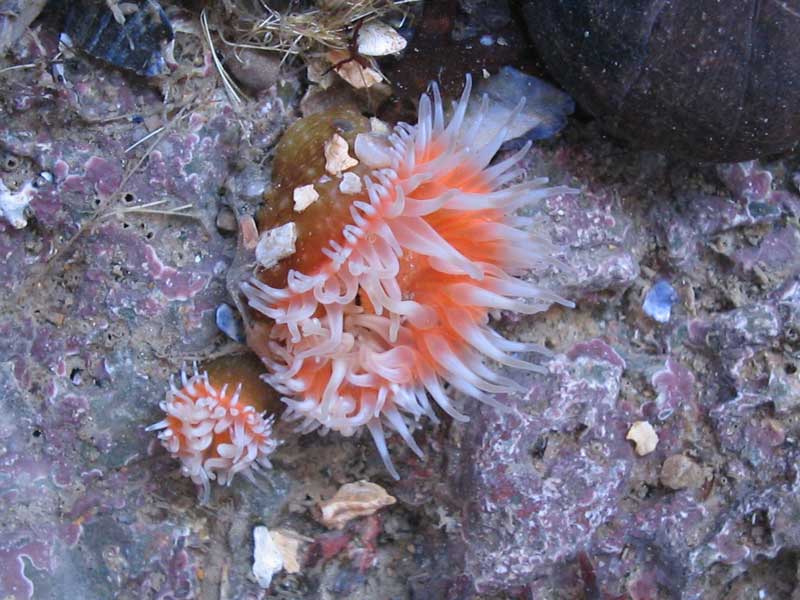 Researched by
Frances Peckett
Refereed by
Admin
Authority
(Dalyell, 1848)
Other common names
-
Synonyms
Sagartia rhododactylus , Sagartia elegans (Dalyell, 1848)
Summary
Description
Cylista elegans is a very variable species (see additional information), all varieties have a base up to 30 mm and this is wider than the column and closely adherent. The column is moderately tall and flares out towards the disk. The upper part of the column is has numerous white suckers which appear as white spots and cinclides (small pores) just visible as dark spots. Acontia (white defence threads) are freely emitted from cinclides when the anemone disturbed. The tentacles are moderate to long and there are approximately 200 of them spanning about 4 cm. . This species is often found in large aggregations and may live with their bases inside a hole in the substratum into which they retract into when disturbed. The colour of the column is variable; red, orange, brown whitish or greenish.
Recorded distribution in Britain and Ireland
Common or locally abundant on all coasts of Britain and Ireland.
Global distribution
Recorded from south-west Europe to the Mediterranean and also north to Iceland and Scandinavia.
Habitat
This sea anemones found on shore in pools, under stones, caves and beneath overhangs, from the mid-tide level and below. This species is also common in the sublittoral down to approximately 50 m.
Identifying features
Base up to 30 mm in diameter.
Base wider than the column and strongly adherent.
Column moderately tall and flares out to disc.
Columns varies in colour: red, orange, brown, whitish or pale grey-green.
Numerous suckers appear as white spots on column.
Cinclides, (small pores) just visible as dark spots on upper part of column.
Tentacles moderately long and about 200 spanning 4 cm.
Additional information
The taxonomy of the family Sagartiidae was recently examined by Sanamyan & Sanamyan (2020) who concluded that the genus Sagartia was not valid and should be assigned to the genus Cylista. There are 5 different varieties of the species recognised on the basis of the colouration of the disc and tentacles.
Var. miniata - the colour of the disc is variable, often variegated in - orange, red, brown, cream, grey etc. The disc is always marked with a dark pattern. The tentacles are similar to the disc, always banded and may have longitudinal lines.
Var. rosea - the disc is variably coloured, plain or patterned as in miniata with the tentacles being pink, rose-red or magenta.
Var. aurantiaca - the disc is greyish, sometimes patterned and tentacles are a dull orange.
Var.venusta - the disc is a plain orange and the tentacles are white.
Var. nivea - disc and tentacles white.
Bibliography
Hayward, P.J. & Ryland, J.S. (ed.) 1995b. Handbook of the marine fauna of North-West Europe. Oxford: Oxford University Press.

Howson, C.M. & Picton, B.E., 1997. The species directory of the marine fauna and flora of the British Isles and surrounding seas. Belfast: Ulster Museum. [Ulster Museum publication, no. 276.]

Manuel, R.L., 1988. British Anthozoa. Synopses of the British Fauna (New Series) (ed. D.M. Kermack & R.S.K. Barnes). The Linnean Society of London [Synopses of the British Fauna No. 18.]. DOI https://doi.org/10.1002/iroh.19810660505

Picton, B.E. & Costello, M.J., 1998. BioMar biotope viewer: a guide to marine habitats, fauna and flora of Britain and Ireland. [CD-ROM] Environmental Sciences Unit, Trinity College, Dublin.

Sanamyan, K. & Sanamyan, N., 2020. Comments on the nomenclatural status and validity of several family-series nomina in Actiniaria (Cnidaria, Anthozoa). Bionomina, 19 (1), 100-109. DOI https://doi.org/10.11646/bionomina.19.1.6

Stephenson, T.A., 1935. The British Sea Anemones, vol. 2. London: Ray Society.
Datasets
Citation
This review can be cited as:
Peckett, F., 2021. Cylista elegans Elegant sea anemone. In Tyler-Walters H. and Hiscock K. Marine Life Information Network: Biology and Sensitivity Key Information Reviews, [on-line]. Plymouth: Marine Biological Association of the United Kingdom. [cited 03-10-2023]. Available from: https://marlin.ac.uk/species/detail/1869
---
Last Updated: 23/09/2021