Red rags (Dilsea carnosa)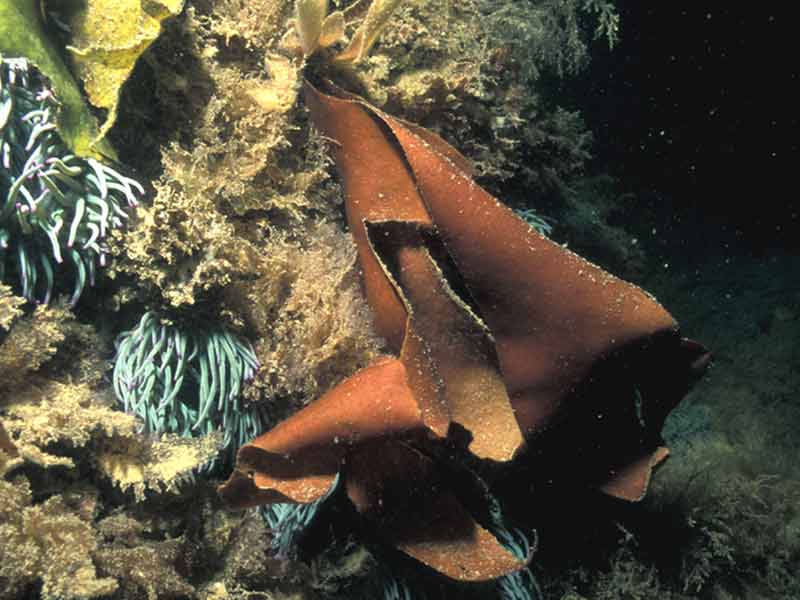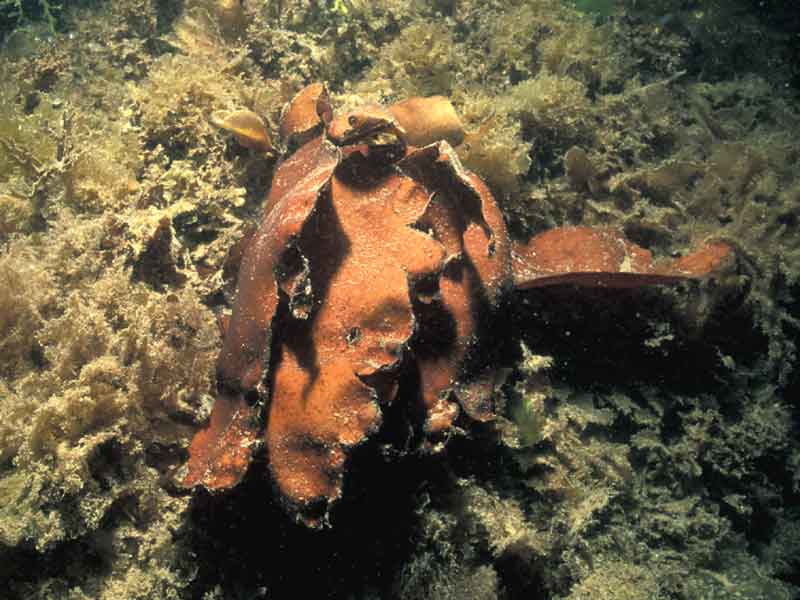 Researched by
Anna Neish
Refereed by
Admin
Authority
(Schmidel) Kuntze, 1898
Other common names
-
Synonyms
Dilsea edulis (Schmidel) Kuntze, 1898
Summary
Description
One of the larger red seaweeds, Dilsea carnosa plants are tough and leathery. Several dark reddish brown, flat, blades gradually expand from a single disc shaped holdfast, and have short cylindrical stipes. The blades do not have a midrib or veins and are simple wedge or spoon shaped. The blades can be 15-30 cm long and 5-20 cm wide. Older blades may be split from the margin towards the base but the rounded oblong (obovate) shape of the blade is never quite lost.
Recorded distribution in Britain and Ireland
Widespread in the British Isles but more abundant in the south of England.
Global distribution
Arctic Russia to Portugal.
Habitat
Usually found in the lower littoral to shallow sublittoral attached to rocks.
Identifying features
Large leathery dark red blades.
Rounded oblong or spoon shape blades, split when older.
Blades without midrib and gradually expanding from a short cylindrical stipe.
Additional information
Sometimes confused with
Palmaria palmata
and mistakenly called dulse.
Bibliography
Dickinson, C.I., 1963. British seaweeds. London & Frome: Butler & Tanner Ltd.

Hardy, F.G. & Guiry, M.D., 2003. A check-list and atlas of the seaweeds of Britain and Ireland. London: British Phycological Society

Hayward, P., Nelson-Smith, T. & Shields, C. 1996. Collins pocket guide. Sea shore of Britain and northern Europe. London: HarperCollins.

Hiscock, S., 1986b. A field key to the British Red Seaweeds. Taunton: Field Studies Council. [Occasional Publication No.13]

Howson, C.M. & Picton, B.E., 1997. The species directory of the marine fauna and flora of the British Isles and surrounding seas. Belfast: Ulster Museum. [Ulster Museum publication, no. 276.]

Irvine, L.M., 1983. Seaweeds of the British Isles vol. 1. Rhodophyta Part 2A. Cryptonemiales (sensu stricto), Palmariales, Rhodymeniales. London: British Museum (Natural History).

Picton, B.E. & Costello, M.J., 1998. BioMar biotope viewer: a guide to marine habitats, fauna and flora of Britain and Ireland. [CD-ROM] Environmental Sciences Unit, Trinity College, Dublin.
Datasets
Citation
This review can be cited as:
Neish, A.H. 2003. Dilsea carnosa Red rags. In Tyler-Walters H. and Hiscock K. Marine Life Information Network: Biology and Sensitivity Key Information Reviews, [on-line]. Plymouth: Marine Biological Association of the United Kingdom. [cited 30-11-2023]. Available from: https://marlin.ac.uk/species/detail/1880
---
Last Updated: 01/07/2003