Elephant hide sponge (Pachymatisma johnstonia)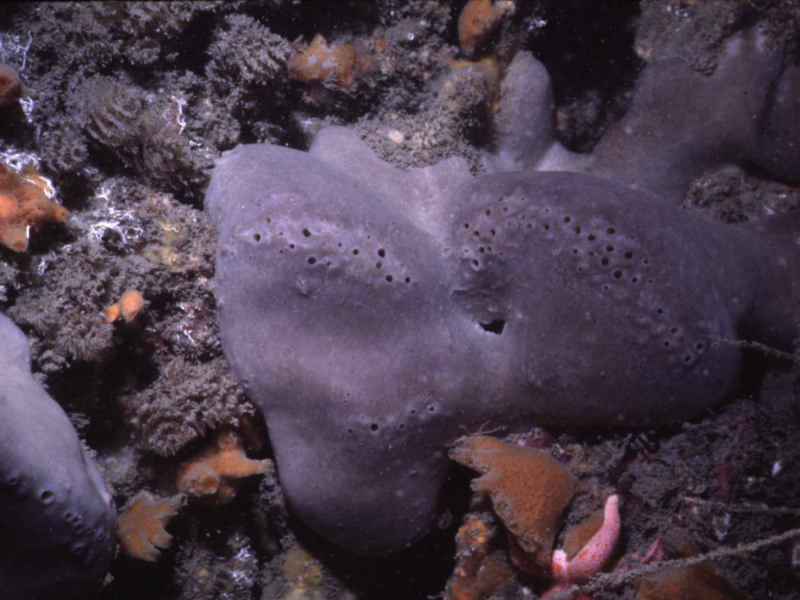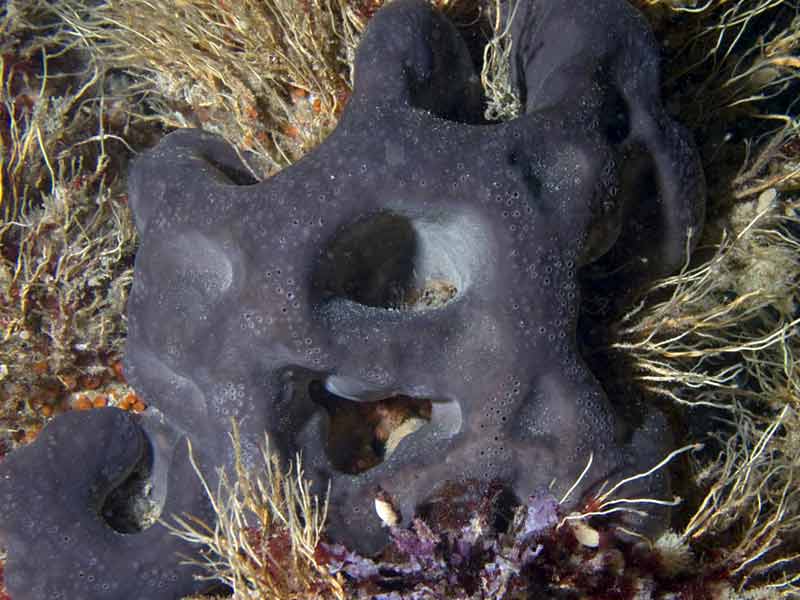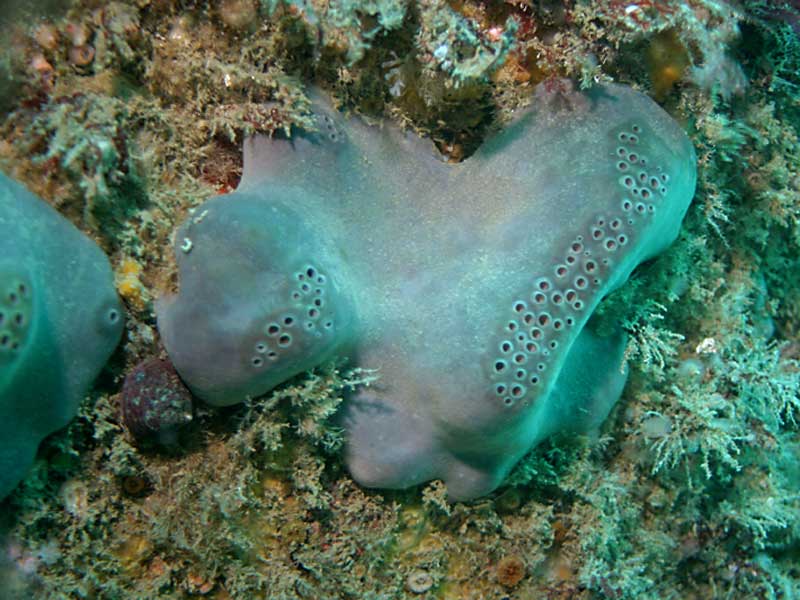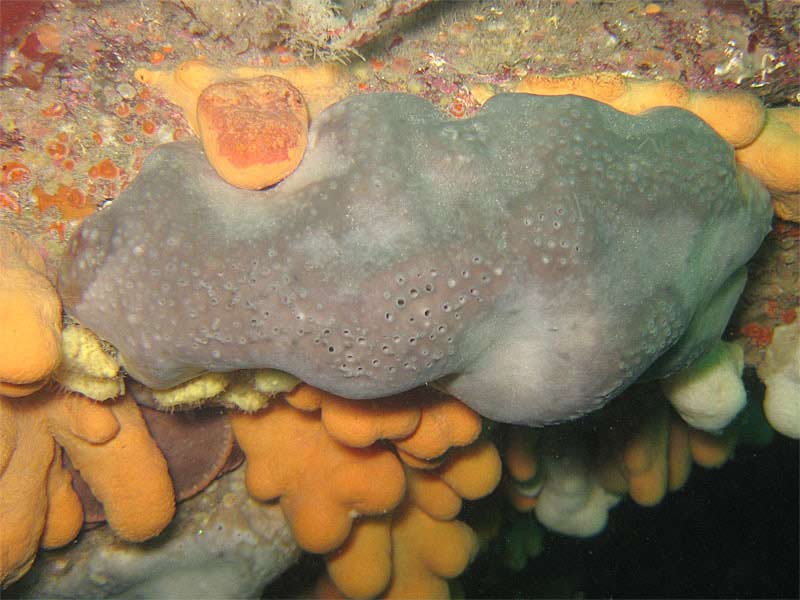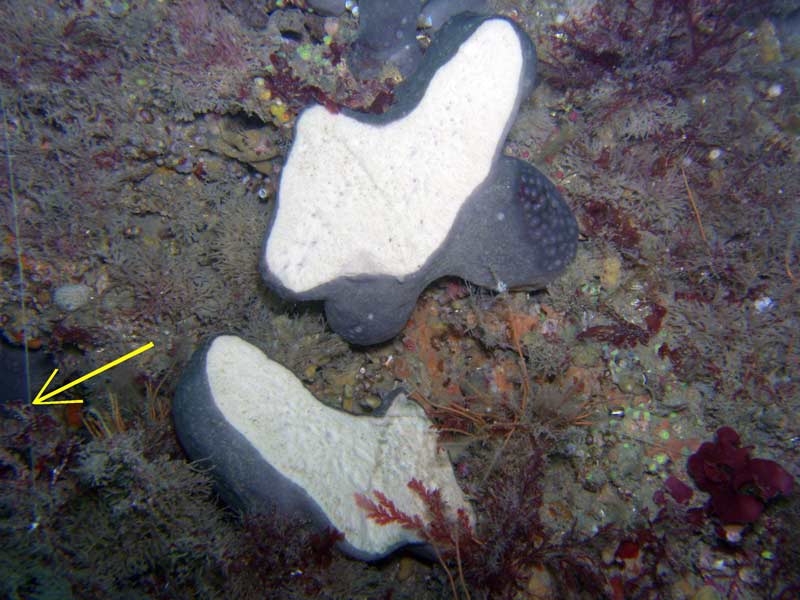 Researched by
Anna Neish
Refereed by
Admin
Authority
(Bowerbank in Johnston, 1842)
Other common names
Elephant ear sponge
Synonyms
-
Summary
Description
A large rounded sponge up to 15 cm in diameter and height up to 10 cm. The consistency is firm-hard, but slightly compressible. The smooth surface is bluish or violet-grey and extensively perforated with inhalant orifices. Larger exhalant openings (osculum) are distinct and usually in lines or arranged in clusters. The skin (cortex) is distinct and 1 mm thick, underneath the surface the colour is yellow-white.
Recorded distribution in Britain and Ireland
Pachymatisma johnstonia has been found on the south and west coasts of Great Britain and in the south west of Ireland. It has also recently been recorded from Orkney.
Global distribution
It is found in the Atlantic and Pacific oceans, and has been found in the North Atlantic, Ireland, Norway, England, Coasts of France, Portugal and Spain.
Habitat
Pachymatisma johnstonia grows on bedrock and hard substrata in the intertidal and subtidal to 300 m depth. It is often found projecting into water currents off cliff walls. Found on overhangs in extremely sheltered waters but more common in areas with strong water movement.
Identifying features
A large sponge up to 15 cm in diameter.
Smooth surface.
Bluish or violet-grey outer and yellow-white within.
Oscular usually in lines.
Skin distinct and 1 mm thick.
Additional information
No text entered
Bibliography
Hayward, P.J. & Ryland, J.S. (ed.) 1995b. Handbook of the marine fauna of North-West Europe. Oxford: Oxford University Press.

Hooper, J.N.A. & Van Soest, R.W.M., 2002. Systema Porifera: A guide to the classification of sponges. Volume 1 & 2. New York: Kluwer Academic/ Plenum Publishers.

Howson, C.M. & Picton, B.E., 1997. The species directory of the marine fauna and flora of the British Isles and surrounding seas. Belfast: Ulster Museum. [Ulster Museum publication, no. 276.]

Picton, B.E. & Costello, M.J., 1998. BioMar biotope viewer: a guide to marine habitats, fauna and flora of Britain and Ireland. [CD-ROM] Environmental Sciences Unit, Trinity College, Dublin.

Van Soest, R.W.M., Picton, B. & Morrow, C., 2000. Sponges of the North East Atlantic. [CD-ROM] Windows version 1.0. Amsterdam: Biodiversity Center of ETI, Multimedia Interactive Software. [World Biodiversity Database CD-ROM Series.]
Datasets
Citation
This review can be cited as:
Neish, A.H. 2007. Pachymatisma johnstonia Elephant hide sponge. In Tyler-Walters H. and Hiscock K. Marine Life Information Network: Biology and Sensitivity Key Information Reviews, [on-line]. Plymouth: Marine Biological Association of the United Kingdom. [cited 30-11-2023]. Available from: https://marlin.ac.uk/species/detail/1885
---
Last Updated: 13/02/2007