A hermit crab (Cestopagurus timidus)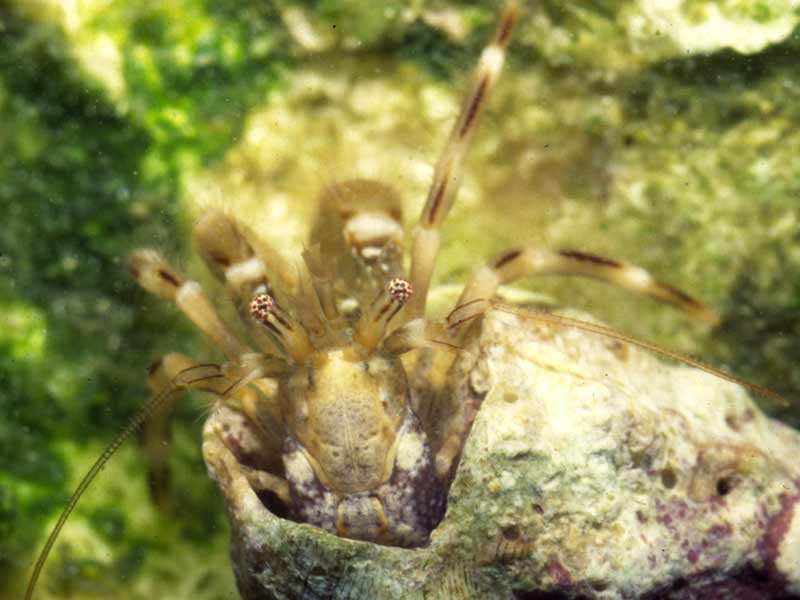 Researched by
Anna Neish
Refereed by
Admin
Authority
(Roux, 1830)
Other common names
-
Synonyms
Catapaguroides timidus (Roux, 1830)
Summary
Description
A small hermit crab, grey-brown in colour with a sub-triangular carapace about 5 mm long. The pincers are similar in length but the right claw is much thicker and more robust than the left and both are covered with hair. The eyestalks are thick and long, and the margin of the carapace between the eye stalks ends in a short point (rostrum).
Recorded distribution in Britain and Ireland
Recorded in the south west of England around the Isles of Scilly and in other isolated locations including the Clyde region, Scotland and Northern Ireland (see Ingle, 1993).
Global distribution
Found in the Gulf of St. Malo south to the Canary Islands and common throughout the Mediterranean.
Habitat
Cestopagurus timidus is associated with soft substrata, especially among seagrasses and algae, in the intertidal and shallow sublittoral to 80 m.
Identifying features
Carapace length about 5 mm.
Rostrum small, acute, and slightly protruding.
Right claw (chela) more robust than left.
Claw (chelae) surfaces have long setae.
Eyes extend beyond antennal peduncles.
In females the first pleopods are lacking.
Additional information
No text entered
Bibliography
Campbell, A.C., 1982. The Hamlyn guide to the flora and fauna of the Mediterranean Sea. London: Hamlyn.

Hayward, P., Nelson-Smith, T. & Shields, C. 1996. Collins pocket guide. Sea shore of Britain and northern Europe. London: HarperCollins.

Hayward, P.J. & Ryland, J.S. (ed.) 1995b. Handbook of the marine fauna of North-West Europe. Oxford: Oxford University Press.

Howson, C.M. & Picton, B.E., 1997. The species directory of the marine fauna and flora of the British Isles and surrounding seas. Belfast: Ulster Museum. [Ulster Museum publication, no. 276.]

Ingle, R., 1993. Hermit crabs of the northeastern Atlantic Ocean and the Mediterranean Sea. An illustrated key. London: Natural History Museum Publications, Chapman & Hall.

Picton, B.E. & Costello, M.J., 1998. BioMar biotope viewer: a guide to marine habitats, fauna and flora of Britain and Ireland. [CD-ROM] Environmental Sciences Unit, Trinity College, Dublin.
Datasets
NBN (National Biodiversity Network) Atlas. Available from: https://www.nbnatlas.org.

OBIS (Ocean Biodiversity Information System), 2023. Global map of species distribution using gridded data. Available from: Ocean Biogeographic Information System. www.iobis.org. Accessed: 2023-12-10
Citation
This review can be cited as:
Neish, A.H. 2005. Cestopagurus timidus A hermit crab. In Tyler-Walters H. and Hiscock K. Marine Life Information Network: Biology and Sensitivity Key Information Reviews, [on-line]. Plymouth: Marine Biological Association of the United Kingdom. [cited 10-12-2023]. Available from: https://marlin.ac.uk/species/detail/1904
---
Last Updated: 04/07/2005