Rainbow wrack (Cystoseira tamariscifolia)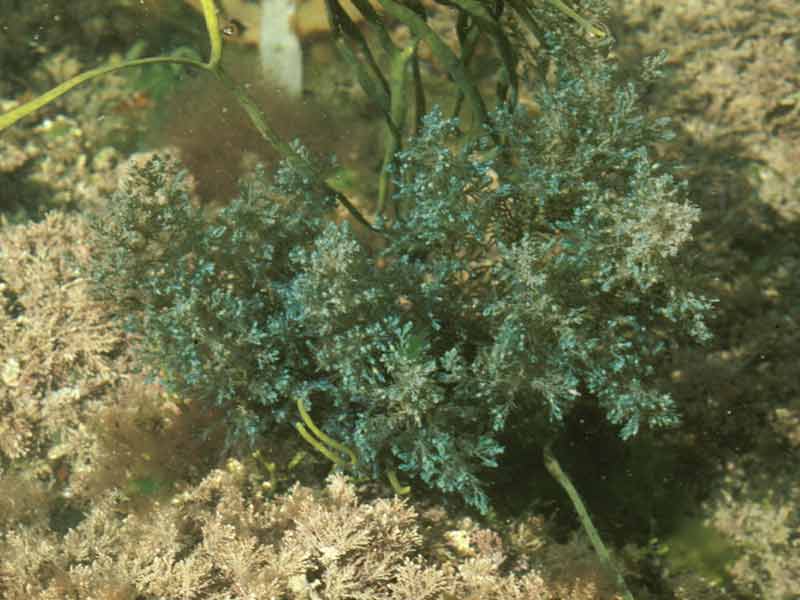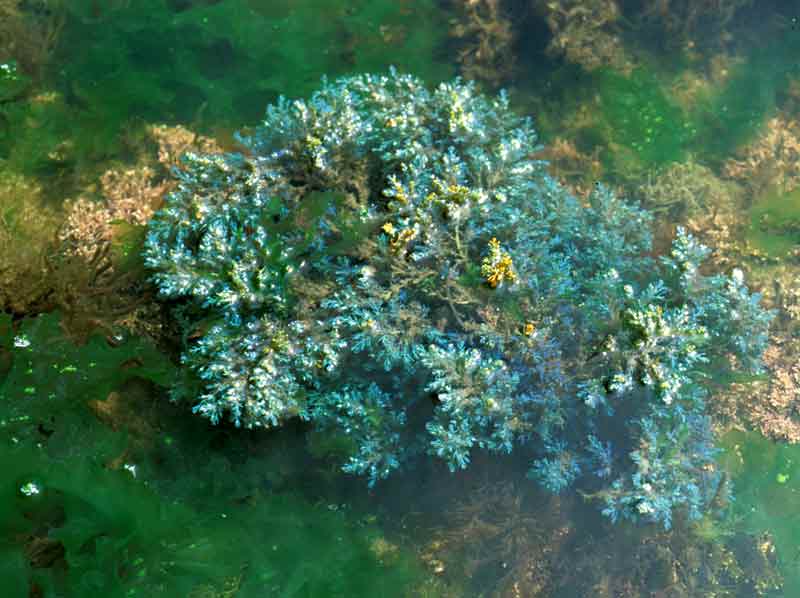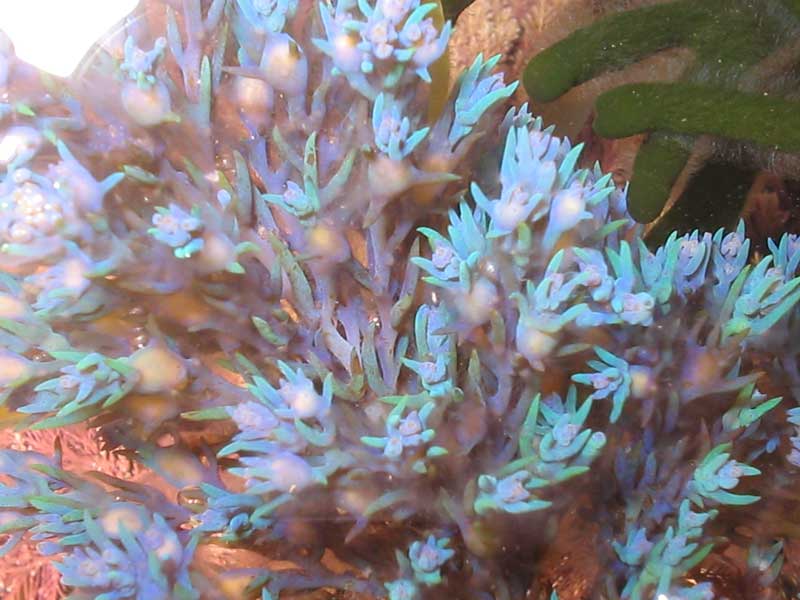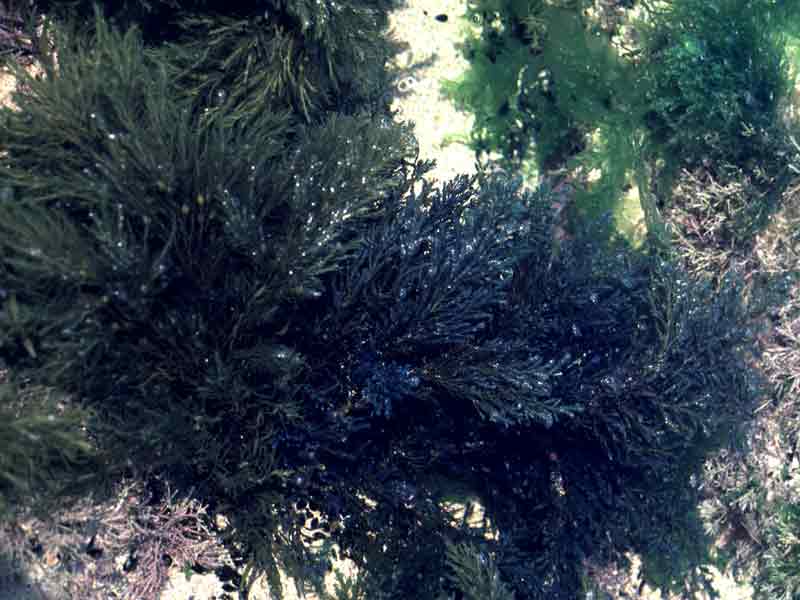 Researched by
Olwen Ager
Refereed by
Admin
Authority
(Hudson) Papenfuss, 1950
Other common names
-
Synonyms
-
Summary
Description
Cystoseira tamariscifolia is a bushy seaweed, up to 60 cm in length but usually 30-45 cm. It has a cylindrical frond and branches irregularly. The reproductive bodies on the end of branches are long, oval and spiny. Small air bladders are usually found below the reproductive bodies. Cystoseira tamariscifolia is olive green in colour, almost black when dry. When the plant is seen underwater it has a blue-green iridescence.
Recorded distribution in Britain and Ireland
A southern species recorded in southwest Britain, recorded around the coast of Ireland predominantly in the west and although recorded from the Hebrides, rare in the north.
Global distribution
Found in the north east Atlantic, Mediterranean and southeast Atlantic.
Habitat
Found in rockpools and on the lower shore. Grows on both rocky shores and gravelly flats.
Identifying features
Blue-green iridescence underwater.
Almost black when dry.
Rough texture, bushy appearance.
Additional information
May be confused with other species of Cystoseira but can be distinguished by the characteristic blue-green iridescence when the plant is underwater.
Bibliography
Fish, J.D. & Fish, S., 1996. A student's guide to the seashore. Cambridge: Cambridge University Press.

Gibson, R., Hextall, B. & Rogers, A., 2001. Photographic guide to the sea and seashore life of Britain and north-west Europe. Oxford: Oxford University Press.

Guiry, M.D. & Nic Dhonncha, E., 2002. AlgaeBase. World Wide Web electronic publication http://www.algaebase.org,

Hardy, F.G. & Guiry, M.D., 2003. A check-list and atlas of the seaweeds of Britain and Ireland. London: British Phycological Society

Hayward, P., Nelson-Smith, T. & Shields, C. 1996. Collins pocket guide. Sea shore of Britain and northern Europe. London: HarperCollins.

Howson, C.M. & Picton, B.E., 1997. The species directory of the marine fauna and flora of the British Isles and surrounding seas. Belfast: Ulster Museum. [Ulster Museum publication, no. 276.]

JNCC (Joint Nature Conservation Committee), 1999. Marine Environment Resource Mapping And Information Database (MERMAID): Marine Nature Conservation Review Survey Database. [on-line] http://www.jncc.gov.uk/mermaid

Stewart, W.D.P., 1962. Occurrence of Cystoseira tamariscifolia (Huds.) Papenf. On the West Coast of Scotland. Nature, 195, 402-403.
Datasets
Citation
This review can be cited as:
Ager, O.E.D. 2008. Cystoseira tamariscifolia Rainbow wrack. In Tyler-Walters H. and Hiscock K. Marine Life Information Network: Biology and Sensitivity Key Information Reviews, [on-line]. Plymouth: Marine Biological Association of the United Kingdom. [cited 10-12-2023]. Available from: https://marlin.ac.uk/species/detail/1914
---
Last Updated: 29/05/2008