Iridescent cartilage weed (Chondria coerulescens)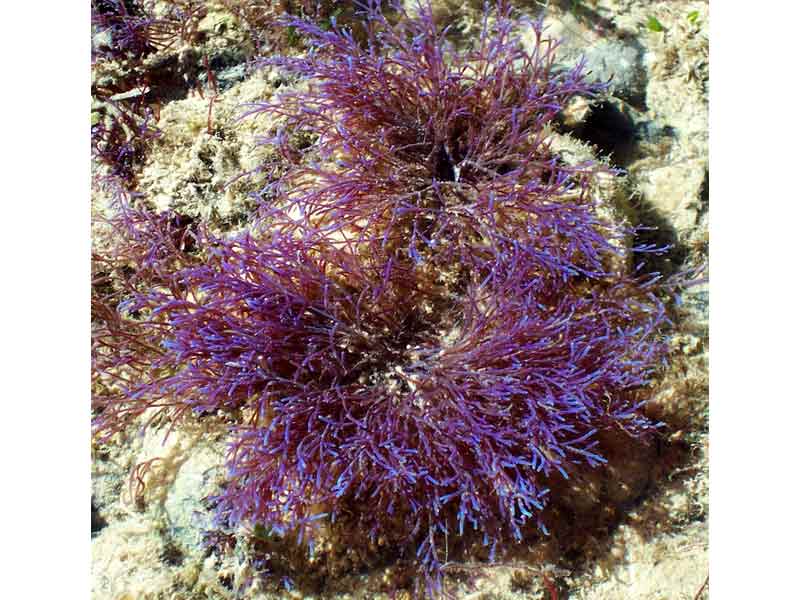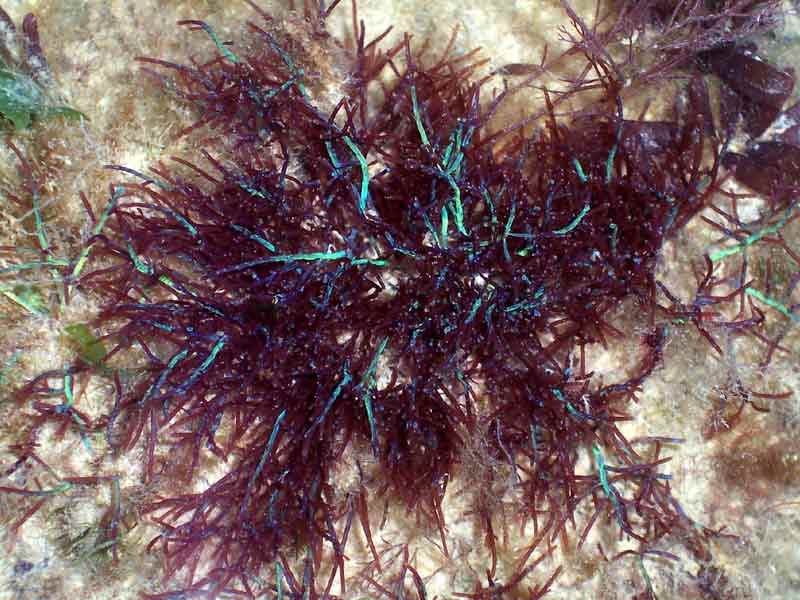 Researched by
Rose Edwards
Refereed by
Admin
Authority
(J.Agardh) Falkenberg, 1901
Other common names
-
Synonyms
-
Summary
Description
Chondria coerulescens has bluish or yellowish fronds with blue iridescence. The fronds are flexible and cartilaginous in texture, turning black when dry. Young axes show a striking turquoise iridescence when alive. The thalli consist of cylindrical erect axes or trailing tufts, and is 3-8 cm high when erect. The distinct main axis is 0.4-0.5 mm in diameter, branching sparsely at irregular intervals in a spiral pattern to 1-3 orders of branching. Branches are linear, often long and curve downwards gradually tapering to a slender point, and reattach by secondary holdfast. The morphology shows relatively little variation except that some thalli consist only of inconspicuous isolated erect axes whereas others form dense tufts.
Recorded distribution in Britain and Ireland
Recorded from the Salcombe Estuary, The Isle of Wight, Milford Haven, Exmouth and Portsmouth.
Global distribution
England to Morocco; Mediterranean
Habitat
Chondria coerulescens is a subtidal species, growing on pebbles in mud from extreme low water to 4 m depth. It inhabits extremely wave sheltered sites, usually in inlets with moderate to strong current exposure.
Identifying features
Small species, up to 8 cm high.
Branched cylindrical axes.
Distinctive bright blue iridescence.
Sparsely branched at irregular intervals in a spiral pattern.
Additional information
Chondria coerulescens may be confused with Laurencia obtusa. Microscope examination of the periaxial (surrounding the axis) cells would be needed to separate them. Although Chondria coerulescens is nationally rare, it can be abundant in favourable habitats.
Bibliography
Hardy, F.G. & Guiry, M.D., 2003. A check-list and atlas of the seaweeds of Britain and Ireland. London: British Phycological Society

Hiscock, S., 1986b. A field key to the British Red Seaweeds. Taunton: Field Studies Council. [Occasional Publication No.13]

JNCC (Joint Nature Conservation Committee), 1999. Marine Environment Resource Mapping And Information Database (MERMAID): Marine Nature Conservation Review Survey Database. [on-line] http://www.jncc.gov.uk/mermaid

Maggs, C.A. & Hommersand, M.H., 1993. Seaweeds of the British Isles: Volume 1 Rhodophycota Part 3A Ceramiales. London: Natural History Museum, Her Majesty's Stationary Office.

Picton, B.E. & Costello, M.J., 1998. BioMar biotope viewer: a guide to marine habitats, fauna and flora of Britain and Ireland. [CD-ROM] Environmental Sciences Unit, Trinity College, Dublin.
Datasets
Citation
This review can be cited as:
Edwards, R.V. 2005. Chondria coerulescens Iridescent cartilage weed. In Tyler-Walters H. and Hiscock K. Marine Life Information Network: Biology and Sensitivity Key Information Reviews, [on-line]. Plymouth: Marine Biological Association of the United Kingdom. [cited 11-12-2023]. Available from: https://marlin.ac.uk/species/detail/1933
---
Last Updated: 04/07/2005